Hillary fought to keep Boko Haram off terror list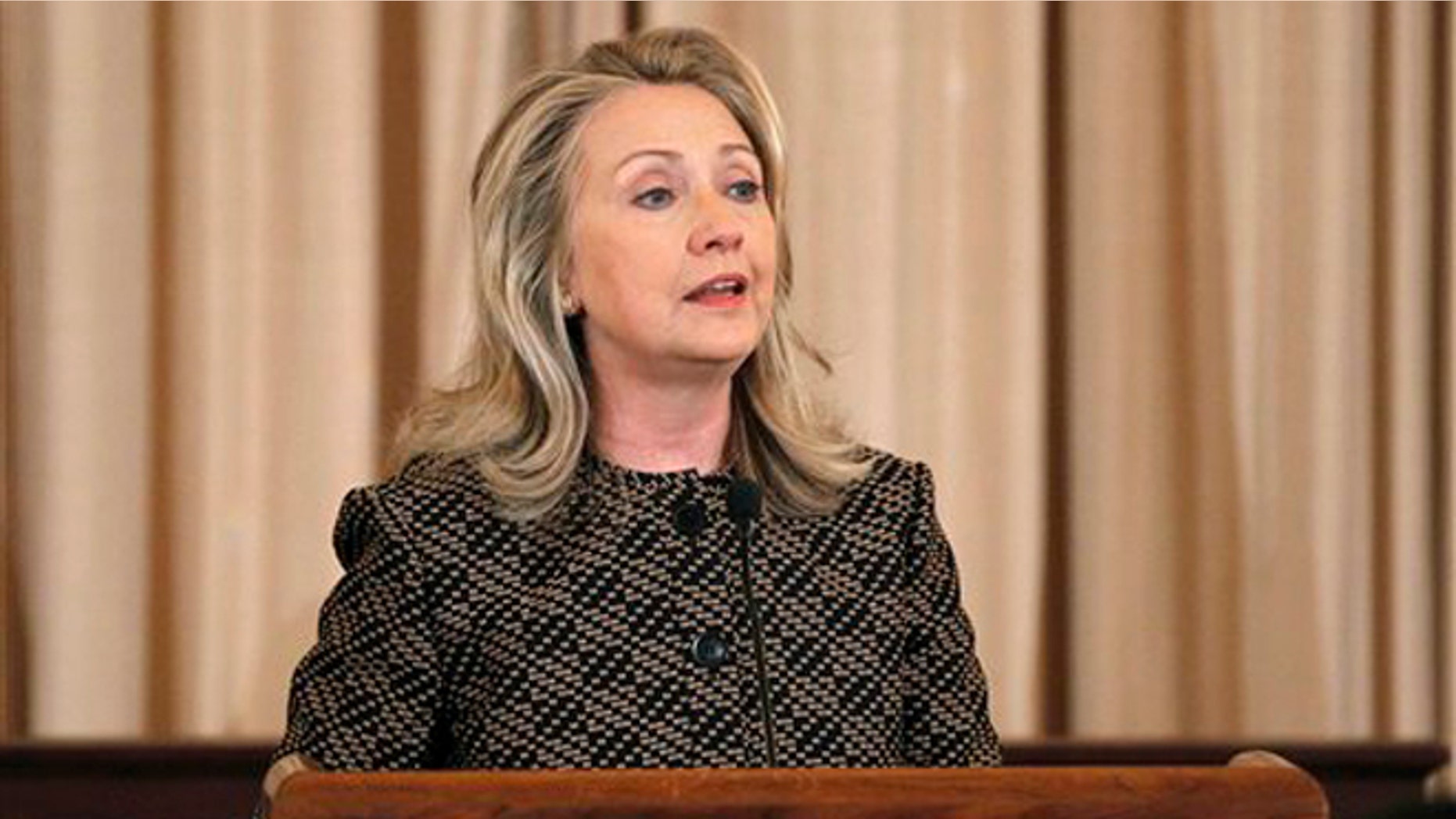 **Want FOX News First in your inbox every day? Sign up here.**
Buzz Cut:
• Hillary fought to keep Boko Haram off terror list
• Double feature legal fight on ObamaCare today
• Feds: Cockfighting ring figure claimed Grimes' support
• Chamber personally injures attorney
• Help wanted for light maiming
HILLARY FOUGHT TO KEEP BOKO HARAM OFF TERROR LIST
Hillary Clinton's public outrage at the abduction of hundreds of schoolgirls by a Islamist Nigerian rebel group ignores the role the 2016 Democratic frontrunner had in preventing the group from being designated as a terrorist organization. From The Daily Beast: "The State Department under Hillary Clinton fought hard against placing the al Qaeda-linked militant group Boko Haram on its official list of foreign terrorist organizations for two years. And now, lawmakers and former U.S. officials are saying that the decision may have hurt the American government's ability to confront the Nigerian group that shocked the world by abducting hundreds of innocent girls….On Wednesday, Clinton said that the abduction of the girls by Boko Haram was 'abominable, it's criminal, it's an act of terrorism and it really merits the fullest response possible, first and foremost from the government of Nigeria.' Clinton said that as Secretary of State she had numerous meetings with Nigerian President Goodluck Jonathan and had urged the Nigerian government to do more on counterterrorism. What Clinton didn't mention was that her own State Department refused to place Boko Haram on the list of foreign terrorist organizations in 2011, after the group bombed the UN headquarters in Abuja. The refusal came despite the urging of the Justice Department, the FBI, the CIA, and over a dozen Senators and Congressmen."
He did it - Clinton's successor, Secretary of State John Kerry designated Boko Haram as a terrorist organization in November, 2013.
Hillary: No reason to continue Benghazi probe - WaPo: "During a Q&A session held at the Ford Foundation in New York City, ABC News' Robin Roberts asked former secretary of state Hillary Clinton about the Benghazi attacks: 'Were you satisfied with the answers and are you content with what you know what happened?' 'Absolutely,' she said. 'I mean, of course there are a lot of reasons why, despite all of the hearings, all of the information that's been provided, some choose not to be satisfied and choose to continue to move forward. That's their choice and I do not believe there is any reason for it to continue in this way, but they get to call the shots in Congress.'"

[The Judge's Ruling - Fox News Senior Judicial Analyst Judge Andrew Napolitano asks "A new 'Watergate'? Team Obama and the hunt for the truth about Benghazi"]

DOUBLE FEATURE LEGAL FIGHT ON OBAMACARE TODAY
On the procedural end-around used to pass the law - Christian Science Monitor: "The Affordable Care Act is back at center stage in the courts on Thursday with yet another legal challenge that aims to derail President Obama's massive health care reform law. Rather than attacking the individual mandate or the so-called contraceptive mandate, this lawsuit challenges a legislative maneuver used by Senate majority leader Harry Reid (D) of Nevada to pass the bill five years ago. The little-noticed legal battle is being waged by a conservative public interest law group, the Pacific Legal Foundation (PLF). It seeks to enforce a constitutional command: "All bills for raising revenue shall originate in the House of Representatives." Lawyers for the group charge that the Affordable Care Act (ACA) was first passed by the Senate and only later approved by the House in violation of the Constitution's Origination Clause. The Obama administration rejects the challenge. "The Supreme Court has never invalidated an Act of Congress on the basis of the Origination Clause, and this suit presents no reason to break new ground," Justice Department Attorney Alisa Klein wrote in her brief."
On religious liberty - Allegations that ObamaCare's infringes on religious freedom will be put under the microscope yet again today. The DC Circuit Court of Appeals will delve into the refusal by Priests for Life that the pro-life Catholic group to comply with regulations to subsidize drugs that its members believe end human lives, such as the "morning after pill." Lead by Rev. Frank Pavone, Priests for Life claim that ObamaCare's individual mandate infringes on their religious freedom.
[Did you ever read the piece on religious freedom and big government programs by New Deal historian Amity Shlaes? It's really awfully good.]
Rallying outside the courthouse - Sen. Ted Cruz, R-Texas, and other members of Congress will rally with Rev. Frank Pavone and other members of Priests for Life outside the D.C. courthouse.
[Watch Fox: Fox News Correspondent Shannon Bream will be at the U.S. Court of Appeals with the latest]
In search of amiable atheists – In his column today, George Will dives into the recent Supreme Court ruling that upheld the practice of opening government meetings with prayers: "The United States would be a more congenial place if it had more amiable atheists who say, as one such did, that 'it does me no injury for my neighbor to say there are 20 gods, or no god. It neither picks my pocket nor breaks my leg.' Some will say Thomas Jefferson was a deist, not an atheist. Atheism, however, simply involves having no theism, and deism — belief that a celestial Clockmaker wound up the universe and set it ticking — is too watery a theism to count. Any religion worthy of the name explains, enjoins and consoles; undemanding deism merely explains, and does this minimally. Deism purports to explain the universe; so does the big bang theory, which is not a religion."
HEALTH NOMINEE HAS INITIAL HEARING
President Obama's nominee to lead the Health Department, Sylvia Burwell, will appear today before the Senate Health, Education, Labor and Pensions Committee. Burwell, who currently serves as the director of the president's budget office, will answer question about the troubled health law and its implementation. The committee vote on Burwell's nomination, however, will be in the Finance Committee, which has yet to schedule its hearing.
Job one - Fox News: "Despite doomsday warnings from the White House and lawmakers on both sides that hundreds of thousands would lose their jobs as a result of the sequester, it turns out the budget cuts have only led to one job being lost among 23 federal agencies.
WHAT A FUNNY PLACE TO TALK ABOUT INCOME INEQUALITY
President Obama continues to rub elbows with stars and big bundlers today with three California fundraisers. Among today's profitable stops is a $10,000 a plate DCCC event at the palatial San Diego seaside home of Qualcomm founder and Democratic mega-donor Irwin Jacobs, the Washington Free Beacon reports. "[Jacobs] was the 25th largest donor to independent expenditure groups during the 2012 election cycle, contributing $2.3 million. Jacobs and his wife also bundled more than $500,000 for Obama's reelection." Wednesday In LA, the president spoke at a joint DSCC/DCCC fundraiser hosted by Disney Studios chairman Alan Horn at his Bel-Air home, for the roughly 90 guests, "...including Jeffrey Katzenberg and Barbra Streisand, who shelled out $64,800 a couple," according to  The Hollywood Reporter.
[New on Fox News Radio - The Balance of Power: Will The GOP Benefit From The Youth Vote? Check out the podcast.]
WITH YOUR SECOND CUP OF COFFEE...
Why Did You Just Yawn? Perhaps Your Brain's Too Hot: "[A] new study suggests that you may not really be yawning because it's contagious, or you're bored or tired. You're actually yawning because your brain is too hot. A group of researchers at the University of Vienna tested subjects in Austria and Arizona and tracked their activity, finding that that the only significant predicator of yawning was temperature: subjects were much more likely to yawn at higher temperatures. Other factors like sex, season, age, humidity, time spent outside, and hours of sleep the night before did not have a significant effect on the likelihood of a subject's yawning."
Got a TIP from the RIGHT or LEFT? Email FoxNewsFirst@FOXNEWS.COM
POLL CHECK
Real Clear Politics Averages
Obama Job Approval: Approve –  43.7 percent//Disapprove – 52.2 percent
Direction of Country: Right Direction – 29 percent//Wrong Track – 61.3 percent
Generic Congressional Ballot:  Democrats – 41.8 percent// Republicans 40.2 percent
FEDS: COCKFIGHTING RING FIGURE CLAIMED GRIMES' SUPPORT
WFPL:  "A new federal case brings questions about the bloodsport to a top state Democratic lawmaker and puts the practice back into conversations about the U.S. Senate race. Federal authorities filed charges against three Eastern Kentucky residents this week in a massive cockfighting ring run out of the Big Blue Sportsman's Club in McDowell, Ky. Walter Dale Stumbo, 51, Sonya Stumbo, 51, and Joshua Stumbo, 25, are accused of running one of the country's largest cockfighting operations, generating an estimated $1 million in revenue….The three operators of Big Blue are 'distant cousins' of Democratic state House Speaker Greg Stumbo, according to the speaker's office…Federal investigators also found those at the center of the cockfighting ring believed likely Democratic U.S. Senate nominee Alison Lundergan Grimes was a silent supporter of their legalization effort. In an affidavit, U.S. Department of Agriculture agent Stan Wojtkonski says Walter Dale Stumbo addressed a crowd attending a fowl contest on April 4. According to Wojtkonski's written oath, Walter Dale Stumbo said there 'were people in Kentucky government that were changing the federal law.' Those individuals couldn't publicly favor such a proposal, said Walter Stumbo. But he later 'mentioned Alison Grimes and Greg Stumbo by name,'…[I]n a statement Grimes campaign spokeswoman Charly Norton said: 'Alison was an early advocate for the farm bill that cracked down on this practice and called for (Sen.) Mitch McConnell to support this measure well before he did.'"
Grimes invokes Iraq war in into ad - Kentucky Secretary of State Allison Lundergan Grimes is out with her first ad of the 2014 season and is touting her work protecting veterans' ballots. The ad stars Paducah, Ky. mother Lyne Dicky, whose son was injured fighting in Iraq. "I almost lost my son in Iraq. But what upset him most was his ballot being lost in battle," says Dicky. "Because of Alison, that will never happen again." Grimes concludes the ad stressing she is "honored" to approve the message.
[Lexington Herald-Leader: "Likely Democratic U.S. Senate nominee Alison Lundergan Grimes is embarking on a 50-county bus tour to promote her economic plan…]
Chamber touts McConnell on small business - The U.S. Chamber of Commerce released an ad Wednesday touting Senate Minority leader Mitch McConnell's focus on small businesses in Kentucky. It features Kentucky business owner Patty Breeze saying that ObamaCare is not working. "[ObamaCare] is stiflingly business. All the different taxes associated with this law are just mindboggling," Breeze continues. "[McConnell] fights Washington for Kentucky." McConnell faces Tea Party supporter Matt Bevin in the May 20primary.
CHAMBER PERSONALLY INJURES ATTORNEY IN MISSISSIPPI
National Journal: "In Mississippi's Senate race, the U.S. chamber accused state Sen. Chris McDaniel of arguing against the state's 2004 tort-reform legislation that capped injury payments at $1 million, citing a 2012 case in which he asked for a $36 million award. McDaniel is running a primary campaign against Republican Sen. Thad Cochran. McDaniel's campaign responded with a statement saying he has 'fought tirelessly for tort reform in the legislature.'"
NEW TODAY: DAINES TOUTS ANTI-OBAMACARE STANCE
In a new TV ad starting today in Montana, Republican Senate hopeful Rep. Steve Daines attacks incumbent Sen. John Walsh, D-Mont. and Walsh's Democratic primary foe, former Lt. Gov. John Bohlinger on ObamaCare. "Can Montanans trust John Walsh or John Bohlinger to fight for us in the Senate? While working class families struggle to get ahead, Walsh and Bohlinger support Obamacare." The narrator continues, "Steve Daines is standing up to Barack Obama and fighting to repeal and replace Obamacare." Daines faces Montana Republican state Rep. Champ Edmunds in June 3 primary.
REID PAC CLAIMS FEMALE CANDIDATE WOULD BAN BIRTH CONTROL
The Democratic Senate Majority PAC, backed by Senate Majority Leader Harry Reid, released an ad targeting Michigan GOP Senate candidate Terri Lynn Land.  The ad says Land will take Michigan women "backwards." "Under Land's radical plan, common forms of birth control would be outlawed," says the narrator. "Michigan women just can't afford Republican Terri Lynn Land." Land hopes to beat Rep. Gary Peters, D-Mich., to succeed retiring Sen. Carl Levin, D-Mich. Currently, Peters is ahead in polls.
WEHBY LOOKS PAST PRIMARY, ATTACKS DEMOCRATIC SENATOR
Oregonian: "Republican Senate candidate Monica Wehby launched a television ad Wednesday attacking Democratic Sen. Jeff Merkley, whom she hopes to run against this fall. The 30-second commercial features Wehby charging that 'career politicians like Jeff Merkley created a $17 billion deficit, and they still refuse to admit Obamacare is a disaster.' The ad opens with shots showing Wehby, a Portland pediatric neurosurgeon, in her medical scrubs saying, 'In the operating room you have to get it right 100 percent of the time.' That line could draw some attention since the ad came out the same day that The Oregonian reported that Wehby had performed surgeries that are being scrutinized as part of a criminal case…The ad comes less than two weeks before Oregon's May 20 primary.  Wehby, whose major GOP rival is state Rep. Jason Conger, has raised much more money for advertising and has been able to dominate the broadcast TV market in the state."
Super PAC supporting Conger conservative views in new ad – Conservative group American Principles Fund, with former Arkansas Gov. Mike Huckabee's daughter Sarah Huckabee Sanders on the leadership team, released a new ad attacking Monica Wehby. The 30-second spot calls Wehby "pro-abortion" and quotes her saying "she won't vote to repeal Obamacare." The true quote however is that repealing Obamacare is "not politically viable at this point. We can't get it repealed with Obama in office." The ad then touts Wehby's primary challenger saying, "Conservative and pro-life Jason Conger opposed ObamaCare and will fight to repeal it."
COTTON TOUTS FATHER'S VALUES IN NEW AD
A new TV ad will hit Arkansas airwaves today highlighting the values Rep. Tom Cotton's, R-Ark., father, Len, taught him. "Dad said, 'don't spend what you don't have and stand on principle, even if you have to stand alone,'" says Cotton. Wednesday the Government Integrity Action Fund released a new ad supporting Cotton's military record. "Tom Cotton has always served our country with honor, integrity and character," says the narrator. "It's something Washington could you a little more of." This is the organization's second ad backing the Arkansas representative. Cotton challenges incumbent Sen. Mark Pryor, D-Ark., in November.
[Arkansas Senate candidate Rep. Tom Cotton, R-Ark., and Alaska Republican Senate hopeful Dan Sullivan react to attacks they've received from incumbent Democratic senators on "The Kelly File." Watch.]
RUBIO RECORDS SPANISH AD FOR COLORADO SENATE HOPEFUL
Sen.Marco Rubio, R-Fla., is featured in a new Spanish ad Wednesday for Colorado Senate GOP candidate hopeful Rep. Cory Gardner funded by the U.S. Chamber of Commerce. "Cory will fight for Colorado, and run away debt, take on reckless spending and challenge leaders in both parties to create new jobs," Rubio says in the English version of the ad. "America needs principled leaders like Cory Gardner in the Senate. That's how we'll end gridlock." Gardner is essentially tied in the polls with challenger freshman Sen. Mark Udall, D-Colo.
[Fox News Latino: "A record 8 million Latinos are likely to vote in the November elections this year, said the National Association of Latino Elected and Appointed Officials. The group also projects that by 2016, 28 million Latinos will be eligible to vote, up from the current 25 million."]
Rubio bashes Crist – "My prediction is by the end of this election, even Democrats will be embarrassed that [former Gov. Charlie Crist, D-Fla.,] became a Democrat. If this was in fact how he felt at the time, why didn't he say it? Why didn't he say I'm not running as a Republican because I think the Republican Party has become what he accuses it of becoming and why did he switch to Democrat? Why didn't he run as an independent? Why did it take him four years to say what he's saying? It's not a serious thing." – Sen. Marco Rubio, R-Fla., on "Your World with Neil Cavuto"
SANTORUM BACKS SASSE
Omaha World Herald: "One-time GOP presidential candidate and former U.S. Sen. Rick Santorum has thrown his support behind Senate candidate Ben Sasse. 'Ben Sasse will be a fighter on life issues and on issues that support our families,' Santorum said in a statement released by the Sasse campaign. 'Ben Sasse says he will be a 'champion for the unborn,' and I believe him.' Santorum joins a contingent of conservative GOP national politicians who have endorsed Sasse, including former Alaska Gov. Sarah Palin, Sens. Ted Cruz of Texas and Mike Lee of Utah and [Wisconsin] Rep. Paul Ryan."
UM…
The Democratic Senatorial Campaign Committee blasted an email to its subscribers Wednesday calling North Carolina GOP Senate nominee Thom Tillis a "radical" and "the next Ted Cruz." That's the same Thom Tillis who was the choice of the Republican establishment. "He's the chief architect of North Carolina's discriminatory voter suppression law, has pledged to 'divide and conquer people who are on assistance,' and froze teachers' pay while dismissing complaints about it as "whining from losers," the email said.
[Want to watch Sen. Ted Cruz, R-Texas, pet a pig? Sure you do.]
PICK SIX: LOSING CONFIDENCE IN LOUISIANA?
Republicans are hoping to pick up an additional six seats to gain control of the Senate this November. Which Democrat-held seats will prove to be the most likely flips for the red team? The current consensus among Fox News First readers: Arkansas, Montana, Louisiana, South Dakota, North Carolina and West Virginia. Fox News First reader Louis Chassaignac from Mandeville, La. says, "I considered [Sen. Mary Landrieu, D-La.,] to be in more trouble than maybe she actually is. Republican mover and shaker and shipbuilder, Donald T. "Boysie" Bollinger, is running TV ads supporting her. I believe this may be a game changer. Not for me, though."
Share your top six picks. Email them – just your top six, please – to FOXNEWSFIRST@FOXNEWS.COM or tweet @cstirewalt.

THEY DID SAY THE MILITARY WOULD PIVOT TO ASIA…
"Godzilla" hits theater screens next week, but what if Godzilla were to actually emerge from Tokyo Bay? No worries, the National Air and Space Museum is on the case and found that Kadena U.S. Air Force Base in Okinawa could get him.
HELP WANTED FOR LIGHT MAIMING
Two University of Georgia students posted an ad for a hit man, but one with some boundaries. According to Athens Flagpole, the two were "seeking someone to run them over with a car. However, they clearly state that they don't want to die, they just want to be 'injured enough' to have a valid excuse to not take their final exams. They round off their request with, 'Please do not kill.'" The compensation was described as "hitting two lovely ladies by vehicle w/permission." They also described themselves as a non-profit organization. Unsurprisingly, the ad has been flagged and is no longer available.
AND NOW A WORD FROM CHARLES…
"You don't want to be a Democrat seen as standing in the way of an investigation of what looks to me to be, very clearly, a violation of trust: the IRS making political choices and persecuting organizations on the basis of their ideology. Everybody is afraid of the IRS, but at least if you think they are administering their powers – and they are very great – in a fair way, you'll accept it." – Charles Krauthammer on "On the Record with Greta Van Susteren"
Chris Stirewalt is digital politics editor for Fox News. Want FOX News First in your inbox every day? Sign up here.