Hawaii gov ousted in Dem primary, Senate race too close to call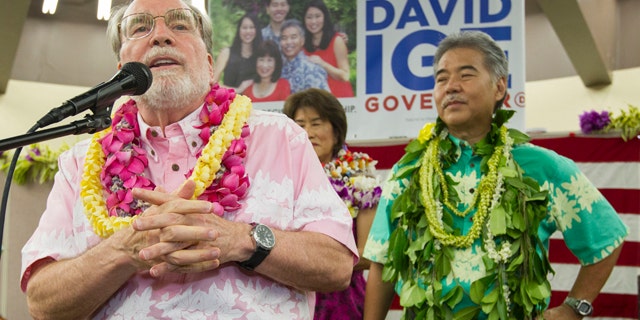 NEWYou can now listen to Fox News articles!
Hawaii Democratic Gov. Neil Abercrombie, in a historic loss, was soundly defeated in Saturday's primary by a state senator, while the island's marquee U.S. Senate race remained too close to call.
Abercrombie's loss to state Sen. David Ige makes him the first sitting governor in state history to lose a primary for reelection. It came amid concerns about tax hike proposals and his leadership style.
With 99 percent of the precincts reporting, Ige had received 67.4 percent of the vote to 31.5 percent for Abercrombie.
In the Democratic Senate primary, incumbent U.S. Sen. Brian Schatz held a narrow lead over Rep. Colleen Hanabusa early Sunday morning, with votes still being counted.
With 99 percent of precincts reporting, Schatz had 49.4 percent of the vote, while Hanabusa had tallied 48.6 percent of the vote. The two were separated by fewer than 2,000 votes out of more than 210,000 ballots cast. The election could come down to two precincts on the Big Island that have not yet voted due to Tropical Storm Iselle.
The race had divided Hawaii Democrats because Abercrombie nominated Schatz, his lieutenant governor, to replace longtime Sen. Daniel Inouye after his death in 2012, despite Inouye saying he wanted Hanabusa to succeed him.
Hanabusa had attracted many of Inouye's supporters, though Schatz outspent Hanabusa by more than $1 million and his ads dominated Hawaii's airways. Hanabusa evoked Inouye's name throughout the campaign, aligning herself with the traditional Hawaii political establishment, while Schatz touted his endorsement from Obama.
The winner of the primary will face businessman and former state lawmaker Cam Cavasso in November's general election.
Abercrombie's defeat comes after President Barack Obama last month urged residents of his native state to back the governor, invoking the Hawaiian word for family in a radio ad by saying Abercrombie is "like ohana to me."
Abercrombie conceded the race to supporters, calling his four years as governor "a singular honor," then headed to Ige's election night party, where the two men, both adorned with leis, joined hands and raised their arms in the air on stage together.
"For 40 years going back to 1974 -- really at about this time -- every waking breath that I've taken, every thought that I had before I slept was for Hawaii," he told supporters. "It was for you. For all the brothers and sisters over these past 40 years that have given me the privilege and the honor to serve Hawaii's people."
Ige said he offered an alternative for voters who are unhappy with Abercrombie's proposal last year to raise several taxes, as well as his political style. Ige promised in a campaign flier that "there will be no name-calling when I disagree with anyone, no disparaging remarks toward anyone, no taking sole credit for collective achievements or blaming others when things go wrong."
Ige mounted his challenge against Abercrombie despite being outspent by about 10 to 1. While Abercrombie tore through $4.9 million through July 25, Ige spent just $447,000, according to Hawaii's Campaign Spending Commission.
Abercrombie is the first sitting governor from any state to lose a primary since Missouri's Bob Holden was defeated by Claire McCaskill in 2004.
In the November election, Ige will face former Lt. Gov. James "Duke" Aiona, who easily won the GOP nomination, as well as former Honolulu Mayor Mufi Hanneman, who is the Independent Party's candidate.
Meanwhile, state Rep. Mark Takai defeated six other challengers to win the Democratic nomination to replace Hanabusa as the representative of Hawaii's 1st Congressional District, which covers urban Honolulu. Takai will face Republican Charles Djou in the general election.
Republicans and independents are generally considered longshots to win general elections in the heavily Democratic state.
Nearly 160,000 voters turned in absentee ballots by mail and at walk-in sites in the two weeks before election day, up more than 12 percent compared with the 2012 primary. That year, 49 percent of voters cast early absentee ballots.
The Associated Press contributed to this report.