Guitar-Playing Congressman Officially Announces White House Run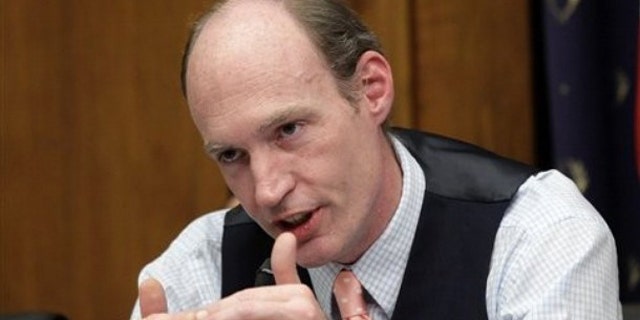 NEWYou can now listen to Fox News articles!
U.S. Rep. Thaddeus McCotter, a five-term congressman with little name recognition but plenty of pizazz, has become the latest Republican to enter the GOP presidential sweepstakes, officially announcing his candidacy on Saturday.
McCotter, a guitar-playing lawmaker from Detroit's suburbs who is known for his eccentric sense of humor and independent streak, made his announcement at an Independence Day festival at Whitmore Lake, about 30 miles outside the Motor City, He played guitar with his band at the event.
The 45-year-old attorney joins a crowded early field of GOP candidates, including former Minnesota Gov. Tim Pawlenty, former Massachusetts Gov. Mitt Romney and Minnesota Rep. Michele Bachmann, Texas Rep. Ron Paul, former House Speaker Newt Gingrich, pizza magnate Herman Cain, former Utah Gov. Jon Huntsman.
"There's a lot of people out there that worry the American dream is in danger," he said Friday on WJR-AM in Detroit. "So I was listening to the other candidates. They're fine people. But I don't think I'm hearing anything coming from them that's going to help us seize this opportunity."
McCotter said he would push for a fundamental restructuring of government and for Wall Street banks that received federal bailout money to free up credit.
"We're not seeing credit flow down to entrepreneurs, innovators and workers that will grow the economy and shape it for the 21st century," he said. "To me that has to be a linchpin of any economic policy that goes forward."
McCotter said there's "room for another message or another candidate ... Now whether or not it's me, that remains to be seen, but that's why we have campaigns."
His biggest battle may be getting his name out.
"The first time I heard about him was today when I received a news alert," Emory University political science professor Andra Gillespie said Friday. "My general reaction to this is this is a long-shot candidacy."
McCotter, of Livonia, was elected to his fifth consecutive term in Congress in November. Before running for Congress, he was a lawyer, a state senator, a Wayne County commissioner and a community college trustee.
The Associated Press contributed to this report.