Graham Targets Tea Party Win, Blasts Fellow Lawmakers & Media For Ignoring Security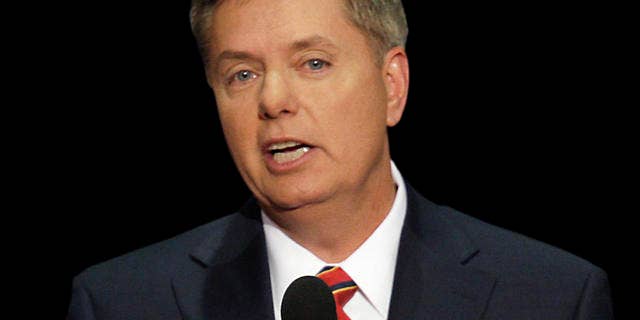 While taking repeated aim at a Tea Party candidate's surprising primary win last week, Republican Sen. Lindsey Graham on Monday blasted his fellow lawmakers and the media for paying too much attention to the political tit-for-tat rather than what he called the "important" but "boring" issue of national security.
"If you came here to find out how [Senate candidate] Al Greene pays his filing fee in South Carolina, or whether or not it's a good thing to dabble in witchcraft, or how many houses [New York Congressman] Charlie Rangel actually owns, or whether President Obama was born in America ... you have come to the wrong place," the South Carolina Republican told a crowd gathered at the American Enterprise Institute in Washington, alluding to several recent political controversies. "I thought we'd talk about national security simply because no one else is."
During remarks aimed at reiterating his opposition to a withdrawal from Afghanistan, his opposition to the 9/11 case being tried in civilian court, and his objections to using a "law enforcement model" to fight terrorism, Graham criticized the current "political discourse" as politicians make their "last lap" before mid-term elections in November.
"Has there been a serious exchange between any candidate -- Tea Party, Republican, vegetarian, Libertarian, Democrat -- about what we should be doing with Iran?" he said. "Have you seen one commercial about whether or not our Afghan strategy is good or bad? We're within days literally of a major shift in power in Washington, and you would never know that this nation is involved in two wars and looming threats face us all that could change the course of humanity."
He peppered his remarks with repeated digs at members of his own party, calling the "Republican point of view" an "unusual term now" since "there are about five camps in the Republican Party," including the Tea Party.
"Our Tea Party friends have done the country a lot of good by focusing on our out-of-control spending in Washington and the imbalance we have at the federal level," Graham said, "but when we talk about foreign policy, I don't hear much coming from either party or the Tea Party."
He lamented the fact that "nine years after 9/11, we don't have the ability in my view to effectively interrogate" a terror suspect.
"I know that's not as exciting as talking about Delaware, but I think it's important," Graham said, referring to Christine O'Donnell's Tea Party-backed victory in Delaware's Senate Republican primary last week. "To my friends in the media, I know witchcraft is intriguing, but we need to get our candidates who are going to be in charge -- our partners on national security -- to step to the plate and talk about these boring things."
In a 1999 video that surfaced over the weekend, O'Donnell admits to having "dabbled" in witchcraft.
As for when national security might return to the forefront of the discussion, Graham said it will take something "dramatic."
"I'm afraid what it's going to take, quite frankly, is another attack before we get serious about this stuff," he said.
PHOTO CREDIT:
Sen. Graham/AP file Photo