GOP Leaders Face Rank-and-File 'Pushback' on Payroll Tax Cut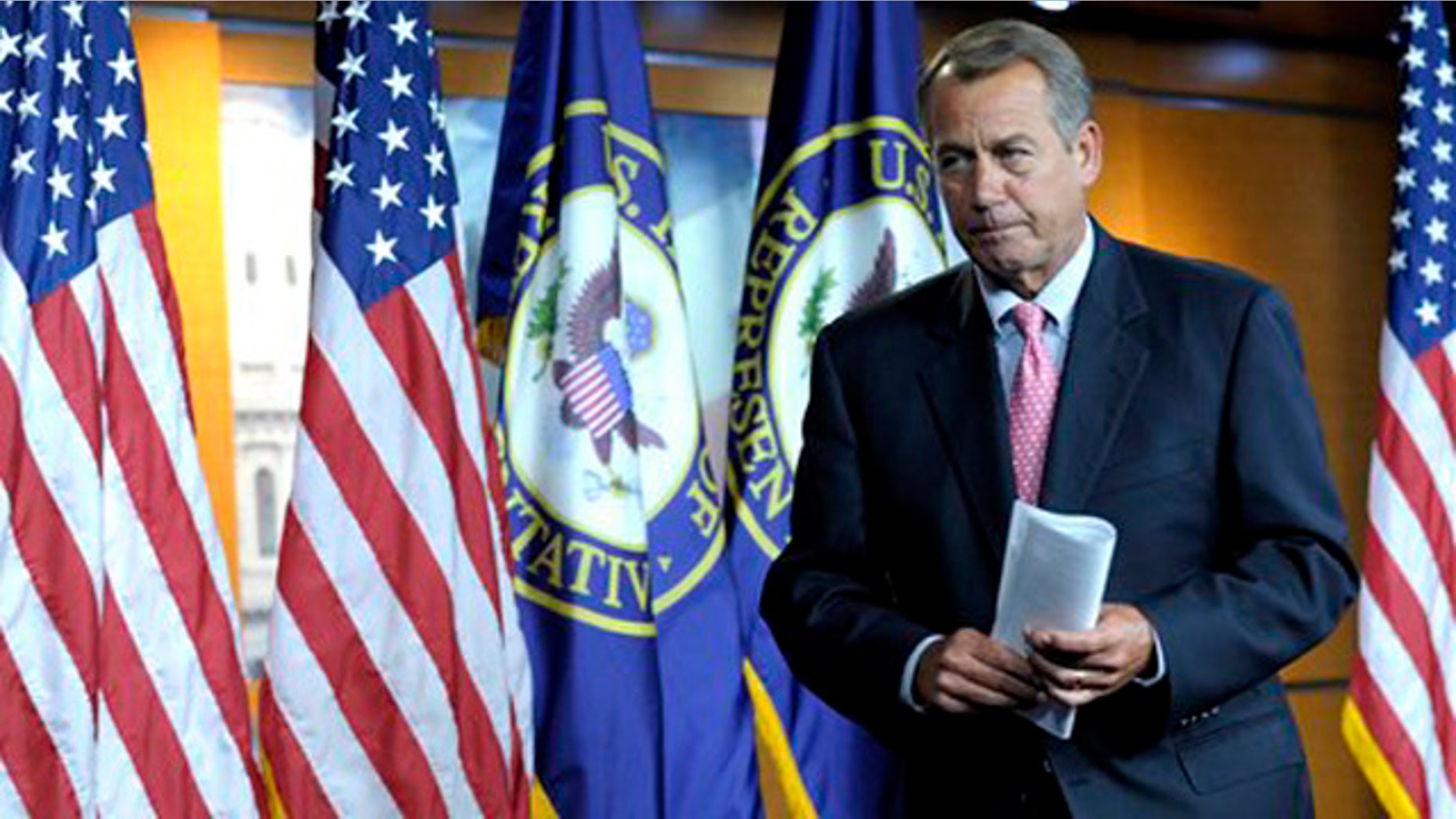 Rank-and-file Republicans are pushing back on a proposed extension of the payroll tax cut, indicating a rocky road ahead as congressional leaders on both sides try to work out a deal after the Senate shot down competing bills Thursday night.
President Obama on Friday prodded Congress to pass an extension soon, warning that lawmakers would have to stay through Christmas to get it done if necessary.
"We're going to keep pushing Congress to make this happen," Obama said. "Now's not the time to slam the brakes on the recovery -- right now it's the time to step on the gas."
House Democratic Leader Nancy Pelosi also said lawmakers must pass the extension by Christmas.
But divisions between and within the parties over how to pay for the extension -- and whether it's a prudent tax cut in the first place -- portend a tough series of talks for party leaders as they try to navigate out of deadlock.
Internal dissension is high in the Republican caucus for both chambers. While the Senate easily defeated the Democrats' tax cut proposal Thursday on a roughly partly-line vote, more than two dozen Republicans also voted to kill an alternative plan backed by their leader, Mitch McConnell, R-Ky.
In the House, rank-and-file Republicans were similarly rebellious. As House GOP leaders previewed their proposal for extending the tax cut Friday, they got an earful from those not on board.
Rep. Jeff Flake, R-Ariz., said GOP leaders heard a lot of "pushback" Friday. He said Congress should not extend the tax holiday unless it shows the "courage" to tackle other issues, like entitlement reform.
"Last year, we were in the same place when we proposed the first payroll tax holiday. A lot of us said we shouldn't do it because we'd be in the same place next year having to do it again," he said. "And guess where we are? Not to say I told you so ... We can't continue to do this."
Rep. Louie Gohmert, R-Texas, said the current 2-percentage-point cut in the Social Security payroll tax hasn't helped. Extending the tax holiday for another year would cost $120 billion.
"It hasn't stimulated the economy at all," Gohmert said. "But over the long term, it does add to our deficit."
Rep. Steven LaTourette, R-Ohio, though, supports the tax holiday and said he just wants to make sure it doesn't add to the deficit.
Officials said that to sweeten the measure for conservatives, House Republican leaders informed lawmakers they are prepared to add a provision averting a 27 percent cut in payments to doctors who treat Medicare patients, effective Jan. 1. The cost is about $38 billion over two years. In addition, officials said House Speaker John Boehner and the leadership suggested including a provision that delays and eases a proposed Environmental Protection Agency requirement for new pollution regulations on industrial boilers and incinerators. The House approved legislation along the same lines in October, with the backing of 41 Democrats.
Another provision that would be added to the payroll tax bill is designed to speed construction of a proposed Keystone XL pipeline that pits environmentalists on one side, and industry and some labor unions on the other. The 1,700-mile structure would carry as much as 700,000 barrels of oil a day from tar sands in Alberta, Canada, to refineries in Texas, passing through Montana, South Dakota, Kansas, Nebraska and Oklahoma. Despite a three-year review by federal agencies, Obama announced recently he would not decide whether to grant a construction permit until after the election in November 2012.
A spokesman for Boehner said House Republicans weren't planning on negotiating with Democrats before unveiling a payroll tax cut plan -- and the spending cuts to pay for it -- next week. But the Senate vote would seem to indicate that House Republicans will be hard-pressed to muscle a payroll tax cut through without Democratic support. And those votes could be hard to come by if the GOP plan contains spending cuts Democrats dislike.
The defeat of the competing Senate plans came as Boehner said for the first time that renewing the payroll tax cut would boost the lagging economy. Boehner also promised compromise on a renewal of long-term jobless benefits through the end of 2012.
The parties are still far apart on how to pay for the plan.
The first payroll tax plan to be defeated Thursday was a Democratic measure that was at the heart of the jobs package Obama announced in September. It would cut the Social Security payroll tax from 6.2 percent to 3.1 percent next year and also extend the cut to employers, with its hefty $265 billion cost paid for by slapping a 3.25 percent surtax on income exceeding $1 million.
Republicans and a handful of Democrats combined to kill the measure on a 51-49 tally that fell well short of the 60 votes required under Senate rules. For the first time, a Republican, Susan Collins of Maine, voted to support the millionaires' surcharge.
In a surprising result, Democrats and more than two dozen Republicans then voted 78-20 to kill the $120 billion GOP alternative that would have simply extended the existing 2 percentage point payroll tax cut, financed by freezing federal workers' pay through 2015 and reducing the government bureaucracy.
Republicans offered a simple one-year continuation of the existing law, jettisoning Obama's call to deepen the cut to 3.1 percentage point on workers' first $106,800 in earnings, while expanding it to cut in half employers' Social Security contributions for their $5 million in payroll.
To pay for the measure, Senate Republicans proposed freezing federal workers' pay through 2015 -- extending a two-year freeze recommended by Obama -- and reducing the bureaucracy by 200,000 jobs through attrition.
The Democratic plan would give a worker earning $50,000 a more than $1,500 tax cut; the GOP plan would provide a $1,000 tax cut for such an earner. A two-income family making $200,000 would reap a $6,000-plus tax cut under the Democratic plan and a $4,000 tax cut.
Democrats suggested Friday that Congress could pay for the tax cut extension simply by counting the savings from winding down the wars in Iraq and Afghanistan.
But some lawmakers consider that an accounting gimmick, since the wars are on track to wind down anyway. White House Press Secretary Jay Carney said Friday that Obama "prefers to pay for it in the manner that he put forward in the American Jobs Act," when asked about the possibility of using war savings.
Boehner's office also said "we don't want to go there."
Fox News' Chad Pergram and The Associated Press contributed to this report.