The Republican National Committee launched an aggressive campaign to paint fired FBI Director James Comey as a liar, just days before the airing of his first interview since he was cut loose and shortly before the release next week of his tell-all memoir.
The RNC borrowed a term, coined by then-candidate Donald Trump during the 2016 presidential primaries for "Lyin' Ted Cruz," and pegged it to the embattled former chief of the FBI.
The RNC's new website is www.LyinComey.com, where the GOP plans to fact check Comey's book and use "rapid response" to highlight any "misstatements" or "contradictions" in it, according to an RNC official.
"James Comey's publicity tour is a self-serving attempt to make money and rehabilitate his own image," RNC Chairwoman Ronna McDaniel said. "Comey is a liar and a leaker, and his misconduct led both Republicans and Democrats to call for his firing. If Comey wants the spotlight back on him, we'll make sure the American people understand why he has no one but himself to blame for his complete lack of credibility."
The official told Fox News that the RNC has prepared a rapid response team to respond to claims made in Comey's book, compiled a research team to fact check, and created a "war room" to monitor his appearances.
The website, at first glance, highlights in bold "LYIN' COMEY," with a cropped image of Comey's eyes. The homepage features a cycle of quotes from prominent Democrats questioning Comey's tenure.
"The FBI has no credibility," the website quotes Rep. Maxine Waters, D-Calif., as saying in January 2017.
"Maybe he's not in the right job," House Democratic Leader Nancy Pelosi, D-Calif., is quoted as saying in November 2016.
"…badly overstepped his bounds," the site quotes Hillary Clinton as saying in September 2017.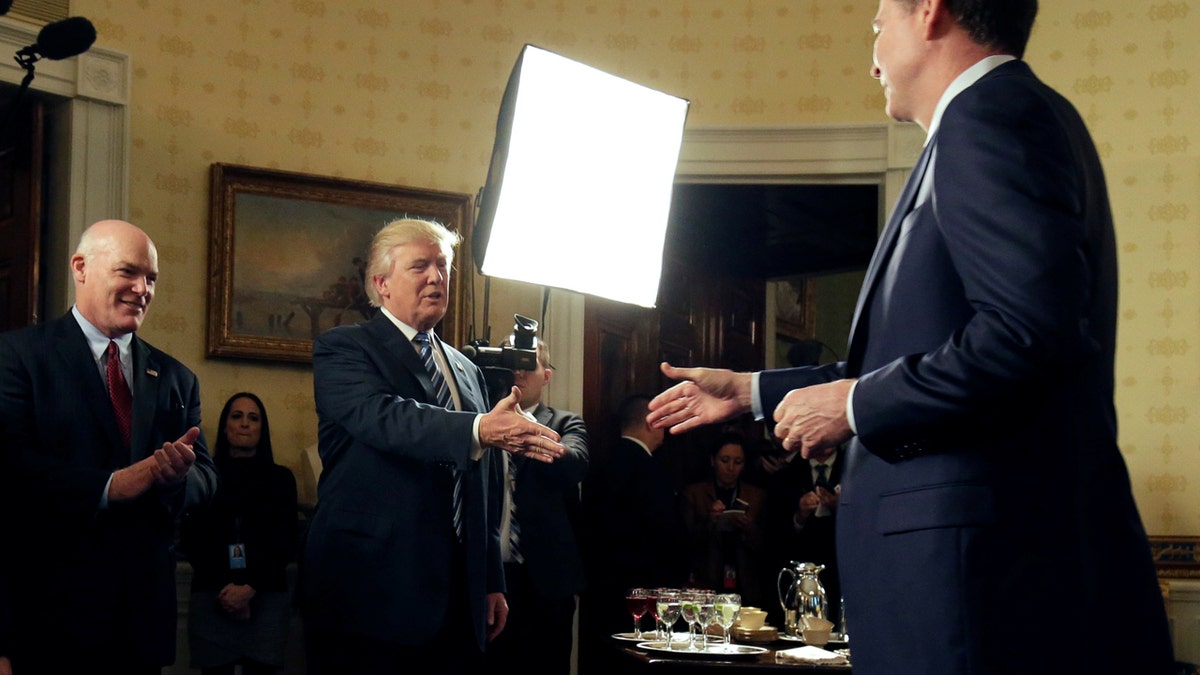 "I do not have confidence in [Comey] any longer," the site quotes Senate Minority Leader Chuck Schumer, D-N.Y., as saying in November 2016.
The website highlights Comey's claim, during his testimony on Capitol Hill last year, that he had never leaked to the media, but the GOP gives "the truth," and states that Comey, instead, "asked a friend of [his] to share the content" of one of his memos from a meeting with President Trump to the New York Times.
That memo shared by Columbia University Law Professor Daniel Richman allegedly was in order to spur the appointment of a special counsel.
Richman told Fox News on Thursday he had no comment on the RNC's new website.
The website also highlights the claim that Comey was wrongly terminated from his post at the FBI, and gives "the truth" that Democrats "long questioned Comey's ability to lead the FBI and even called for him to be fired."
Another section of the site claims that Comey "wants to portray himself as a non-partisan, by-the-book Boy Scout rather than a politically motivated Washington insider."
The RNC, again, paints "the truth," noting that "even Democrats and members of the liberal media have slammed Comey as a partisan, political leaker."
The site, again, quotes Hillary Clinton, who once reportedly said that Comey "bowed to partisan pressure."
At the bottom of the homepage, the RNC trumpets "Obstruction?" noting that Comey "may" use his book tour to "push the phony narrative" that Trump obstructed the Russia investigation.
The RNC, again, attempts to correct the record, noting that Comey has "confirmed multiple times under oath that neither President Trump nor his staff asked him to stop the Russia investigation."
The RNC has also launched two digital video campaign attack ads against Comey—one titled "Comey Not Credible, Just Ask Democrats," and another "Comey: A 'Leaker' and 'Washington Insider.'"
The Democratic National Committee did not immediately respond to Fox News' request for comment on the RNC's strategy.
Comey's memoir, "A Higher Loyalty: Truth, Lies, and Leadership," which will be officially released on April 17, is expected to share "never-before-told experience from some of the highest-stakes situations of his career."
A preview of his book on iTunes.com states: "His journey provides an unprecedented entry into the corridors of power, and a remarkable lesson in what makes an effective leader."
Comey is expected to address his firing from the FBI in May 2017, and controversial issues that arose during his tenure as director of the bureau.
Comey served as FBI director from 2013 to 2017, a former President Barack Obama appointee. He previously served as a U.S. attorney for the Southern District of New York, and the U.S. deputy attorney general in the George W. Bush administration.
"From prosecuting the Mafia and Martha Stewart to helping change the Bush administration's policies on torture and electronic surveillance, overseeing the Hillary Clinton e-mail investigation as well as ties between the Trump campaign and Russia, Comey has been involved in some of the most consequential cases and policies of recent history," the book's description reads.
Comey's first stop in promoting his book will be on ABC News with George Stephanopoulos. ABC released excerpts of the pre-taped interview, where Comey likens President Trump to a "mob boss."
An ABC News spokesperson told Fox News in a statement that "the interview will speak for itself—we expect it [to be] revealing, tough and fair."
The interview airs on ABC News Sunday night at 10:00 p.m. EST.
Fox News' Brian Flood contributed to this report.