Georgia special election: What to know about Jon Ossoff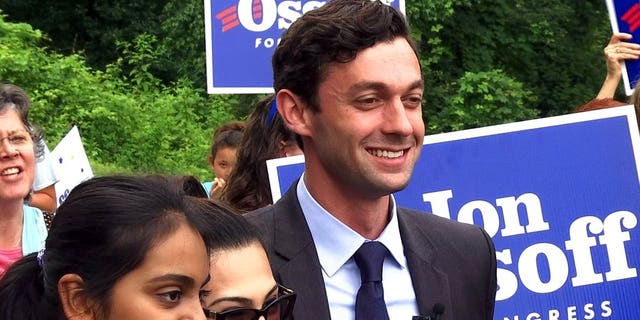 NEWYou can now listen to Fox News articles!
Democrat Jon Ossoff has made Georgia's special House election a competitive and closely-watched race — despite the district remaining squarely in the hands of Republicans for nearly 40 years.
Ossoff faces Republican Karen Handel in the fight for the seat vacated by Tom Price, the recently appointed Health and Human Services secretary.
Early voting in Georgia's 6th district began May 30, and June 16 was the final day to send in absentee ballots. June 20 is election day.
Tight campaign
Ossoff held a 7 point lead over Handel, a SurveyUSA poll found last month. But given the sample size of the poll, Emory University political science professor Andra Gilespie told WXIA-TV the race was still "too close to call."
Ossoff was ahead of Handel in a poll, 49.7 percent to 48 percent, according to WSB-TV. The margin of error was about 3.5 percent.
WHAT YOU NEED TO KNOW ABOUT GEORGIA'S SPECIAL ELECTION
The battle between the two candidates is the most expensive congressional race in U.S. history, and may cost upward of $50 million.
The seat has been held by Republicans since Newt Gingrich won it in 1978.
But Ossoff hopes to change that as he's touted his national security expertise and experience leading a small business to woo voters. He has also promised to push for criminal justice reform, protection of civil liberties and has defended Planned Parenthood, according to his campaign website.
District lines
Ossoff's current living situation became a point of contention during the campaign as he doesn't actually live in the congressional district he is vying to represent.
Federal law does not actually require a congressional candidate to live in his district. And Ossoff has explained that he lives just outside of Georgia's 6th district in order to be with his fiancée, a medical student.
TRUMP TAUNTS DEM CANDIDATE IN GEORGIA SPECIAL ELECTION
"As soon as she finishes her medical training, I'll be 10 minutes back up the road into the district where I grew up," Ossoff said.
Trump's referendum
The special election is largely seen as a test of President Donald Trump's influence.
Trump has attacked Ossoff multiple times on Twitter.
The president tweeted in support of Handel on Monday.
Star power
Ossoff's campaign has drawn many big name celebrities to push the young Democrat toward victory in a volatile district.
Samuel L. Jackson encouraged voters to vote for Ossoff to halt Trump's "racial and religious discrimination and sexism" in a radio ad. Chelsea Handler, George Takei and Alyssa Milano have tweeted support for Ossoff.
DEMS HOPE FOR UPSET IN GEORGIA HOUSE ELECTION
Along with Milano, actor Christopher Gorham offered to drive voters to the polls during the runoff election on April 18.
Maddie Anderson, the south/central regional press secretary for the National Republican Congressional Committee, dismissed the celebrity endorsements and accused Ossoff's campaign of "employ[ing] Hollywood elitists to be in charge of his voter outreach program."
Personal life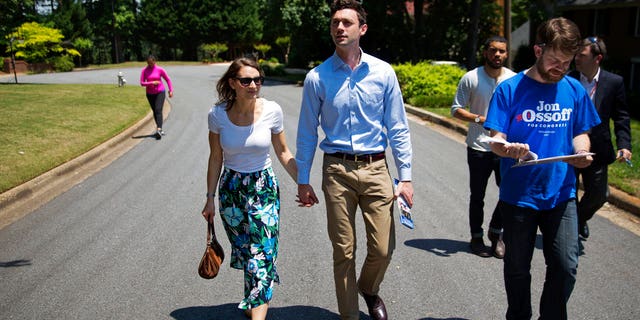 A former congressional aide and filmmaker, Ossoff was born and raised in Georgia, according to his campaign website.
Ossoff received his bachelor's degree from Georgetown University where he studied under former U.S. Secretary of State Madeleine Albright and former Israeli Ambassador to the United States Michael Oren. He also earned a master's degree from the London School of Economics. There, Ossoff wrote his master's thesis on trade between the U.S. and China, his campaign website stated.
Ossoff is the CEO of Insight TWI: The World Investigates which "produces world-class documentary films and television programmes, specializing in fresh, daring factual content and high-impact journalism," according to its website.
Ossoff proposed to his longtime girlfriend, Alisha Kramer, in May. Kramer is a third-year medical student at Emory University and is expected to apply to OB-GYN residency programs, according to the Atlanta Journal-Constitution.
Should Ossoff, 30, manage to "flip the Sixth," he would be the House's youngest congressman. Rep. Elise Stefanik, R-N.Y., is the youngest member currently at 32 years old.