Georgia GOP governor primary includes Michael Williams, Casey Cagle, Brian Kemp, others
It's primary day in Georgia, and Republican voters have several candidates to choose from when selecting who will become their Republican gubernatorial nominee in the fall.
The GOP field includes: Lt. Gov. Casey Cagle of Gainesville, Secretary of State Brian Kemp of Athens, former state Sen. Hunter Hill of Atlanta, state Sen. Michael Williams of Cumming and businessman Clay Tippins of Atlanta.
For the Republican race, the primary was filled with candidates who boasted about being tough on illegal immigration and vowed to protect gun rights.
Whoever wins the primary will face either former state House Minority Leader Stacey Abrams or former state Rep. Stacey Evans, both Atlanta-based attorneys. Former 2016 Democratic presidential candidate Hillary Clinton has endorsed Abrams.
However, if no candidate receives more than 50 percent of the vote, a strong possibility, the two with the most votes will advance to a runoff in July.
The gubernatorial race this year is to replace outgoing Republican Gov. Nathan Deal, a Republican, who is term-limited.
Read on for a look at Republicans who hope to win the nomination.
Casey Cagle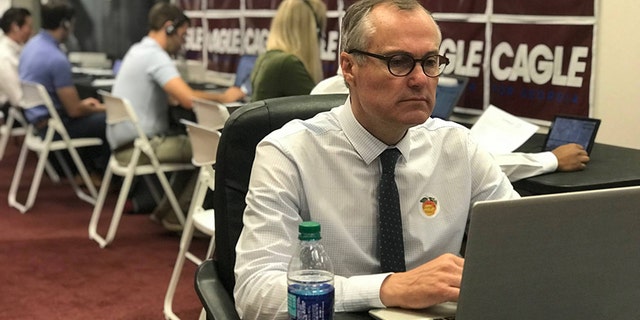 Casey Cagle has already made history in the state. In 2006, he became the first ever Republican elected to serve as Georgia's lieutenant governor; prior to that, he was the youngest state senator, elected in 1994 at 28 years old.
Cagle bills himself as a "conservative leader for Georgia" on his campaign website.
Cagle, 52, took on Delta earlier this year when the Atlanta-based airline said it would cut ties with the National Rifle Association (NRA) in an attempt to establish a "neutral status in the current national debate over control amid recent school shootings." In response, Cagle threatened to block any tax legislation that would benefit the airline unless it reversed course.
The NRA has since endorsed Cagle in the primary race.
As lieutenant governor, Cagle has also taken on sanctuary cities. Just before the primary election, he filed a complaint accusing the city of Decatur of being a so-called sanctuary city. Sanctuary cities are banned in Georgia, and local governments must certify that they comply with federal immigration agents in order to receive state funding, according to the Atlanta Journal-Constitution.
Decatur Mayor Patti Garrett has said her town -- just east of Atlanta -- is "not a sanctuary city and has no intentions of becoming one."
"I think that Washington should look to Georgia for examples of conservative leadership," Cagle told Atlanta Magazine. "In Georgia, we've outlawed and defunded sanctuary cities, we balance our budget every single year and we've combatted entitlement abuse head-on with work requirements all while becoming the No. 1 state for business."
Cagle was raised by a single mother and played football at Georgia Southern University, according to his biography. At 20 years old, he started a tuxedo company. He would later found Southern Heritage Bank.
Brian Kemp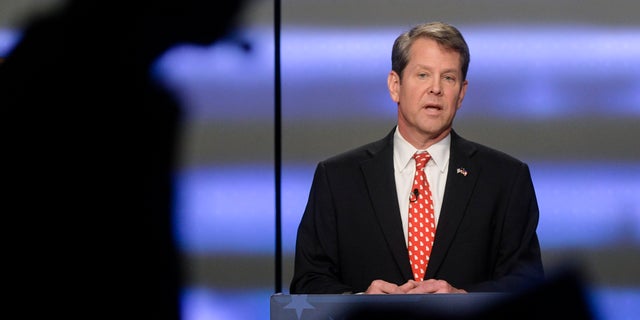 In his race for governor, Brian Kemp -- who has been Georgia's secretary of state since 2010 -- calls himself a "politically incorrect conservative."
Kemp, 54, has raised eyebrows with his campaign ads, including one in which he points a shotgun at a young man who supposedly wants to date his daughter. In another ad, he vowed to "round up criminal illegals" with his own truck.
As governor, Kemp said he would "track and deport all criminal illegal aliens" in another campaign spot.
Aside from being Georgia's secretary of state, Kemp is "a small business owner with companies in agribusiness, financial services, real estate management and investment," according to his campaign website.
As secretary of state, Kemp has pushed for the implementation of many "e-government" initiatives, including an online voter registration system, according to his biography. Prior to becoming secretary of state, Kemp served as a state senator.
Kemp and his wife have three children.
Hunter Hill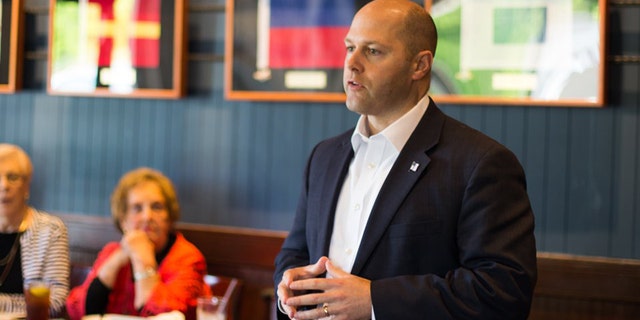 Hunter Hill boasts that he is "not a career politician," on his campaign website, which includes a photo of him in his Army uniform.
Hill, 40, served three tours in Afghanistan, according to his campaign website. And it was that final tour that he said was the "most impactful," and he "credits God for bringing him and all his men home safely." He said he also came to the revelation that "while there was strong leadership in the military, it was in the government where leadership was needed."
"He realized that America's greatest threats were from politicians undermining our constitutional values and principles of limited government, free enterprise and individual responsibility," his website states.
Hill served as a state senator from 2013 to 2017, when he resigned to run for governor.
As governor, Hill told WXIA-TV he would want to eliminate Georgia's state income tax and introduce "greater competition and free market principles" into the education system. He's also focused on transportation issues, he said.
According to his campaign website, Hill would focus on pro-life issues and advocate against gun control. He received an "A" rating from the NRA after he filled out the firearm organization's survey and because of his "past support for Pro-Second Amendment legislation," according to a press release.
Texas Sen. Ted Cruz and former Arkansas Gov. Mike Huckabee have endorsed Hill's campaign.
Hill is a graduate of the United States Military Academy. He and his wife have two children.
Clay Tippins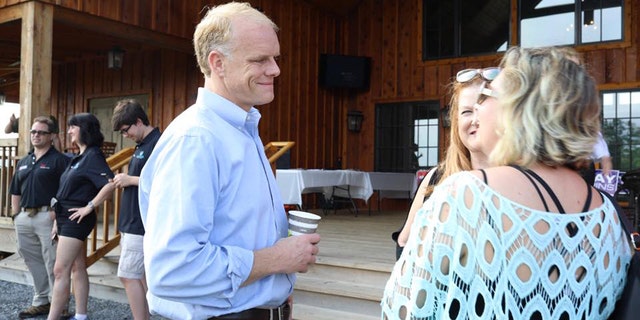 A former Navy SEAL, Clay Tippins says his next mission is Georgia.
Tippins is focused on education, specifically the low reading level, in Georgia. He said only about one-third of third-graders in Georgia read at an appropriate level.
"Third grade reading rates are the number one predictive indicator of a child's future success," Tippins told WXIA-TV. "If we want to know how many prison beds Georgia will need in 15 years, look at our third-grade reading rates."
He said he would also want to focus on rural Georgia.
"There's a lot of talk about bringing Amazon to Atlanta, but what Georgia needs are Amazon-caliber opportunities for rural Georgia," Tippins explained.
When it comes to the opioid crisis, he said he'd like to ask the doctors who make up the top 20 percent how many pills they're prescribing and ask them to provide reasoning for why they suggest so many. He told WABE he believed the number of prescriptions would decrease with that plan.
Tippins went to Stanford University on a swimming scholarship and was a member of three national championship-winning teams, according to his campaign website. After college, he joined a Navy SEAL team. He served in Iraq in 2015.
Aside from the Navy, Tippins has also worked for Silicon Valley tech companies. He and his wife have two children.
Michael Williams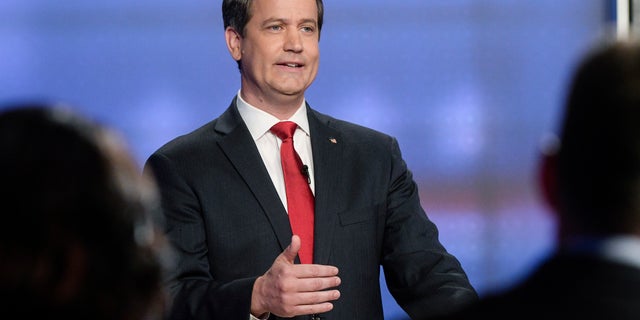 State Sen. Michael Williams was the Georgia co-chair for President Trump's 2016 campaign. But now, as he's running for governor, he's making headlines by driving around a "deportation bus" to prove that, if elected governor, he would be able to "expedite the deportation process and send a clear message to illegal communities that they are not welcomed in Georgia."
"If you're as tired as I am of politicians who do nothing but talk, and you want to see this bus filled with illegals, vote Michael Williams on May 22," he said in an ad which featured the bus.
"Danger! Murderers, Rapists, Kidnappers, Child Molestors, and Other Criminals on Board," was written across the back of the bus.
Williams touts that he was the first elected official in Georgia to endorse Trump, the Gwinnett Daily Post reported.
"Williams stood by Donald Trump through the ups and downs of the campaign, a time when many Republican elected officials were afraid supporting the Republican nominee could hurt their own political careers," Williams' campaign website states.
He's said he is "largely self-funding" his campaign with the exception of "small-dollar donations from across the state." He has also included a cell phone number on his campaign website which he encourages voters to call or text with questions.
Williams, 44, is a graduate of the University of Montevallo in Alabama. He was a small business owner and worked as a CPA for large companies in the past, according to his campaign website. He and his wife have four children.
Fox News' Brooke Singman and The Associated Press contributed to this report.