Gabriel Gomez Jumps Ahead In Massachusetts Senate Race, Almost Ties Rival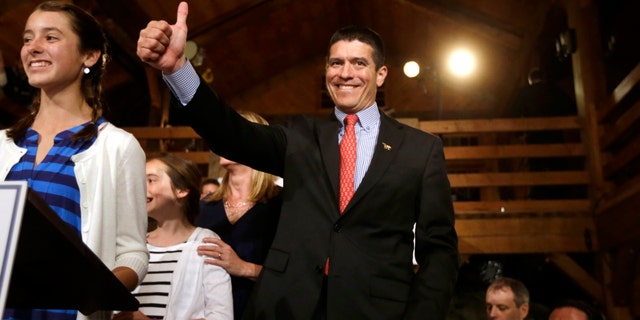 A new poll released Friday shows Republican nominee Gabriel Gomez is just four points away from his Democratic rival, Representative Edward J. Markey, in the race for the U.S. Senate in Massachusetts.
Gomez, a Colombian financier and former Navy SEAL, is supported by 40 percent of likely voters, compared to 44 percent for Markey, according to the survey conducted by Public Policy Polling. Sixteen percent of voters say they're undecided.
The close results come as a surprise in such a heavily Democratic state, which is holding a special election on June 25 to replace the seat left vacant by now Secretary of State John Kerry.
The automated telephone survey of 1,539 likely voters was conducted Wednesday and Thursday and has a margin of error of plus or minus 2.5 percentage points.
"Gabriel Gomez is starting out as an appealing candidate and is drawing some support from the kinds of voters who supported Stephen Lynch in the Democratic primary," said Dean Debnam, president of Public Policy Polling, in a statement. "It looks like it could be a competitive race."
In many ways, the 47-year-old, Spanish-speaking Gomez fits the profile of a new brand of politician that Republican leaders are looking for. He supports gay marriage, but says it should be decided state by state. He personally opposes abortion, citing his Catholic faith, but hasn't advocated overturning Roe v. Wade.
Markey, 66, was first elected to Congress in 1976 and has represented Massachusetts since then.
"This election, ladies and gentleman, will not be easy," he said in his primary victory speech, pointing that national Republicans were prepared to "move mountains of money to buy this election."
His skinny lead over Gomez, plus his poor showing among independents (31 percent, against Gomez's 77 percent), are sounding all the alarms in the Democratic camp, in a state where Democrats enjoy a 1-million-voter registration advantage.
"This campaign is about standing up to the special interests and the extreme tea party Republicans who want to stop progress and send our country in the wrong direction," he said in primary night. "I am ready for that fight."
Follow us on twitter.com/foxnewslatino
Like us at facebook.com/foxnewslatino