Frustrated Immigration Activists Feel 'Betrayed' By President Obama On Deportations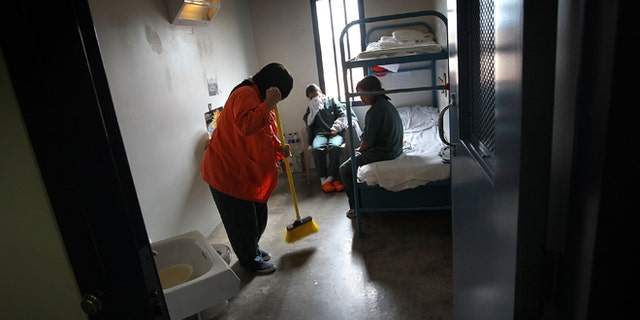 Santas Gutierrez weeps when she speaks about how she feels about President Obama now.
In 2008, and again in 2010, her relatives voted for him, clinging to his vow to reform immigration laws.
"I feel betrayed," said Gutierrez, a legal permanent resident who came from Guatemala in 1989, and whose husband has been in immigration detention for five months. "I thought, we all thought, that things would improve for immigrants."
Gutierrez was one of dozens of people – relatives of immigrants who are sitting in detention or who have been deported – who staged a hunger strike outside the White House, demanding that Obama curb deportations, which have reached a record rate during his tenure.
The hunger strike was one of many demonstrations and press conferences held around the country to vent frustration over Obama and his failure to deliver on his campaign promises regarding a sweeping immigration overhaul.
The frustration, which has been mounting since another attempt to pass immigration reform failed in Congress last year, did not ebb on Tuesday – a day after news that U.S. Department of Homeland Security Secretary Jeh Johnson is considering limiting deportations of immigrants living in the U.S. illegally.
Among those who may be spared deportation in a change in the process are those who don't have serious criminal records, and others who now are removed each year solely because they committed repeat immigration violations, such as re-entering the country illegally after having been deported, failing to comply with a deportation order or missing an immigration court date.
However, it would fall short of the sweeping changes sought by activists, who have grown increasingly frustrated by what they say is Obama's refusal to use executive powers to change some key aspects of U.S. immigration policy.
"My first thought, when I heard that, was right now there are cases of people in detention, and people who are being deported," said Tania Unzueta, an organizer for the National Day Laborer Organizing Network, in a phone interview with Fox News Latino. "If they're considering change, if that change is going to happen, it needs to happen today, as soon as possible."
Unzueta is a member of a commission that activists who want a comprehensive reform bill formed to come up with recommendations to give to the Obama administration for an overhaul of immigration policies.
She was one of about 20 activists who met with Johnson recently to discuss the recommendations.
Monday's news reports about the DHS head's plans to review changes to deportation, Unzueta said, left her underwhelmed.
"At this point, it's hard to get excited about announcements," Unzueta said. "We've been waiting for so long for Congress to act, and the president can use his executive power to do something – right now. Why are we waiting?"
Obama has blamed Republicans in the House of Representatives for inaction on immigration reform.
A bipartisan group in the Senate – four Republicans and four Democrats – last year spearheaded a legislative effort that included provisions for a path to citizenship for undocumented immigrants, tightened border security and expanded worker visas programs.
But the measure, which passed in the Democrat-controlled Senate in June, came to a halt in the House, where Republicans hold a majority and where a conservative faction has vowed not to pass any measure that gives breaks to people who have broken immigration laws.
But Obama, liberal critics say, has presided over the highest rate of deportations of any president – something, they say, he cannot blame on Congress and its handling of immigration reform proposals.
"The family-separation crisis is a very real and terrifying burden to a generation of parents and children who either live in crippling fear or continue to be tragically torn from one another," said a statement by the Fair Immigration Reform Movement (FIRM), the nation's largest immigrant-rights coalition.
"On one hand, President Obama's policies lead to scores of needless deportations and family separations," said the FIRM statement. "On the other hand, Republicans seem happy to abdicate their responsibility and take up the family separation mantle as a party platform. Together, they've manufactured a painful moral crisis in our communities."
These advocates, many who supported Obama's presidential candidacy, want the president to expand a two-year-old program that grants work permits to certain immigrants brought here illegally as children to include other groups, such as the parents of any children born in the United States.
Gutierrez, the Guatemalan woman whose husband sits in deportation, said she holds out hope that Jeh Johnson will implement the changes that reportedly he is considering.
Her husband, Gutierrez said, is a farm worker who was arrested in their home state of Massachusetts last year after a routine traffic stop.
Police found he was driving without a license, and because of his illegal status, he was detained under the custody of U.S. Immigration and Customs Enforcement, or ICE.
Though Gutierrez has her green card, and they have three U.S.-born daughters, her husband has a difficult immigration case.
He was deported twice and re-entered, technically a federal crime.
"He has no criminal history," said Unzueta, who is familiar with the details of the case. "Some people get charged with a felony for re-entry, others don't."
Santas Gutierrez said she hopes the rumored changes under consideration take hold while her husband is still in the United States and could benefit from them.
"He's worked hard his whole time here," she said. "He tends crops – corn, tomatoes – he supports his family. I've never been on a government handout. I've stayed home and raised our children, and he's provided."
For most of his time here, her husband, whom she met in the United States, had a work permit, she said. But it expired, and he did not apply for a green card.
"We're devastated," she said. "He's sitting in a jail. My daughters' grades have suffered. They are depressed and are despondent, they are not motivated to do anything. I cannot sleep, I am on medication for sleep now."
"I wish President Obama would do what he said he would," she said, weeping. "We believed him."
The Associated Press contributed to this story.