Fox News Poll: Majority Says as a CEO, Obama Would Have Been Fired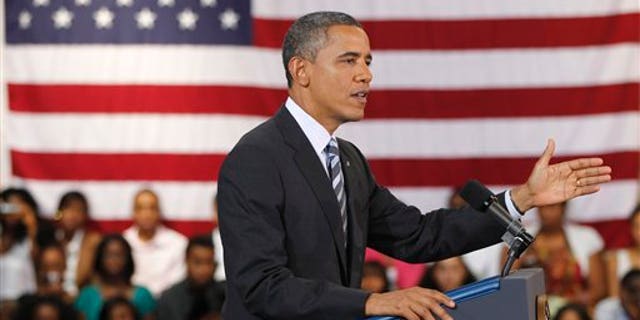 If Barack Obama were president of a major U.S. company, he'd be fired by now. That's what American voters think -- by a 52-38 percent margin.
Fifty-six percent of independents think a corporation's board of directors would have already handed Obama his pink slip. Nearly a quarter of Democrats also believe Obama would be out (23 percent).
In Obama's real job as president, a Fox News poll released Thursday found that while 43 percent of voters approve of his performance, just over half -- 51 percent -- disapprove.
A month ago, 44 percent approved and 47 percent disapproved (August 29-31).
Click here for the poll results.
Among those who approve of the job Obama is doing as president, 15 percent think he would have been fired if he were in the private sector.
Eight in 10 Democrats approve (80 percent) of the job Obama's doing, while nine in 10 Republicans disapprove (90 percent).
President Obama receives 31 percent approval among independents, which matches a previous record low in August. Over half of independents -- 55 percent -- disapprove.
Moreover, nearly half of independents (47 percent) say Obama's policy positions have "significantly changed" since taking office and two-thirds (67 percent) describe their feelings about the administration as "disappointed" or "angry."
Overall, 40 percent of voters have positive feelings about the administration (7 percent "very happy" and 33 percent "satisfied"), while a 58-percent majority feel the opposite (38 percent feel "disappointed" and 20 percent "angry").
Most Democrats have positive feelings toward the White House. Still, one in four (25 percent) is "disappointed" or "angry." Those negative views could be driven in part by the fact that just 17 percent of Democrats think, as president, Obama has stayed true to his campaign positions.
In general, 13 percent of voters think Obama has stayed true to his campaign positions, 45 percent think he has made small changes, and 40 percent think he has significantly changed his positions since taking office.
Meanwhile, a record-high 83 percent of voters disapprove of the job Congress is doing. Republicans (86 percent), independents (86 percent) and Democrats (80 percent) alike give lawmakers a thumbs-down.
Few -- 11 percent -- approve of Congress. That's up one point from a record-low 10 percent approval in early August.
One example of voter skepticism about lawmakers: almost as many (47 percent) think the Social Security system will go broke before Democrats and Republicans agree how to fix it as think the parties will work together to fix the system before it runs out of money (49 percent).
Solyndra a Problem for Obama?
The poll asked voters about the $535 million dollar government loan to the now-bankrupt solar company Solyndra. The same number (46 percent) suspect the loan involved unethical behavior as think it was a good faith loan that went bad.
It is not surprising that most Republicans (75 percent) think something unethical happened. The bad news for the White House: 51 percent of independents and 19 percent Democrats agree.
The Fox News poll is based on landline and cell phone interviews with 925 randomly chosen registered voters nationwide and was conducted under the joint direction of Anderson Robbins Research (D) and Shaw & Company Research (R) from September 25 to September 27. For the total sample, it has a margin of sampling error of plus or minus 3 percentage points.