Fox News Latino Poll: Libertarian Gary Johnson making inroads among Hispanics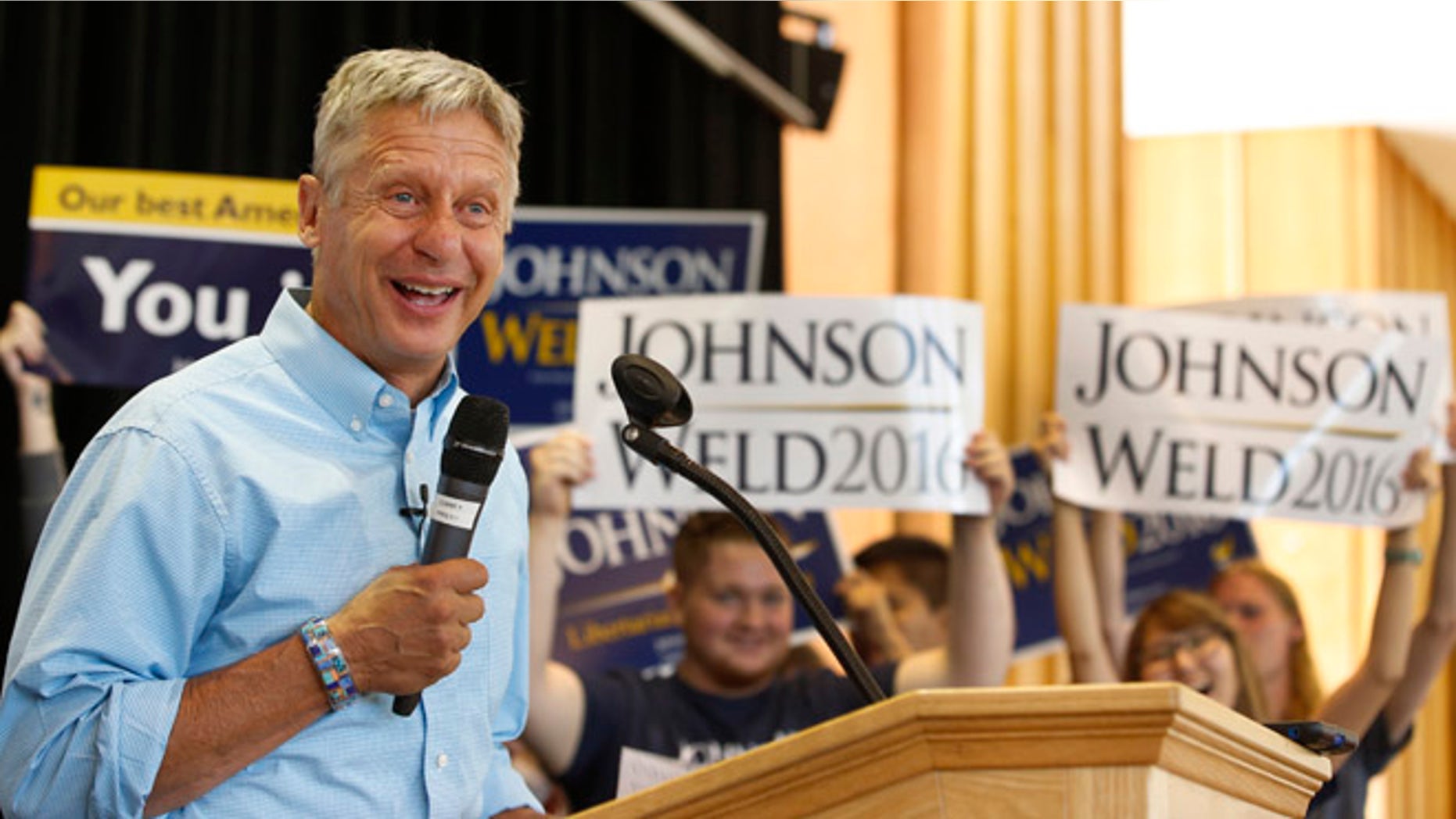 Libertarian presidential candidate Gary Johnson has been in the headlines a lot recently.
Late last week his campaign stole away a top Republican Party official to take the post as Johnson's director of Hispanic outreach. He has earned the backing of some prominent Republican lawmakers disenchanted by their own party's candidate Donald Trump. And now national polls have him creeping into relevancy – albeit far from the 15 percent needed to make it to the presidential debate stage.
Johnson, however, is passing that barrier among one group: Latinos.
According to an exclusive Fox News Latino poll released on Thursday, 16 percent of Latinos would vote for Johnson and running mate Bill Weld if the election were held today – only 1 percent less than the ticket of Trump and Indiana Gov. Mike Pence. Johnson jumped seven points since May, while Trump lost four points.
READ FULL RESULTS OF FOX NEWS LATINO POLL
The poll, which was conducted over the phone from August 7-10, surveyed only Latino registered voters and has a sampling error margin of plus or minus 3.5 percentage points. The poll was conducted under the direction of Anderson Robbins Research (D) and Shaw & Company Research (R).
Democratic presidential candidate Hillary Clinton still holds a commanding lead over both Johnson and Trump, pulling in 59 percent of the Latino vote, according to the poll. But that is lower than it would be if it was a two-candidate race. The poll shows that if Latinos had to choose between Clinton and Trump, the former secretary of state would pull in 66 percent of Latino voters and Trump would get 20 percent.
"The appeal of Johnson is that there is part of the Latino electorate who don't trust either Clinton or Trump," Ariel Armony, a political scientist at the University of Pittsburgh and an expert in Latino politics, told Fox News Latino.
At least two prominent Latinos, former Florida Congressman Juan-Carlos Planas and former National Puerto Rican Coalition CEO Rafael Fantauzzi, have backed Johnson and pledged to throw Latino support behind him. They chair a political action committee called Tercera Opcion, or Third Option, formed last month.
This year, we cannot settle for the lesser of two evils," Fantauzzi said in a press release announcing the PAC. "The insults from Donald Trump and the double talk from Hillary Clinton are not our only options. Governors Gary Johnson and Bill Weld are two of the most successful governors in America and they present the best hope to lead our country in the years ahead."
Johnson is seen by some Republicans as a palatable alternative to Trump because of how the Libertarian candidate's message of small government with little intervention in the business sector connects with conservative voters' fiscal values. There are also some Democrats who see Clinton as tied to closely to the so-called Washington elites and like Johnson's more socially liberal policies toward issues like immigration and marijuana legalization.
The former New Mexico governor was one of the first opponents to building any type of barrier along the United States with Mexico, telling Fox News Latino during his first presidential bid in 2012 that such a plan would not stem the tide of immigrants and illicit substances entering the country. Trump has proposed building a massive wall along the border with Mexico, which has drawn the ire of some Latinos in the U.S.
"It's a no brainer," Johnson said then. "Don't build a fence; it's an incredible waste of money."
Despite being separated by only 1 percentage point from Trump, most analysts say the Johnson poses no real threat to either Trump or Clinton and that the votes he steals away from either candidate will have little factor on deciding who the country's 45th president will be.
"I don't think Johnson will make much of a difference in these elections," Joe Trippi, a political strategist and frequent Fox News Channel contributor, told FNL. "He could syphon off Hispanics that don't want to vote for either Clinton or Trump, but not enough to make a difference either way."