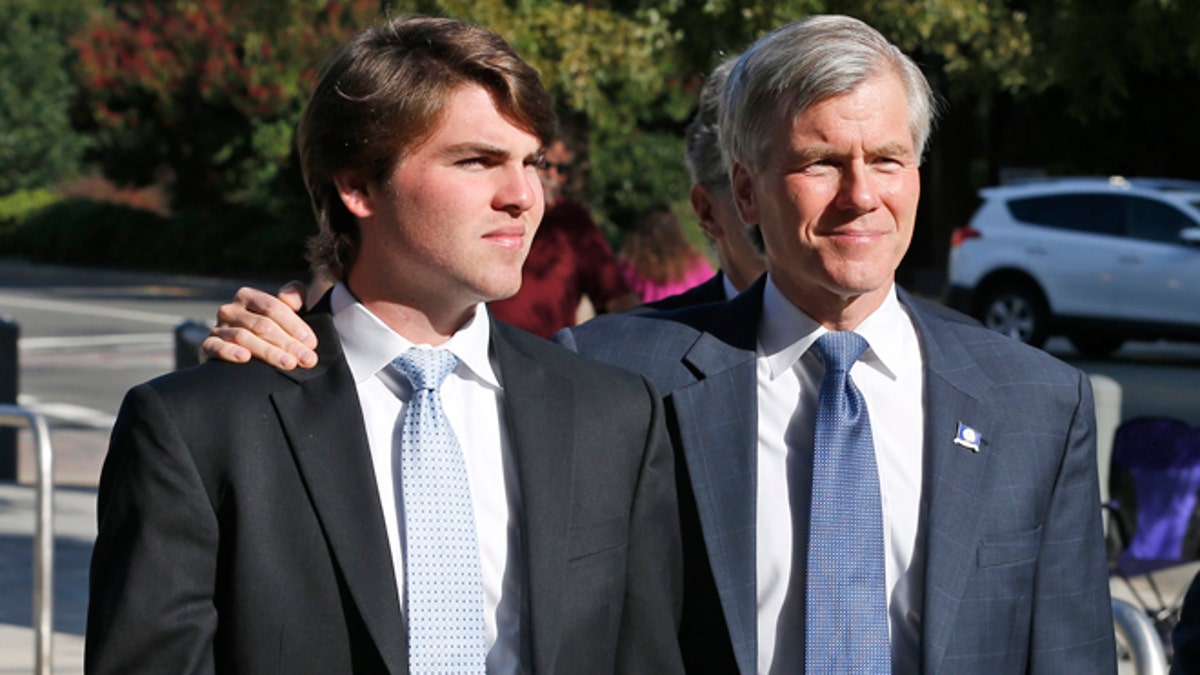 The jury began deliberations Tuesday in the corruption case that could send former Virginia Gov. Bob McDonnell and his wife to federal prison if jurors conclude that the couple sold the influence of his office to a wealthy vitamin executive seeking legitimacy for his company's signature product.
U.S. District Judge James S. Spencer spent nearly two hours reading instructions to jurors before they filed out of the courtroom to decide the fate of a onetime rising Republican star who was widely considered a potential running mate for presidential candidate Mitt Romney in 2012, just before the scandal broke.
Bob and Maureen McDonnell are charged in a 14-count federal indictment with accepting more than $165,000 in gifts, trips and loan from Jonnie Williams, former CEO of dietary supplements maker Star Scientific Inc., in exchange for special favors.
The seven-man, five-woman jury heard from dozens of witnesses and reviewed a mountain of exhibits over the past five weeks.
Williams, the prosecution's star witness, testified under immunity that he spent lavishly on the McDonnells only to secure their help promoting and obtaining state-backed research for Star's tobacco-derived anti-inflammatory, Anatabloc.
Bob McDonnell testified he did nothing other than extend routine political courtesies to Williams. Maureen McDonnell did not testify.
Williams' immunity deal bars his prosecution not only for his dealings with the McDonnells, but also for possible securities fraud violations that were investigated by a separate grand jury.
McDonnell's attorney, Henry Asbill, said in closing arguments Friday that the unusually generous immunity deal was Williams' "greatest con." Prosecutor Michael Dry countered that because of the agreement, Williams had no reason to lie on the witness stand.
Spencer told the jury that the testimony of a witness who is granted immunity must be more closely examined than testimony of other witnesses. The heightened scrutiny is required to determine whether the testimony of the immunized witness is "affected by self-interest," he said.
The judge also walked the jury through the charges, including "honest services fraud" and conspiracy to commit such an offense.
"A conspiracy is, in a very true sense, a partnership in crime," Spencer said.
To be found guilty, he said, a defendant must understand the nature of the conspiracy and deliberately join it.
However, he said a conspiracy does not have to achieve its goals -- an instruction that could undercut a defense claim that Williams never received anything of substance, including the research he took preliminary steps to seek.
He also said a corrupt agreement need not be stated explicitly by the conspirators and that it doesn't matter whether the defendant would have done favors absent a bribe.
Spencer also told jurors -- who heard from three character witnesses, two for Bob McDonnell and one for his wife -- that "evidence of good character alone may create a reasonable doubt as to a defendant's guilt."
The defense argued that the McDonnells' marriage was in such shambles that the couple could not have conspired because they were barely speaking. Maureen McDonnell's attorney said the first lady developed a "crush" on Williams, who capitalized on her vulnerability and further poisoned her marriage.
Williams bought nearly $20,000 in designer clothes for Maureen McDonnell and a $6,500 Rolex watch that she gave Bob McDonnell for Christmas. He also gave $15,000 for a McDonnell daughter's wedding reception and treated the McDonnells to trips and golf outings. Williams issued three loans totaling $120,000.
The McDonnells attended several events promoting Anatabloc and hosted an event at the governor's mansion that Star billed as a product launch. The former governor also arranged meetings for Williams with administration officials, although none resulted in action.