Feds could be coming for California's over-budget bullet train
NEWYou can now listen to Fox News articles!
The biggest boondoggle in California history is now under the microscope of the U.S. Department of Transportation as costs continue to climb on a multi-billion dollar high-speed rail project that routinely misses deadlines and blows through budgets.
The DOT is currently auditing the pricey West Coast venture- something critics claim is long overdue on what's essentially a pet project that's billions in the red, seven years behind schedule and appears to have no plausible way of living up to its goal of getting riders across the state in three hours or less.
The audit was requested by Rep. Jeff Denham, R-Calif., and began in April. A summary of preliminary findings is expected this summer with a final report due in the fall.
Denham asked for a review of the previous administration's oversight of federal expenditures. His office told Fox News they want to know if all precautions and risk analysis were taken to ensure the state's finances were viable to meet their non-federal match requirements. The office says while they hope the federal government didn't break the law, they are concerned that proper safeguards weren't in place.
According to the DOT, the inspector general's audit will examine the Federal Railroad Administration's oversight of nearly $3.5 billion in federal grant money awarded to the project.
The OIG will "assess FRA's (1) risk analysis, assessment and mitigation efforts – particularly regarding the availability of non-Federal matching funds, business plans, and financial reporting – and (2) procedures for determining whether federal funds expended complied with applicable federal laws and regulations."
The bullet train project was sold to voters in 2008 as a $33 billion ride from San Francisco to Los Angeles in 3 hours or less.
'We can't let this boondoggle continue.'
"Since then, the project has been scaled back dramatically by lopping off the Sacramento and San Diego segments while ballooning the estimated cost from $77 billion to $98 billion," Denham told Fox.
He adds that currently the High-Speed Rail Authority has "no complete or viable funding plan."
Originally, funding for the project was supposed to be done through bonds, federal funds and private investment. However, the money from private investment never really materialized and the cost of the entire project skyrocketed at every turn.
"Continuing to turn a blind eye to the deficiencies of this project is not acceptable when you're playing with taxpayer dollars," Denham said.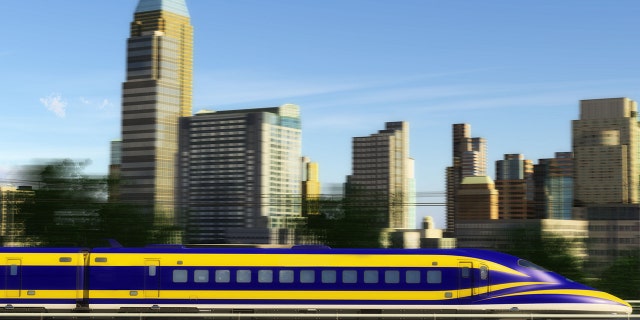 In 2013, for example, the project awarded its first contracts for construction on the route from Fresno to Madera counties. The cost to move power lines, construction cables and other utility components out of the way was estimated to be around $25 million.
In five years, that number has jumped to nearly $400 million.
The rising price tag has fueled concern for critics.
"Bullet train cheerleaders and their allies in the California Legislature have worked hard to conceal the true status of the project as well as its viability," Jon Coupal, president of the Howard Jarvis Taxpayers Association, said.
Coupal says auditing the "out of control boondoggle" will "help to avoid similar fiscal train wrecks in the future."
Denham agrees.
"We can't let this boondoggle continue," he said. "I plan to continue providing aggressive oversight and stopping all federal funding until the project is under control."
In addition to the federal government looking into the high-speed rail project, the state is also conducting a review.
"We will cooperate fully in this and any other audit of our funding or program," Brian Kelly, chief executive officer at California High-Speed Rail Authority, said in a statement. "We look forward to working closely with our federal partners to deliver the nation's first truly high-speed system."
But there apparently aren't too many people left who believe that's a viable reality.
"This so-called bullet train is a solution in search of a problem that is plagued by billions of dollars in cost overruns and fiscal mismanagement," San Diego Councilman Mark Kersey told Fox News earlier this year, adding that the billions wasted on the project "could have been invested in our current infrastructure needs, such as water storage, flood control, highways and bridges."
While supporters say the project should continue because so much money has already been spent, others say it's time to cut and run.