EXCLUSIVE: Advocates Cite Purported MOVE Act Violations in Seven More States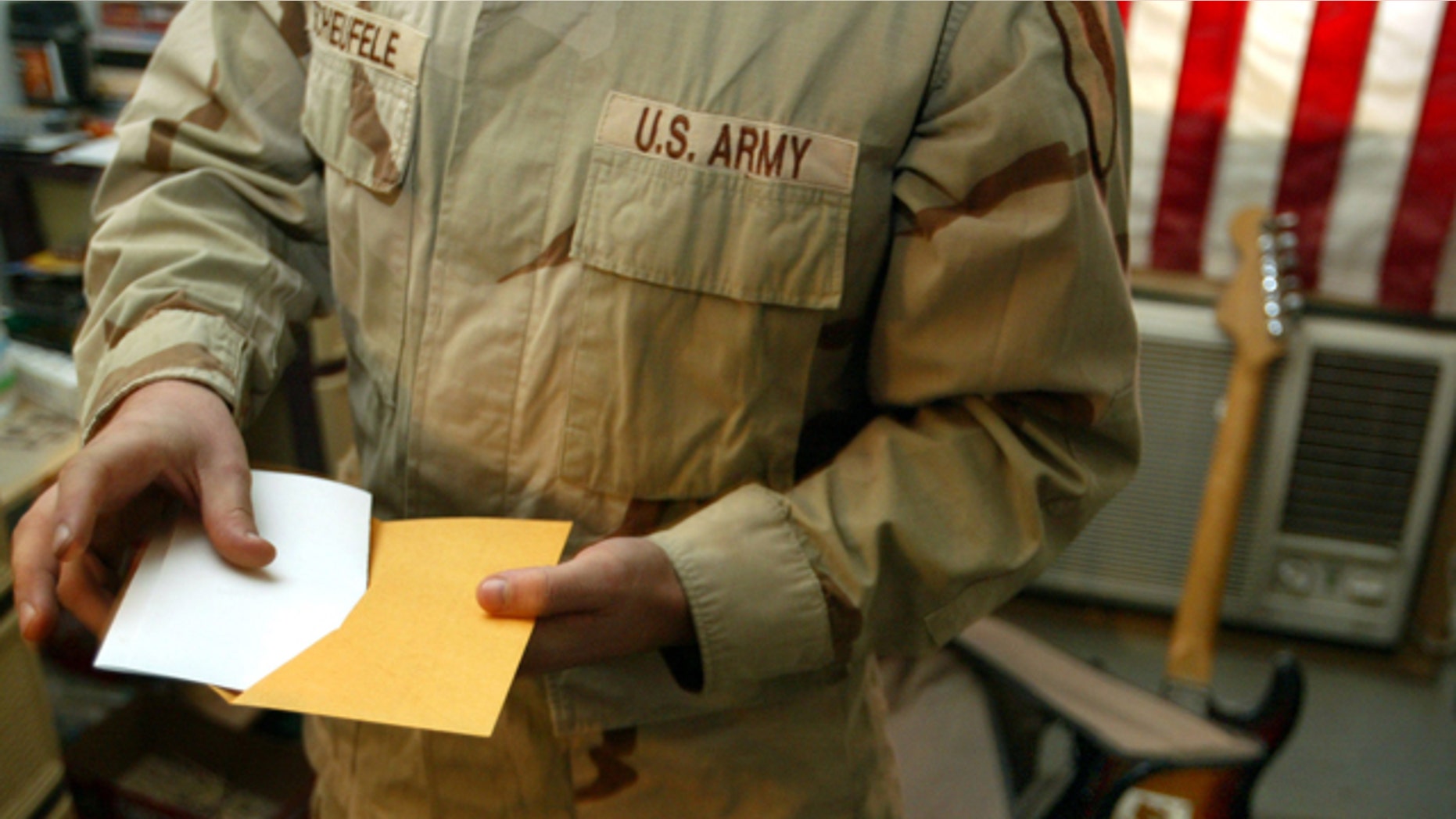 An organization fighting to ensure that all overseas members of the U.S. military have the opportunity to vote has sent a letter to Attorney General Eric Holder listing what it says are violations of the federal MOVE Act in two states and in multiple counties in five other states, FoxNews.com has learned.
The letter from the Military Voter Protection (MVP) Project calls on the Justice Department to take action against what it says may be widespread violations of the MOVE Act in Connecticut and New Mexico, and in some counties in Alabama, Arkansas, California, Indiana and Nevada.
And it suggests that a lawsuit the MVP Project filed last week against the state of Maryland could be just the first of many court actions.
MVP Project, a nonprofit organization founded by Eric Eversole, a former Justice Department voting section attorney, sued the Maryland Board of Elections on Thursday on behalf of an unnamed officer in the state National Guard who is on active duty in the U.S. Army. The group claims that the board of elections sent out absentee ballots to members of the military that applied only to federal races — and excluded state races for governor and attorney general, among other elected offices.
Eversole says the DOJ's lack of oversight in enforcing the MOVE Act could lead to the disenfranchisement of military voters.
"DOJ decided Maryland could send out to only half a ballot, and the ballots they sent out did not satisfy the requirements [of the MOVE Act]," he said. "It all comes back to this: From our perspective, they deserve to have [a full] ballot sent to them and sent to them in a timely manner. We don't think it should be half a ballot. You don't meet your requirements by sending out half a ballot."
But Maryland claims the MOVE Act requires states to send out only federal ballots 45 days before elections.
Ross Goldstein, deputy administrator of the Maryland State Board of Elections, declined to comment on the active lawsuit, but he said the state was following the law.
"We are in compliance with all requirements of MOVE Act," he said, stressing that the state sent out federal ballots before the Sept. 18 deadline and will likely send out the local race ballots by expedited mail by Oct. 8. He added that ballots have until the second Friday after Nov. 2, Election Day, to be counted.
On Monday, MVP Project sent a list of possible MOVE Act violations to Attorney General Eric Holder, claiming the act may have been violated in Connecticut, New Mexico, seven counties in Alabama, two counties in Arkansas, one county in California, one county in Indiana and two counties in Nevada.
The letter says:
— County election officials in Elko and White Pine Counties in Nevada indicated that ballots would be sent out on Sept. 22 or Sept. 23, days after the Sept. 18 deadline.
Matt Griffin, Deputy for Elections, Nevada Secretary of State, admitted that Elko County had not been able to get their absentee ballots out before the deadline, but he said White Pine County had no problems whatsoever. A printing problem slowed down the mailing process, Griffin said, but contingency plans were being made to ensure that all ballots will be counted.
— In Indiana, St. Joseph County ballots were slated to go out Sept. 27.
Brad King, co-director, Indiana Election Division, said he was concerned and disappointed to hear that St. Joseph County still has not sent out its absentee ballots 10 days after the MOVE Act deadline.
"Although the Election Division does not have enforcement authority, we can urge compliance with MOVE, and ask questions when that doesn't occur. And I am certain that there will be plenty of questions asked to better understand what has happened in St. Joseph County and how to prevent anything like it from occurring in the future," he said.
—  In Alabama, seven counties may have sent out ballots after the Sept. 18 deadline.
Alabama Secretary of State Beth Chapman said the state "is presently conducting a county-by-county survey to assess MOVE Act compliance," after which she'll determine if corrective measures are needed.
— Connecticut admitted to sending out ballots after the MOVE Act deadline, citing a press release dated Sept. 23. But that release said ballots were mailed out before the Sept. 18 deadline, says Secretary of State Susan Bysiewicz, who railed against Eversole's accusations and sent of a letter of her own to the Holder.
In a statement to FoxNews.com she wrote:
"My office and the clerks of this state take our responsibility to military and overseas voters very seriously, and Mr. Eversole and others who would make baseless and careless allegations should be called out for their egregious behavior.
"The statements made regarding Connecticut are patently false and reflect a serious lack of knowledge about all Connecticut has done over the past year to implement the MOVE Act…Of course, we have been submitting our MOVE Act implementation plans to the Department of Justice throughout this process and have received their approval every step of the way."
— New Mexico, California and Arkansas were also accused of potentially being in violation of the law. Officials in those states did not respond to requests for comment.
Justice Department spokeswoman Xochitl Hinojosa, asked to comment on MVP Project's letter to Holder, said:
"The Department takes all allegations of violations seriously and continues to vigorously enforce the Uniformed and Overseas Citizens Absentee Voting Act and the Military and Overseas Voter Enforcement Act of 2009, which strengthened UOCAVA.
"DOJ's MOVE Act Team is working hard with all states, not just those who requested waivers from the MOVE Act requirements, to investigate and remedy any problems that will prevent our men and women serving overseas from having the opportunity to vote and have their votes counted."
The Defense Department's Federal Voting Assistance Program director, Robert Carey, said:
"If FVAP hears of potential ballot delays or problems, it contacts the Department of Justice immediately with that information."
"States granted waivers must certify the delivery of ballots in accordance with their waiver plans and must report post-election on a broad range of statistics regarding ballot delivery and returns. All of those requirements notices, and responses as we receive them, are on FVAP's website at http://www.fvap.gov/reference/laws/waivers.html.  To date, all states have complied with their waiver requirements."
Sen. John Cornyn (R-Texas,) who co-sponsored the MOVE Act, said:
"The information gathered by the MVP Project confirms the worst — that many counties and cities across the nation have failed to comply with the MOVE Act's 45-day standard.  I have a hard time squaring this disturbing fact with the rosy assurances given to me by the DOJ.  There is now clear, public evidence that federal law is being violated in a way that could lead to massive disenfranchisement of our men and women in uniform.  The DoJ has no excuse but to take immediate action against these jurisdictions — each day of delay puts military voting rights at greater risk."
On Monday afternoon, Justice Department officials met with Judiciary Committee staffers and others to address concerns about MOVE Act disenfranchisement. Sources said when staffers asked specifically about the contents of MVP Project's letter to Holder, Justice Department personnel simply said they would handle it, and that they had 20 staffers working on MOVE Act related issues.