Ex-Michigan Dem governor teaching class on job creation despite spotty record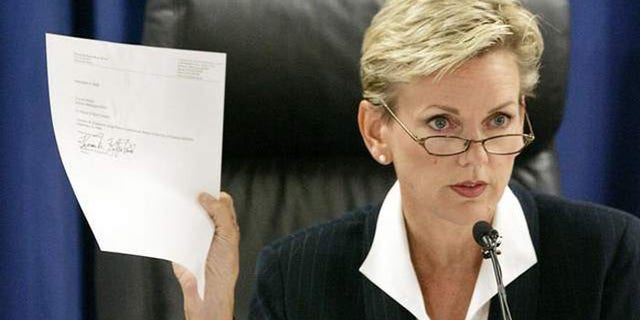 Former Michigan Gov. Jennifer Granholm saw her state lose a half-million jobs under her watch, but that isn't stopping her from teaching a graduate course this fall at University of California at Berkeley that will focus on developing job creation strategies.
Granholm was a rising star in the Democratic Party when she was elected Michigan's first female governor in 2002. She served two terms during a tenure that saw her approval ratings plummet as she weathered factory-closings, a crippling recession, auto industry bailouts and the highest unemployment rates in the nation.
"She presided over the most substantial decline in the state's economic fortunes perhaps in the state's history," said economist Michael LaFaive, of the Michigan-based Mackinac Center for Public Policy, adding that Granholm's lectures should be "interesting."
Granholm is teaching at Berkeley's Goldman School of Public Policy. She made $84,300 teaching a course last year called "Governing During Tough Times," according to a public database on the Sacramento Bee website. As a Berkeley lecturer in 2011 and 2012 Granholm's salary for each year was more than $150,000.
Calls and e-mails to Granholm's media representative were not returned. On her website, Granholm says clean energy was one of the sectors she worked hard to promote when she was governor.
"Her leadership attracted to Michigan more than 89,000 clean energy jobs and $9.4 billion in investments in that sector," her website says.
But LaFaive said that as governor, Granholm adopted programs that did more harm than good to promote job growth. He cited as examples her enactments of an 11 percent across-the-board tax hike and a business tax overhaul that replaced one widely hated system with one that was even more reviled.
"My reaction is to recommend students stay away unless her section of the class is a lesson in what not to do," LaFaive told FoxNews.com.
When Granholm took office, employment in Michigan stood at nearly 4.7 million. After a steady decline it stood at 4.2 million when she left office in December 2010.
The unemployment rate when she became governor stood at 6.6 percent. By August 2009 it rose to its highest level, 14.2 percent. At the end of 2010 the unemployment figure was 11.3 percent.
The course description says Granholm's class will help launch "the American Jobs Project" at Berkeley and will focus upon developing clean energy job creation strategies in ten states that are critical to shaping policy and politics for the 2016 elections. One of those states is Michigan.
"The American Jobs Project will focus on a bottom-up strategy of stoking jobs policy in the states, designing the road-map for each state to create innovative energy job clusters in the advanced energy and manufacturing job sector, based on state-specific research and customized innovative policy recommendations," it says.
The course is open to 20 grad students. The first class is Sept. 8. The class will have guest lectures from experts in the fields of clean energy, economic development and regulatory reform. The former governor's new teaching gig was first reported by TheCollegeFix.com.
Her husband Dan Mulhern, a leadership coach and Michigan radio show host, has also taught at Berkeley.