Ethics panel opens inquiry into Nevada Dem over sexual harassment claims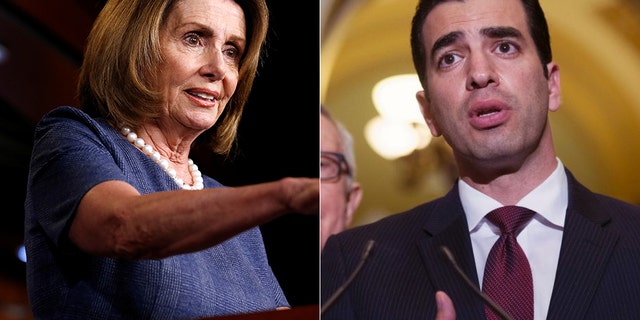 The House Ethics Committee confirmed Friday it has opened an investigation into Nevada Democratic Rep. Ruben Kihuen over sexual misconduct allegations.
The ethics panel said it was "aware of public allegations that Rep. Ruben Kihuen may have engaged in sexual harassment."
A former campaign aide claims the freshman congressman asked her on multiple dates and requested sex despite repeated rejections during his 2016 campaign.
Earlier this week, a second woman came forward alleging that Kihuen made inappropriate sexual advances toward her. She claimed he asked her to sit on his lap and sent dozens of suggestive Facebook messages and hundreds of text messages.
The woman, a lobbyist who has not been identified, told The Nevada Independent that Kihuen touched her thighs or buttocks three separate times without her consent when he was a state senator.
She said he sent her a shirtless photo and asked her to sit on his lap.
Kihuen, once a rising star of the Democratic Party, allegedly texted her to ask, "What color are your panties?"
When she didn't respond, he allegedly wrote: "Makes me sad. My day can't go on without knowing."
"I think he just thought he was playing around, which, I don't think he realized the position he probably put people in."
The lobbyist told the Nevada paper she didn't think Kihuen considers his actions wrong.
"I think he just thought he was playing around, which, I don't think he realized the position he probably put people in," she said.
For his part, Kihuen said he intended to "fully cooperate" with the ethics panel.
"I welcome an opportunity to clear my name," he added in a one-page statement.
Democrats remain divided on how to handle the situation.
House Minority Leader Nancy Pelosi, D-Calif., and Rep. Ben Ray Lujan of New Mexico, who heads the Democrats' campaign arm, have called on Kihuen to resign.
"In Congress, no one should face sexual harassment in order to work in an office or in a campaign," Pelosi said in a statement. "The young woman's documented account is convincing, and I commend her for the courage it took to come forward."
Pelosi made the statement after BuzzFeed first published the allegations of unwanted sexual advances made by Kihuen's then-campaign finance director.
While Pelosi was quick to call for Kihuen's resignation, others in the party, like Rep. Steny Hoyer, D-Md., have taken a wait-and-see stance.
Kihuen is the latest lawmaker on Capitol Hill whose political future could be in jeopardy following allegations of sexual misconduct.
Texas Republican Rep. Blake Farenthold announced Thursday he would not seek re-election after he was accused of calling staffers "f---tards" and sexually demeaning them and their spouses.
Former staffers accused Farenthold of routinely commenting on the size of women's breasts and making jokes about being on "redhead patrol" because he was attracted to women with red hair.
His former communications director, Michael Rekola also told CNN that in July 2015, he was leaving the office so he could get married when Farenthold told him he'd "better have your fiancee blow you before she walks down the aisle -- it will be the last time."
Sen. Al Franken, D-Minn., announced his intention to resign earlier this month after a flurry of resignation calls by members of his own party. With eight women accusing Franken of inappropriate behavior, 36 Democratic lawmakers demanded he step down.
And Rep. John Conyers Jr., D-Mich., the longest-serving member of Congress, recently retired following allegations he sexually harassed multiple women.