Education Department 'Concerned' About Wave of Cheating Probes, Allegations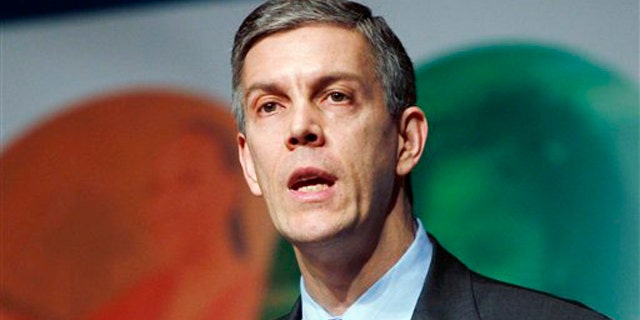 An Education Department official said Sunday that the department is "concerned" about the wave of investigations and allegations regarding cheating on standardized tests in several school systems, but stressed that most schools are "doing the right thing."
The latest development is in Washington, D.C., where the Education Department's inspector general joined the city's investigation into possible cheating following a newspaper report claiming more than 100 city schools had unusually high rates of erasures on exams between 2008 and 2010. The Washington Post first reported on the federal involvement.
The news came after a yearlong investigation in Atlanta showed 178 educators were involved in a scandal in which they changed answers or helped students on tests used to meet federal benchmarks.
Education Department spokesman Justin Hamilton, while declining to comment specifically on the D.C. probe, said Sunday that it's important investigators get "to the bottom" of the cheating claims.
"People want to have confidence in that process," he told FoxNews.com. "It's clear that the real crime here is that these kids are being cheated out of the world-class education they deserve."
Still, Hamilton said the remaining investigations have to be allowed to run their course.
"We feel that a vast majority of schools and school districts across the country are doing the right thing," he said.
Education Secretary Arne Duncan had already warned state school officials across the country last month to shape up as cheating allegations were on the rise. In a letter first reported by The Baltimore Sun and confirmed by FoxNews.com, Duncan urged the officials to do "everything you can to ensure the integrity" of standardized tests.
"State and local officials share responsibility for defending against security breaches and threats to data quality," Duncan wrote. He urged them to review "assessment security" and improve that security if necessary. He suggested officials make "unannounced, on-site visits" when tests are being administered, among other changes.
The letter came as Baltimore officials announced that two more elementary schools, in addition to one last year, had cheated on standardized tests.
The Georgia investigation was possibly the most extensive. It involved two former district attorneys with subpoena power, 2,100 interviews and up to 60 agents from the Georgia Bureau of Investigation. The probe found the former Atlanta schools superintendent knew about cheating allegations and may have tried to hide them. Investigators found a "culture of fear" in the school system that led to educators lying.
In Washington, Mayor Vincent Gray said he would ask that more city investigators be devoted to the probe after a reporter told him Friday only one was assigned.
"We continue to pay close attention to the integrity of the testing process," said Gray, who oversees the city schools. "We don't want questions raised about gains ... we want the gains to be the result of children who have learned."
In May, city officials said test results for three D.C. classrooms were invalidated because of proven cases of cheating. Wayne Ryan, a school official promoted after test scores at Noyes Education Campus rose dramatically while he was principal there, resigned in June after the school was flagged for high erasure rates.
Schools Chancellor Kaya Henderson said Friday that one teacher had been fired in the past year.
"Any place that we've had a confirmation for a testing impropriety, we have moved quickly to invalidate the scores and remove the teacher," she said.
FoxNews.com's Judson Berger and The Associated Press contributed to this report.