Dreamers pushed the boundaries on immigration reform – and now seem to control the narrative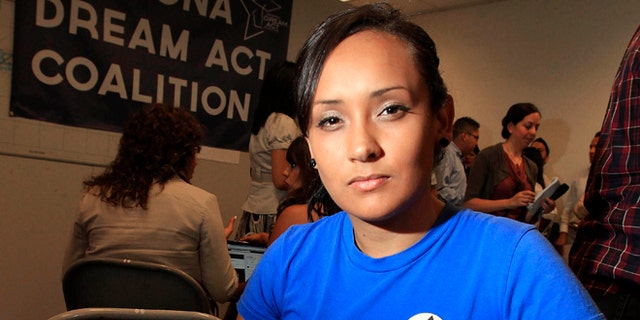 NEWYou can now listen to Fox News articles!
They were criticized for being too provocative and too critical in demanding immigration reform.
When some of them arranged for youths who had been deported to try to come back across the Mexican border, setting up a showdown with the Obama administration over whether they would be allowed to return to the U.S., even the most enthusiastic immigration activists balked at their strategy.
And when these group of young activists, undocumented youths who had grown up in the United States and are known as Dreamers, locked horns with even some Democrats who were leading the push for immigration reform – particularly President Barack Obama himself – immigration activists grew frustrated, claiming it was wrong to direct criticism at the president, someone who sympathized with their cause.
The so-called Dreamers, however, did not back down – in fact, they pushed back harder when immigration reform failed to materialize.
And so when Obama delivered his prime-time speech last Thursday, announcing that he was issuing an executive order that would suspend deportation for up to 5 million undocumented immigrants, the Dreamers felt vindicated.
It was their single biggest victory so far – the largest change in immigration in many years. And with that, they recaptured the driver's seat in the fight for comprehensive immigration reform.
"We got a lot of backlash for going after Obama," said Erika Andiola, one of the most prominent Dreamers pushing for immigration reform, to Fox News Latino. "But he is the president of the United States, he said he supported immigrants, but Dreamers were saying he was getting them and their families deported."
"At the end of the day, it was that pressure that created a moral crisis" and played a part in pushing the president to issue the executive order.
"[President Obama]'s leaving in two years, and he'd done nothing [about immigration]. This is historic, and it's the result of our lobbying, going to Congress, holding vigils, civil disobedience. We took risks to make sure our stories were heard, we tried to put them in our shoes.
Since 2009, the Dreamers have taken a fledgling campaign that was focused on getting a law that would provide young undocumented immigrants with a chance to live and work in the United States, and turned it into the engine of immigration advocacy that has broadened to include legalization for many groups of people who are here illegally.
Obama's executive action in large part echoes what the Dreamers – often to the chagrin of older, long-established immigration activists and advocacy groups who had preferred a more cautious, diplomatic approach – have been demanding to one degree or another for years.
Obama said he was expanding a 2012 initiative, which originally gave a two-year reprieve from deportation to immigrants who had come to the United States illegally before they were 16, who were no older than 31, had no criminal record, and met other criteria. The new executive order lifts the age cap of 31, and extends the deportation relief, as well as the accompanying eligibility to get a work permit, to many other undocumented immigrants, including parents of U.S. citizens or legal permanent residents.
"When I heard the announcement, I was watching TV, and many people were saying 'Thank God Obama finally did this, he finally realized it needed to be done,'" said Lucy Allain, a leader in the Dreamer movement who gained national attention when she confronted then-presidential candidate Mitt Romney at a campaign event in New York City about his hard-line stance on immigration.
"It wasn't that he finally realized it on his own. The [Dreamer] community doesn't get appreciated. The whole executive action would not have been possible if there had not been a big push [by activists] for him to do it," she said. "…This is historic, and it's the result of our lobbying, going to Congress, holding vigils, civil disobedience. We took risks to make sure our stories were heard, we tried to put them in our shoes."
The Dreamers are named after a congressional measure – the Dream Act – that calls for providing undocumented immigrants who were brought to the United States as children a path to legal status. It has been introduced several times, but has failed to pass.
To be sure, many advocates of all ages have worked diligently to push for an overhaul of immigration laws that would give opportunities to many of the estimated 11 million undocumented immigrants in the United States to legalize their status.
"Let's be clear," wrote immigration attorney Marty Rosenbluth on a Facebook page for human rights activists, "We shouldn't just be thanking Obama. We should be thanking the tens of thousands of immigrants and others who picketed, protested, laid down in the streets, wrote letters, and drove time and time again to D.C. and to other cities to get their voices heard."
"Yup, he finally did it," Rosenbluth said. "But this is a victory for mass organizing, not for politics as usual."
In an interview with Fox News Latino, Rosenbluth said Obama responded to pressure. He said the executive order – which Obama had threatened to issue multiple times over the last several years, citing a lack of will by Republicans in the House to move forward an immigration reform bill – capped a sweeping and persistent grassroots effort by undocumented immigrants, their U.S. citizen and legal permanent resident relatives, and other supporters.
Obama, after all, he said, presided over the largest number of deportations – more than 2 million people since he's been in office – of any administration.
"We have to see this as not that Obama kept his promise" to reform immigration, Rosenbluth said, "but that the immigrant community kept him to his promise. They made him keep his promise."
But the Dreamers, arguably, maintained an energy and remained vocal and visible, even when many other activists seemed to grow weary. Often, when hope for immigration reform or executive action dimmed, and activists grew exasperated and stopped to evaluate their strategies, the Dreamers got bolder, and pushed boundaries.
In one case that drew criticism from some of the older immigrant advocates, one group of dreamers even coordinated with deported immigrants in Mexico to try to cross back into the United States; they did, approaching Border Patrol agents, who arrested and detained them. Some got released and are awaiting hearings on their political asylum claims, others were deported.
Andiola, a 27-year-old from Arizona who got a two-year reprieve from Obama's 2012 initiative, has frequently pushed the boundaries to bring attention to the plight of undocumented immigrants.
This summer, she and Cesar Vargas, another undocumented immigrant and activist, went up to Republican lawmakers Sen. Rand Paul of Kentucky and Rep. Steve King of Iowa at a fundraiser in Iowa and introduced themselves as beneficiaries of the 2012 program, known as Deferred Action for Childhood Arrivals, or DACA.
King, who has one of the most hardline views on immigration in Congress, has been a vocal opponent of DACA and any other kind of break given to undocumented immigrants.
Andiola reminded King of a notorious comment he had made about how Dreamers smuggle drugs.
King suggested that perhaps Andiola had not understood his comment.
"I spoke of drug smugglers," he said in the encounter, which was videotaped. "Now, you're not going to tell me you're one of them are you?"
Andiola didn't miss a beat and responded: "Do I look like a drug smuggler to you?"
"For many years, others spoke for us," Andiola said. "The big non-profits spoke for us. We decided to come out of the shadows, to speak for ourselves, to tell our story directly, to come out of the shadows."
The Dreamers made it part of their modus operandi to publicize and humanize the story of people facing deportation. They put faces in front of cameras, they gave their full names, they wore shirts that said "Undocumented and Unafraid."
"We were called all kinds of things," she recalled. "But the more we spoke out, the more we controlled the narrative, and the more we saw people were connecting with us. We also started seeing we could stop deportations, publicizing someone's story actually protected them rather than hurt them."
Adds Allain, "We took risks to get our point across. Our story is powerful, people can relate to it."
The Dreamers say they are glad the president finally fulfilled a part of his promise to take action on immigration unilaterally because Congress has failed to bring a reform bill for a vote.
But they say they want deportations suspended for more people, they say too many people are still being left in the shadows, too many families are being separated after an undocumented relative is put in deportation after a traffic stop, or a raid by immigration officials.
"We need to move forward, we need to keep fighting, for the people who have been left out of this executive action," said Andiola, whose home immigration agents raided. "We celebrate wins like DACA and the executive order, but we also know that our Mom or Dad didn't qualify."