DREAM 9 Protesters Kick Immigration Activism Into New Gear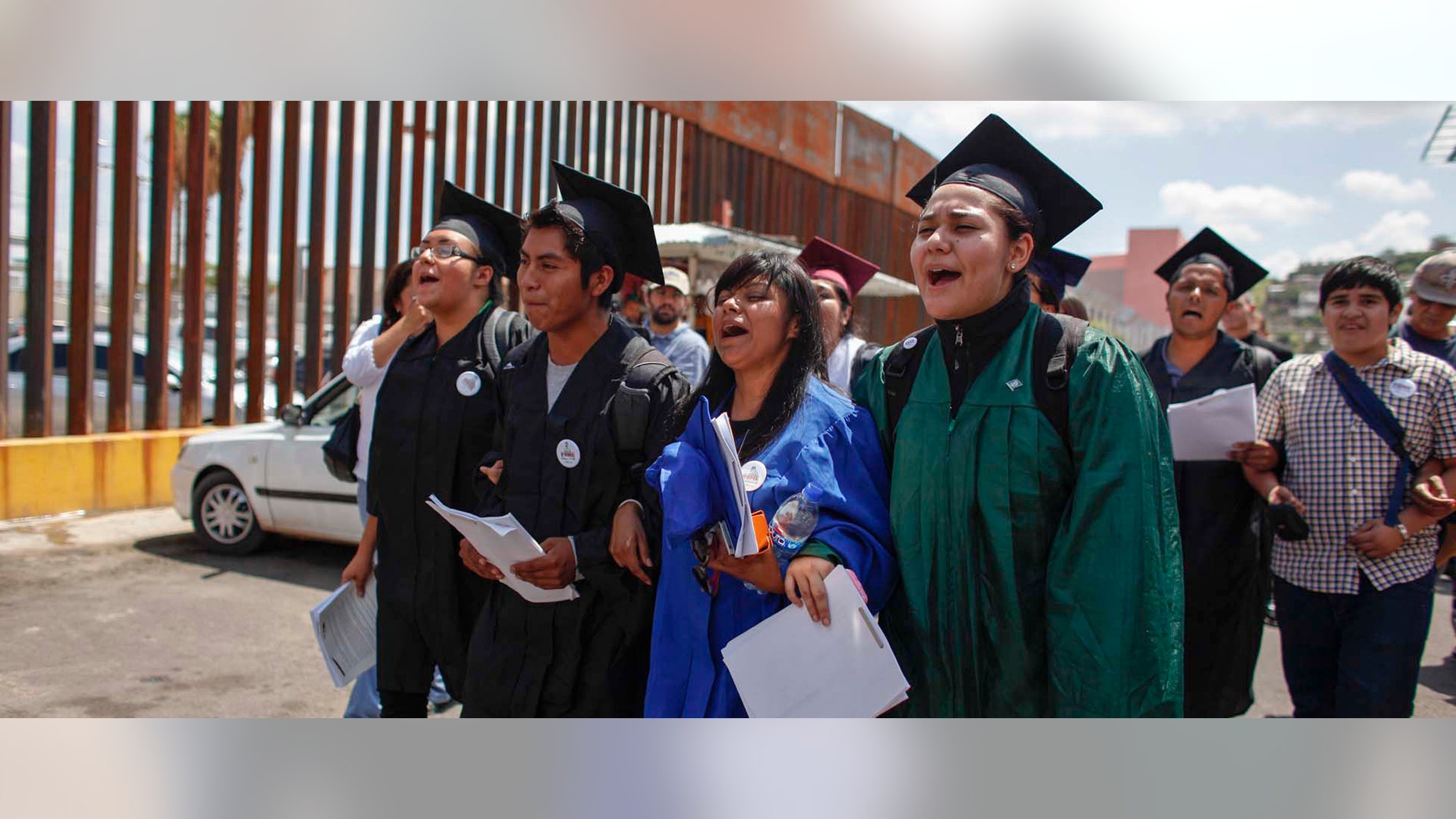 When three undocumented immigrants left the United States for Mexico last month and then, joined by six others, tried to re-enter as a larger protest against U.S. deportation policies, they thrust immigration activism into a whole different dimension.
The risky and provocative move even rattled veteran activists who long have challenged U.S. immigration policies, and bitter – and very public – disagreements even erupted among them over the so-called DREAM 9.
Some, like David Leopold, the former president of American Immigration Lawyers Association, said that while he supported their views, he disagreed with their tactics. Others call them courageous and say the risky move may give a necessary jolt to an immigration reform effort that seems to have stalled in Congress.
The stakes of the DREAM 9 protest were, on a personal level, quite high. The immigrants risked being denied re-entry, or being kept indefinitely in the Arizona detention center where they were taken after they attempted to return to the United States.
The nine asked for political asylum when they approached the U.S.-Mexican border, and this week were found to have sufficient grounds to pursue a claim, and were all released on Wednesday pending a resolution. While they wait for a decision, which could take years, they can obtain a work permit and a driver's license.
But beyond themselves, the DREAM 9 have become a flashpoint, a new chapter in immigration activism, many experts say.
"In Washington, the acts of the 'Dream 9' have upset the delicate politics of the immigration debate," wrote Michelle Chen in In These Times.
"When they crossed the line, the Dream 9 rejected the notion that migrants should be content with merely 'surviving the journey,'" wrote Chen. "By standing firm even when they're locked up, they're liberating their narrative from the politics of fear. And their creative recklessness helps us redefine the art of the possible."
The DREAM 9 turned up the temperature of the already bold nature of DREAMers, the name given to the estimated more than 1 million undocumented immigrants who were brought to the United States as minors, and who lack legal status because they entered illegally or their parents overstayed visas.
Their fight to get legal status through a measure called the DREAM Act – which has failed to pass in Congress – put a face to a population that usually had remained in the shadows.
They had, experts say, things at their disposal that their parents, for instance, did not.  Many of them were bred in the United States, English was their primary language, they did not have a sense of themselves as being guests in an adopted homeland – this was their country – and they were comfortable with social media.
"Because of social media, they are able to control the messaging," said Matthew Kolken, an immigration attorney who provided guidance to the original three DREAM 9 activists about the possible ramifications of leaving the United States and trying to re-enter. "They are not beholden to traditional news media sources. They can connect and get their message out to an audience that is much bigger than the New York Times' audience."
One of the other things that the new generation of undocumented activists have learned, Kolken added, is that oftentimes, publicity can prompt authorities to back off plans to deport.
"The more exposure their case gets, the greater the likelihood that they can prevent their own deportation."
But many DREAMers say they are risking exposure for the greater good of what they see as a more logical and more humane immigration process.
Last year, many DREAMers and their supporters traveled from Phoenix, Ariz. to the Democratic National Convention in Charlotte, N.C. in what they dubbed the "UndocuBus."
"They wear their illegality on their sleeve," wrote Dallas Morning News editorial writer Gabriel Escobar, "as well as on t-shirts, placards and banners strung across the bus . No Papers, No Fear–Sin Papeles, Sin Miedo–is the official slogan."
The nine immigrants spent part of their lives in the United States. Besides the original three activists, some returned voluntarily to Mexico years ago, others were deported. They include five men and four women.
The three original protesters are Lulu Martinez, who is 24 and from Chicago and came to the United States when she was 3; Marco Saavedra, who is 23, from New York, and also came when he was 3, and Lizbeth Mateo, who is 29 and from Los Angeles and came when she was 10.
"Through their activism, they've attained champions," said Kolken of the DREAM 9 as well as other DREAMers, "Senator [Dick]Durbin and Congressman [Luis] Gutierrez have been amazing supporters of the DREAM Act and immigrant rights."
"They've made politicians take note of their bravery and willingness to stand up for their cause," he said.
Leopold doesn't think the U.S. government's finding that the DREAM 9 seem to have "credible fear" of persecution if they return to Mexico is as remarkable as some have described it.
"They're not intimidated" by the DREAM 9 and all the publicity they attracted, Leopold said. "The U.S. is just following the law. They were released pending an asylum hearing."
Leopold said he doesn't think their protest will have an enduring impact, one way or another.
"On a personal level, I'm glad they were released," he said. "I'm glad they're out, just like I am when anyone is out of immigration detention. It's not a nice place to be."
But Leopold maintains that it was extremely risky and perhaps, ultimately, not effective on a large scale as far as immigration reform.
"What was highlighted that we didn't know before?" he asked. "That we have a broken immigration system? We know that, and that is why many of us are working hard to fix the system. Is it to show that we have a bad detention system, that 1.7 million people have been deported under Obama? We knew all this. Congress is not even in session, it just seems like a wasted opportunity."
Kolken disagrees.
He said that many Americans remain unaware of some of the most serious flaws of U.S. immigration.
"It's easy for people who are inside the fight to say that everyone knows," he said.
"It's unlikely we will have an immigration bill this year," he said. "And the Obama deportation machine continues to grind up families."
While it was "inadvisable" for the DREAM 9 to leave the United States and try to re-enter, he said, "they were aware that it was inadvisable and they put the interests of 1.7 million people who don't have a voice above their own interests in making a political statement."