Dole says Kansas Senate candidate Orman apologized for 'clown' comment; campaign denies it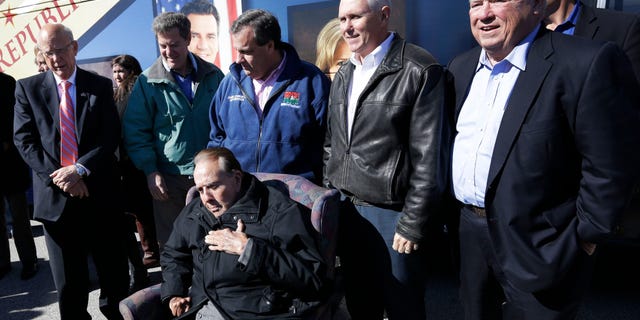 Former Republican presidential nominee Bob Dole said he has received an apology from Greg Orman, the Independent Senate candidate in Kansas, after the latter made a wisecrack that appeared to liken Dole, a war hero and revered figure in Kansas politics and beyond, to a clown.
"He sent me a very lengthy apology," Dole told Fox News during a chance encounter at the Kansas City airport, where the former Senate majority leader, fresh from a set of campaign appearances on behalf of embattled incumbent Sen. Pat Roberts, R-Kansas, sat in a wheelchair, fastidiously dressed in suit and tie while waiting to board a flight back to the nation's capital.
In addition to Dole, a number of high-profile Republican politicians have flown into the Sunflower State to stump for Roberts, including Gov. Chris Christie, R-N.J., and Sens. John McCain,R-Ariz., Ted Cruz,R-Texas, and Rand Paul, R-Ky. Asked about Roberts's latest set of surrogates during a sparsely attended event of his own near the Missouri border on Friday, Orman snapped: "It sort of seems like a Washington establishment clown car to me," adding: "Every day a new person comes out of that car."
Orman's campaign swiftly let it be known that the candidate hadn't intended to refer to Dole specifically, but the Roberts campaign pounced, demanding Orman apologize to the injured World War II veteran and former presidential candidate. Dole himself, over the weekend, had said: "I don't think I've ever been called a 'clown' before. I'm disappointed by Mr. Orman's statement."
Asked on Sunday afternoon if he accepted Orman's apology, Dole said quickly: "Oh, sure. He said he hadn't meant to refer to me or my record, which he said he has a lot of respect for."
Before long however, Dole, now 91 but still sharp of mind and tongue, was dispensing wisecracks of his own about Orman, a millionaire businessman who has campaigned as an open-minded critic of both parties but who has a trail of campaign donations to leading Democrats and recently announced he is pro-choice.
"That independent isn't much of an independent," Dole said, a twinkle readily discernible in his eyes. Dole also criticized Orman for waging a stealth campaign, saying, "He doesn't do interviews. He doesn't say who he'll caucus with." The former senator also slipped in a jab about Orman raising funds from Hollywood elite.
Reached for comment about the email Dole described, Orman campaign officials told Fox News that while they do not want to get into a "debate" with the 1996 GOP nominee, the email Orman sent him was not an apology, per se, but rather an attempt to set the record straight after others "misconstrued" Orman's remarks. They insist Orman has nothing to apologize for and simply took the opportunity to restate his longstanding and previously expressed admiration for Dole.
Roberts immediately blasted the Orman campaign for what he called a "non-apology."
"My opponent is ending his campaign the way he began it – trying to have it both ways and refusing to give a straight answer to Kansans on virtually everything, including whether or not he's apologized for insulting Senator Dole," he said in a statement.
The email, obtained by Fox News, bears out that Orman indeed did not formally apologize to the former senator. In supplying its text to Fox News, Orman campaign officials said they had not originally intended to publicize it, but were now doing so in order to make sure their candidate's position on the controversy is accurately represented.
"I have the utmost respect for you, and often speak favorably of your distinguished service to the great state of Kansas and of your ability to forge reasoned, principled and common-ground solutions with Senators from across the political spectrum (it is the skill so desperately missing in Washington today)," Orman wrote in the email.
"The remark the Roberts campaign is quoting has been deliberately taken out of context. My reference to a 'clown car' was commenting on the near-endless number of political supporters of Senator Roberts who have piled out of Washington to support him, none of whom I think are clowns. I certainly wasn't calling you - or any of the others supporting Senator Roberts - a 'clown.' As you may have noticed during this campaign, I refuse to stoop to character assassinations, have eschewed negative campaigning and will not use rhetoric of that sort."
Orman has benefited from the decision by the Democratic candidate in the race, Chad Taylor, to withdraw from the contest in September. The self-made millionaire businessman has highlighted Roberts's failure to maintain a primary residency in Kansas as emblematic of how the three-term incumbent, now seventy-eight, has become a creature of Washington and fallen out of touch with ordinary Kansans.
After surviving a surprisingly robust Tea Party-backed primary challenge in the summer, Roberts retooled his campaign team and spent October trimming Orman's double-digit lead down to two points, chiefly by portraying Orman as a stealth liberal with a shady business background. The race is effectively tied and has riveted the attention of political analysts nationwide -- both because Kansas has only elected Republicans to the Senate since 1938 and because the fate of the contest could determine which party controls the upper chamber.
"They say Pat's run the worst campaign," Dole said at one point, whether specifying who Roberts's critics were. He needn't have; leading Republicans in Congress and affiliated campaign organizations have been vocal in their criticism of Roberts for waging an ineffective campaign and thereby requiring the GOP to spend money and energy in a state they have been able to count as solidly red for the better part of a century. "It's going to be close," Dole said.
Asked if he would pose with his interviewer for a photograph, Dole replied with a smile: "I will, if you think it won't damage your reputation."