Did military's gun rules help Navy Yard shooter?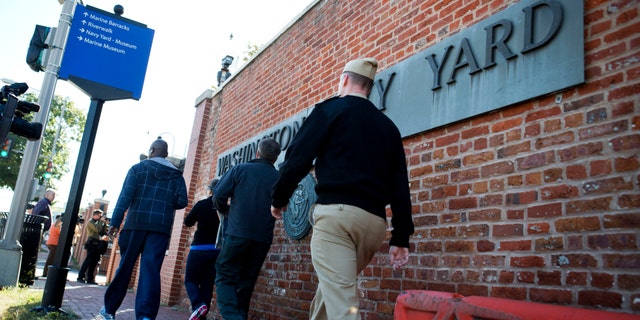 NEWYou can now listen to Fox News articles!
WASHINGTON – As Americans start to digest the full extent of the horror that played out Monday morning at the Washington Navy Yard, the shooting leaves some with a basic question: How was a gunman, for the second time in four years, able to kill so many people at a U.S. military facility?
Armed with 12-gauge shotgun, Aaron Alexis sprayed bullets inside Building 197, killing 12 and injuring eight others. Armed officers were on the scene, but the shooting raises questions over whether long-standing gun restrictions for military bases prevented victims from being able to defend themselves.
"It's insane to keep weapons away from soldiers on bases," Fox News judicial analyst Andrew Napolitano said Wednesday.
Napolitano and others advocate putting more weapons on bases to level the playing field and arm civilians against rogue shooters. Their main concern is rules that forbid military and civilian personnel from bringing their own weapons onto military installations.
The rules date back to a Feb. 25, 1992 Department of Defense directive enacted under the George H.W. Bush administration, and have remained largely unchanged since they were put in place 21 years ago. The directive was reissued in April 2011.
Some critics, in complaining about the policy, have also been pointing to a 1993 document signed by then-President Bill Clinton. However, that document was issued by the Department of the Army, as a result of the 1992 directive under Clinton's predecessor.
Army Regulation 190-14 doesn't actually ban all weapons on military bases. It lays out eligibility requirements for people allowed to carry weapons on military installations. It also lays out a list of people who are prohibited from carrying weapons which includes those "exhibiting unsuitable behavior," "whose security clearance has been revoked or denied" and workers who have consumed alcohol within eight hours of being on base.
Despite Alexis' history of troubling behavior, he maintained his security clearance and apparently had a valid pass when he entered the facility on Monday morning.
For some, Monday's carnage was a reminder of the 2009 shooting rampage at Fort Hood. Last month, a military judge sentenced Maj. Nidal Hasan to death for opening fire and killing 13 people on the Texas military base. The death toll on Monday, including the shooter, was also 13.
On Wednesday, Defense Secretary Chuck Hagel ordered the Pentagon to review the physical security at all U.S. defense facilities across the globe as well as the security clearances that allow access to them.
"Where there are gaps, we will close them. Where there are inadequacies, we will address them. Where there are failures, we will correct them. We owe the victims, their families and all our people nothing less," he said.
The deadly shootout has reignited several national debates -- over whether the nations needs more gun restrictions, whether it needs fewer in the case of military bases, whether background checks are adequate and whether mental health policies should be strengthened.
Gun control advocates argue that violence would be curbed if Congress enacts legislation that would place tighter restrictions on buying weapons.
"Every time one of these things (happens) ... we have a moment of silence," House Democratic Leader Nancy Pelosi said Wednesday. "But we're unworthy of that moment of silence. ... We need a day of action."
Despite the renewed calls to toughen the country's gun laws, though, Senate Majority Leader Harry Reid, D-Nev., said after the shooting there weren't enough votes in Congress to make it happen.