Despite sequester warnings, unemployment rate falls to 7.7 percent in February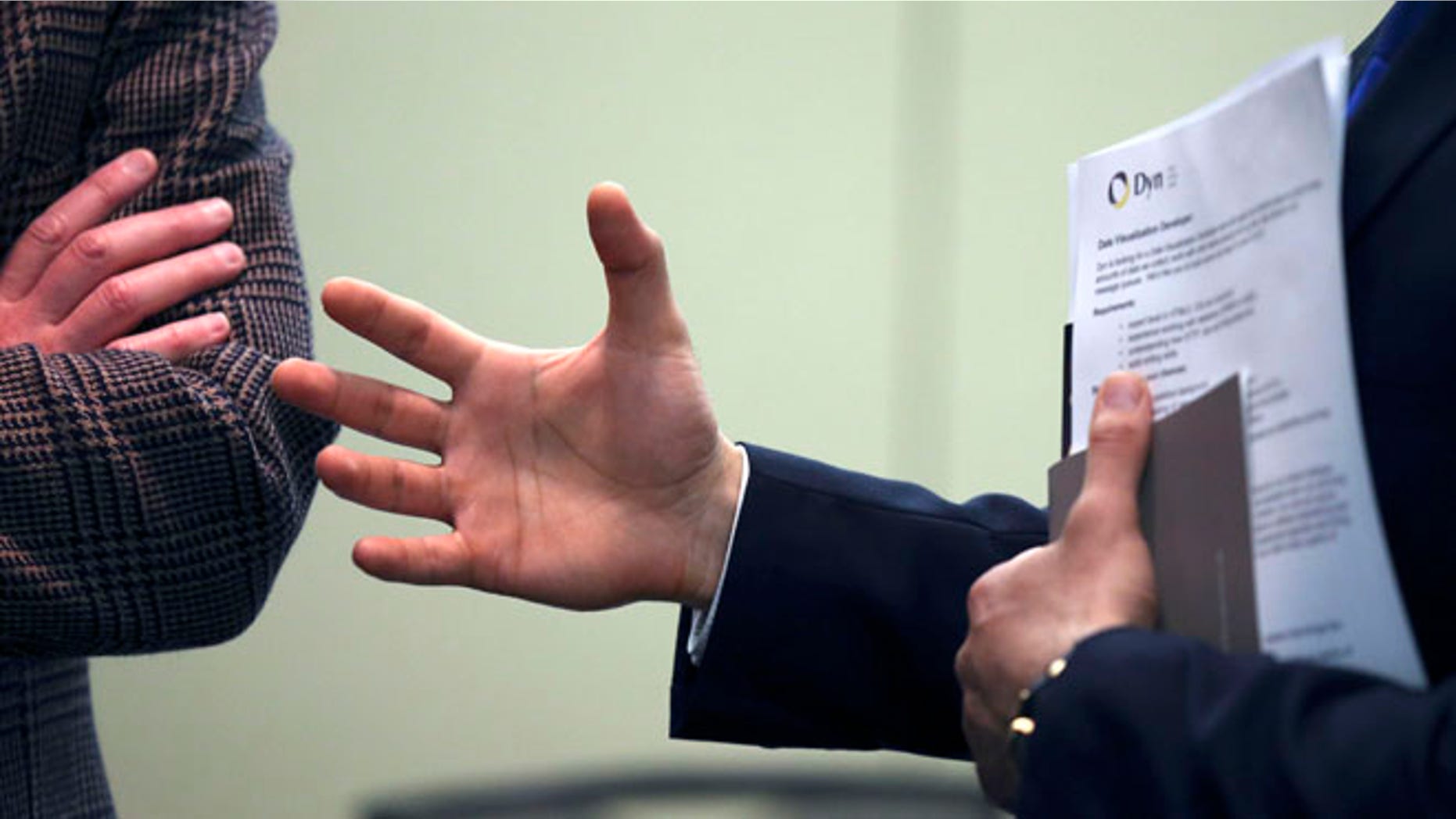 Despite the Obama administration's doomsday warnings about the impact of sequester, hiring picked up last month as the unemployment rate fell to the lowest level in four years.
The February jobs report released Friday showed the economy added 236,000 jobs, bringing the unemployment rate to 7.7 percent from 7.9 percent the month before. The report comes as the market picks up, with the Dow Jones Industrial Average consistently closing above 14,000 this week.
The economy is still shaky and recent reports have also reflected a jittery jobs market. There are still 12 million unemployed, with even more who are in part-time jobs or have left the job market altogether. And the automatic government spending cuts which took effect March 1 will likely take time to ripple into the broader economy.
But the latest numbers suggest employers were not scared off by the weeks of predictions out of Washington, D.C., that the sequester would be tantamount to an economic body blow.
The job gains in February were broad-based, led by the most construction hiring in six years.
Stock futures rose on the report, putting the Dow Jones industrial average on track for a fourth straight record close.
Robust auto sales and a steady housing recovery are spurring more hiring, which could trigger more consumer spending and stronger economic growth. The construction industry added 48,000 in February and has added 151,000 since September. Manufacturing has gained 14,000 last month and 39,000 since November.
A recent Fox News poll found a majority of voters -- 73 percent -- think cutting government spending is more likely to strengthen the economy than increasing it. The sequester represented $85 billion in cuts this fiscal year.
Officials in Washington, though, were reluctant to over-read the numbers -- given the economy's recent history of painfully slow recovery.
"Despite this month's positive report, job growth is still woefully behind where it should be," House Ways and Means Chairman Dave Camp, R-Mich., said in a statement. "Unemployment has remained far too high for far too long as a result of President Obama's failed economic policies, and the continued calls by the President and Congressional Democrats for more taxes are not the answer."
And Alan Krueger, chairman of the White House Council of Economic Advisers, stressed that the survey was taken before sequestration began.
"The Administration continues to urge Congress to move toward a sustainable Federal budget in a responsible way that balances tax loophole closing, entitlement reform, and sensible spending cuts, while making critical investments in the economy that promote growth and job creation and protecting our most vulnerable citizens," he said.
The unemployment rate had been stuck at 7.8 percent or above since September. The rate declined last month because the number of unemployed fell 300,000 to just over 12 million, the fewest since December 2008. More than half the decline occurred because 170,000 of the unemployed found jobs. Another 130,000 gave up on their job searches. People who aren't looking for jobs aren't counted as unemployed.
The unemployment is calculated from a survey of households, while the job gains come from a survey of employers.
Employers added slightly fewer jobs in January than the government had first estimated. Job gains were lowered to 119,000 from an initially estimated 157,000. Still, December hiring was a little better than first thought, with 219,000 jobs added instead of 196,000.
Retailers added 24,000 jobs, a sign that they expect healthy consumer spending in the coming months. Education and health services gained 24,000. And the information industry, which includes publishing, telecommunications and film, added 20,000, mostly in the movie industry.
The economy is also benefiting from the Federal Reserve's efforts to keep interest rates low. Lower rates have made it easier for Americans to afford new homes and cars. The Fed has said it will keep the benchmark rate that it controls near zero until unemployment has fallen to 6.5 percent, as long as inflation remains in check.
So far, higher gas prices and a Jan. 1 increase in Social Security taxes haven't caused Americans to sharply cut back on spending.
Across-the-board government spending cuts kicked in March 1 after the White House and Congress failed to reach a deal to avoid them. Those cuts will likely lead to furloughs and layoffs in coming weeks.
The impact of the tax hikes is partly being offset by higher pay: Hourly wages rose 4 cents to $23.82 last month. Wages have risen 2.1 percent in the past year, slightly ahead of inflation.
A big source of strength has also been home sales and residential construction: New-home sales jumped 16 percent in January to the highest level since July 2008. And builders started work on the most homes last year since 2008.
Home prices rose by the most in more than six years in the 12 months that ended in January. Higher prices tend to make homeowners feel wealthier and more likely to spend.
The Associated Press contributed to this report.