Democratic reps file article of impeachment against Trump
Two Democratic congressmen introduced an article of impeachment on Wednesday against President Trump, accusing him of obstruction of justice over his firing of former FBI Director James Comey.
The resolution says Trump "prevented, obstructed and impeded" the investigation of former national security adviser Michael Flynn by "threatening and then terminating" Comey.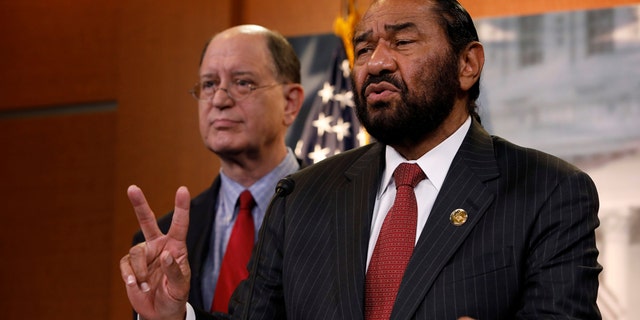 "We now begin the effort to force the House Judiciary Committee to hold hearings on obstruction of justice and Russian interference in our election," said California Rep. Brad Sherman, who sponsored the resolution. Texas Rep. Al Green is a co-sponsor.
The resolution had been expected, despite warnings from others in the Democratic Party that talk about "impeachment" is not helpful.
The Republican-led House is highly unlikely to move on the measure either.
White House deputy press secretary Sarah Sanders dismissed the effort during Wednesday's press briefing.
"I think that is utterly and completely ridiculous and a political game at its worst," she said.
The resolution itself calls for Trump to be impeached for "high crimes and misdemeanors." It says Trump's conduct "warrants impeachment and trial and removal from office."
"In all of this, Donald John Trump has acted in a manner contrary to his trust as president and subversive of constitutional government, to the great prejudice of the cause of law and justice and to the manifest injury of the people of the United States," it states.
Announcing his filing, Sherman cited Donald Trump Jr.'s recently released emails pertaining to his meeting last summer with a Russian lawyer thought to have damaging information on Hillary Clinton.
"Recent disclosures by Donald Trump Jr. indicate that Trump's campaign was eager to receive assistance from Russia," Sherman said.
"It now seems likely that the president had something to hide when he tried to curtail the investigation of national security adviser Michael Flynn and the wider Russian probe."
It takes a majority of House members to pass an article of impeachment. Even if the GOP-led House were to pass impeachment articles, the Senate would then vote to acquit or convict.
But Sherman, in his statement, already was looking ahead to the prospect of Vice President Pence assuming the nation's highest office.
"I served with Mike Pence in Congress for twelve years and I disagree with him on just about everything," Sherman said. "I never dreamed I would author a measure that would put him in the White House."
Some on the left have criticized those in their own party for focusing on such efforts.
KUCINICH RIPS DEMS FOR PROPOSAL TO EXAMINE TRUMP'S MENTAL FITNESS
Last week, former Ohio Democratic Rep. Dennis Kucinich dinged Democrats pushing a bill to examine Trump's mental and physical fitness for office.
"I think it's destroying the party as an effective opposition," Kucinich said.