Corker fight exposes Trump's new GOP problem: Lame-duck senators with ax to grind
President Trump's public clash with Sen. Bob Corker has exposed a new complication for the commander-in-chief: Lame-duck Republicans who suddenly feel emboldened to tell him how they really feel.
While Trump can threaten certain problematic Republicans with endorsing a primary challenger, the president has little leverage over senators, like Corker, who have announced they're not seeking reelection.
The Tennessee Republican has essentially been on a no-holds-barred Trump tirade after announcing in late September that he would not seek a third term.
The criticism reached a new level this weekend, as a Twitter war between the two men culminated in Corker doing a 25-minute interview Sunday with The New York Times. In it, he said Trump was treating his presidency like "a reality show" and launching threats at other countries that could put the U.S. "on the path to World War III."
'He would have to concern anyone who cares about our nation.'
"He concerns me," Corker, chairman of the Senate Foreign Relations Committee, told the newspaper. "He would have to concern anyone who cares about our nation."
The comments were prompted by Trump tweeting earlier in the day that Corker couldn't win reelection next year without the president's endorsement and that he'd backed an ill-advised deal with Iran on the country's nuclear development.
He also suggested Corker had an ax to grind, since Trump didn't pick him as secretary of state.
Corker, without apparent fear of electoral reprisal, tweeted back: "It's a shame the White House has become an adult day care center. Someone obviously missed their shift this morning."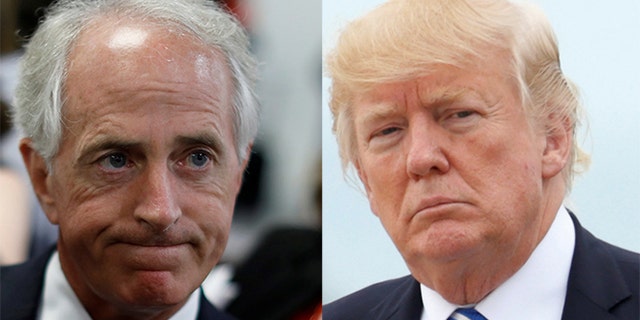 Corker said last week -- amid reports that Secretary of State Rex Tillerson had considered resigning -- that Tillerson, Defense Secretary James Mattis, and White House Chief of Staff John Kelly "are those people that help separate our country from chaos."
The conflict with Corker could be a sign of things to come.
North Carolina Sen. Richard Burr also told reporters last year that he won't seek a fourth term in 2022.
Burr does not publicly challenge Trump like Corker. But as chairman of the Senate Intelligence Committee, he is co-leading the panel's investigation into possible Trump campaign collusion with Russia, and showing an independent streak.
"Witnesses that we might ask to come in the future, I strongly suggest you come in and speak with us," Burr said recently. He notably holds press conferences alongside Virginia Sen. Mark Warner, the committee's top Democrat.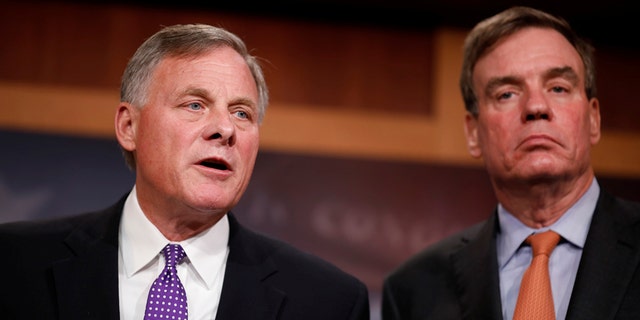 "If we believe that you have something valuable to bring to the committee, if you don't voluntarily do it, I will assure you today you will be compelled to do it," Burr continued.
Paul Shumaker, a long-time Burr political consultant, told Politico earlier this year that the senator, who won reelection in 2016 as a pro-Trump candidate, is conducting the Russia probe free of reelection fears.
"He is independent of the shackles of a reelection campaign," Shumaker said.
Trump allies are already trying to mount primary challenges to other Senate Republicans out of line with the president's agenda and seeking 2018 reelection -- including Nevada's Dean Heller and Arizona's Jeff Flake.
Maine Sen. Susan Collins is another Senate Republican unwilling to simply hew to the Trump agenda -- and weighing whether to leave the Senate.
Collins has repeatedly been a crucial, holdout vote in the GOP-controlled Senate's efforts to dismantle ObamaCare. And she could announce as early as this week whether she'll run next year for Maine governor.
Collins and Trump have never really gone head-to-head over politics or policy. But Trump, after a failed Senate attempt in July to repeal and replace the 2010 health care law, sent a warning to those who voted against the effort.
"If Republicans don't Repeal and Replace the disastrous ObamaCare, the repercussions will be far greater than any of them understand!" he tweeted.