Convention Groups Threaten to Boycott Indiana over Immigration Bills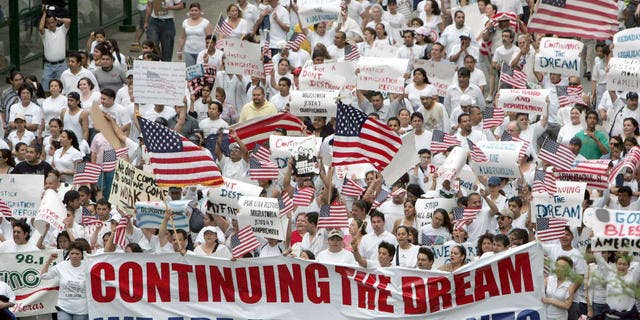 Some groups are threatening to boycott Indiana -- by not holding conventions there, for instance, -- if the state passes hard-line immigration enforcement laws.
The Presbyterian Church's Bi-Annual Conference has notified the Indianapolis Convention & Visitors Association that it will not hold its July conference here as scheduled if the proposed law takes effect, The Indianapolis Star reported.
Another group says it would avoid Indianapolis in the future if the bill passes.
"It's a stupid law," said Jerry Powell, president of Portland, Ore.-based Resource Recycling, which has an August conference planned in Indianapolis.
Republican Sen. Mike Delph's bill would require state and local police to ask a person they have stopped for a violation for proof of legal residence if the officer has a "reasonable suspicion" the person is not a citizen or is in the country illegally. It also contains penalties for businesses that hire illegal immigrants.
It is styled after a measure passed last year in Arizona which criminalizes being in the state without lawful immigration status.
Federal immigration law treats being in the country illegally as a civil violation, not a criminal offense. Re-entering the United States illegally, however, after having been deported is classified as a crime.
Parts of the Arizona law are being challenged in court; one suit is by the U.S. Department of Justice.
Several organizations, including the Service Employees Industry Union (SEIU) and the United Food and Commercial Workers Union (UFCW), decided last year to join the National Council for La Raza (NCLR) in a boycott of Arizona.
Among other things, the groups pledged not to hold conventions, conferences or special events involving significant travel to and from Arizona. The Center for American Progress estimated that the boycott resulted in an $86 million loss in business tied to tourism and conventions.
Powell said his conferences typically draw about 50 Hispanics among an average of 1,200 attendees.
"I'm not going to have them harassed by an ethnicity filter," he said.
Spokesman Chris Gahl of the Indianapolis Convention & Visitors Association said the group has "growing concern" about the impact of the bill if it becomes law.
The bill has passed the Republican-ruled Senate and is awaiting action in the House, where business has stalled because of a boycott by House Democrats.
A report by Pew Hispanic Center said that Indiana is home to 110,000 undocumented immigrants – the state's population is 6.4 million, according to the U.S. Census.
Some 12 million undocumented immigrants are believed to be living in the United States.
Supporters of the Indiana measure say undocumented immigrants strain schools, medical care and social services and undercut Indiana workers at a time of high unemployment.
Opponents argue the bill would hurt Indiana businesses and say it would send a wrong message about the state's attitudes and could lead to racial profiling. Those opposing the measure include Eli Lilly & Co. and Columbus-based engine maker Cummins.
Some law enforcement officials have been among those opposing the bill.
Calling Senate Bill 590 a waste of resources, Marion County Prosecutor Terry Curry announced that he had joined about 2,600 people in signing a petition to encourage state lawmakers to leave immigration reform to the federal government.
"It just seems like a pretty significant waste of resources to suggest that we should essentially duplicate the work of federal authorities," Curry said.
Curry is the only Indiana prosecutor to sign the compact, and no police chiefs or sheriffs have signed it.
Curry said the bill essentially creates new laws and that Marion County doesn't have the resources to enforce them. He also worries that the bill would make minorities, particularly Latinos, more hesitant to report crimes.
Indianapolis Public Safety Director Frank Straub also has spoken out against the bill, though he hasn't signed the compact.
Straub also cited Curry's concern that the bill would strain police relationships with minorities.
"It will make it incredibly difficult to interact with the minority community at the same level of trust our officers have spent years trying to get to," Straub said. "It presents a problem in terms of community policing."
This story contains material from The Associated Press.
Follow us on twitter.com/foxnewslatino
Like us at facebook.com/foxnewslatino
Follow reporter Elizabeth Llorente on Twitter: @LlorenteLatino