Connecticut's capital faces fiscal meltdown tied to union promises, default deemed likely
Connecticut's capital of Hartford is in the midst of a financial meltdown as the city considers defaulting on its debt as early as next month, a crisis fueled in large part by union promises and other decisions dating back years.
While the capital is hoping a state bailout can help, Moody's Investors Services last week predicted Hartford will likely move to default by November -- and soon could run up deficits reaching $80 million per year without a change in strategy, due to the cost of pensions, benefits and debt service.
Moody's downgraded Hartford's bond rating into "junk" territory in October 2016. The investor service further downgraded the city's rating into that area over the last year, including one downgrade just last month.The city has more than $500 million in outstanding debt.
The cash crunch is years in the making, and the latest example of local and state governments feeling the pinch from past political promises, including salary increases and benefits for government workers.
But Hartford Mayor Luke Bronin claims the city is now seeking "unprecedented" concessions from the unions and slashing personnel and services in a bid to right the ship.
"Since taking office last year, I've made clear that I'm not willing to kick the can or raise taxes any higher, because it's time for us to fix the underlying problem, not fake it to buy some time—and the Moody's report reinforces why that's so important," Bronin told Fox News.
HIGH-TAX CONNECTICUT FACING NEW BUDGET MESS
Bronin, a Democrat, said the city has a "structural problem" that is rooted in "high fixed costs and a property tax structure that just doesn't work." He cited the city's high poverty rate and various property tax exemptions.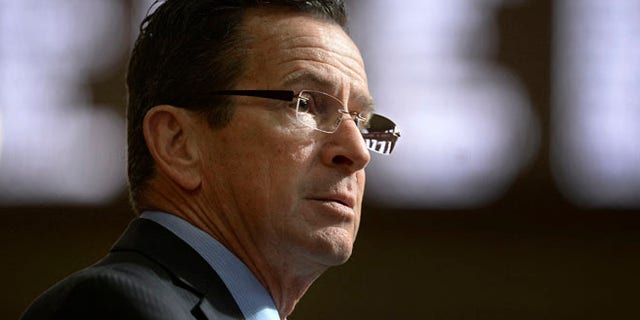 Hartford has been weighing the bankruptcy option since this past summer. Making matters worse, the city recently lost a major corporation that had called the state's capital home since 1853—Aetna Inc.
The insurance giant crucial to Hartford's economy announced this summer it would move its headquarters to New York City. The state also lost another critical corporation during Democratic Gov. Dannell Malloy's second term – General Electric. Both companies cited the state's high taxes.
AETNA TO MOVE HEADQUARTERS TO NEW YORK
The mayor's office told Fox News that addressing the problem would require either a new partnership with the state government or a "dramatic reduction" in fixed costs, including debt and pension liabilities.
"No matter what's in the state budget this year, any truly sustainable solution is going to require the participation of all of our stakeholders, including labor and bondholders—and that means we're going to have a lot of tough, important work left to do," Bronin told Fox News.
But the state of Connecticut has financial problems of its own. The state was downgraded by S&P Global Ratings, Moody's and Fitch this summer and is considered the third worst-rated state in the nation. As of this summer, Connecticut's deficit reached $5 billion.
According to an analysis by the Pew Charitable Trusts, the state only has about $240 million in its 'rainy day fund' – only five states have a smaller cushion.
"This warning by Moody's is yet another clarion call that we need an adopted budget and we need it now," Malloy's Communications Director Meg Green told Fox News, referring to Hartford's fiscal situation. "Governor Malloy has presented the General Assembly with multiple budgets that are balanced reasonably and responsibly – and could help mitigate the harm to our cities of continuing without a budget."
According to the Hartford Courant, Bronin has requested $40 million from the state legislature to aid the city.
Nicholas Lehman, a Moody's analyst who authored the report, said that while the money would be welcome in the short term, more needs to be done to bring the city onto firmer fiscal footing.
"If they provide funding around $40 million, what the mayor requested, that should provide short term relief," Lehman told the Courant. "... That money alone, though, would not be enough for a long term solution."
And vice president of communications for Moody's public finance group, David Jacobson, told Fox News the "X factor" is in the state's budget.
"If it passes soon and has enough aid to get Hartford through this fiscal year, that could remove the immediate default and bankruptcy threat but wouldn't fix the city's long-term structural issues," Jacobson told Fox News.
After 116 days of negotiations and one bipartisan budget plan that was vetoed by the governor, the General Assembly drafted another bipartisan budget plan late Monday night and is set to bring the latest version of the plan to a vote at the end of this week.
"No one wants the city of Hartford to fail," spokesman for the Connecticut House Republicans Pat O'Neil told Fox News. "The avoidance of bankruptcy is a prime concern for all. Clearly there have been long-term system problems with its finances, and there needs to be greater accountability."
O'Neil told Fox News there is a Republican caucus set for Tuesday afternoon to iron out details of a potential aid package proposal for the capital city.
But Green warned that the General Assembly "cannot continue to pretend that inaction is inconsequential."