Comrade Putin explains it all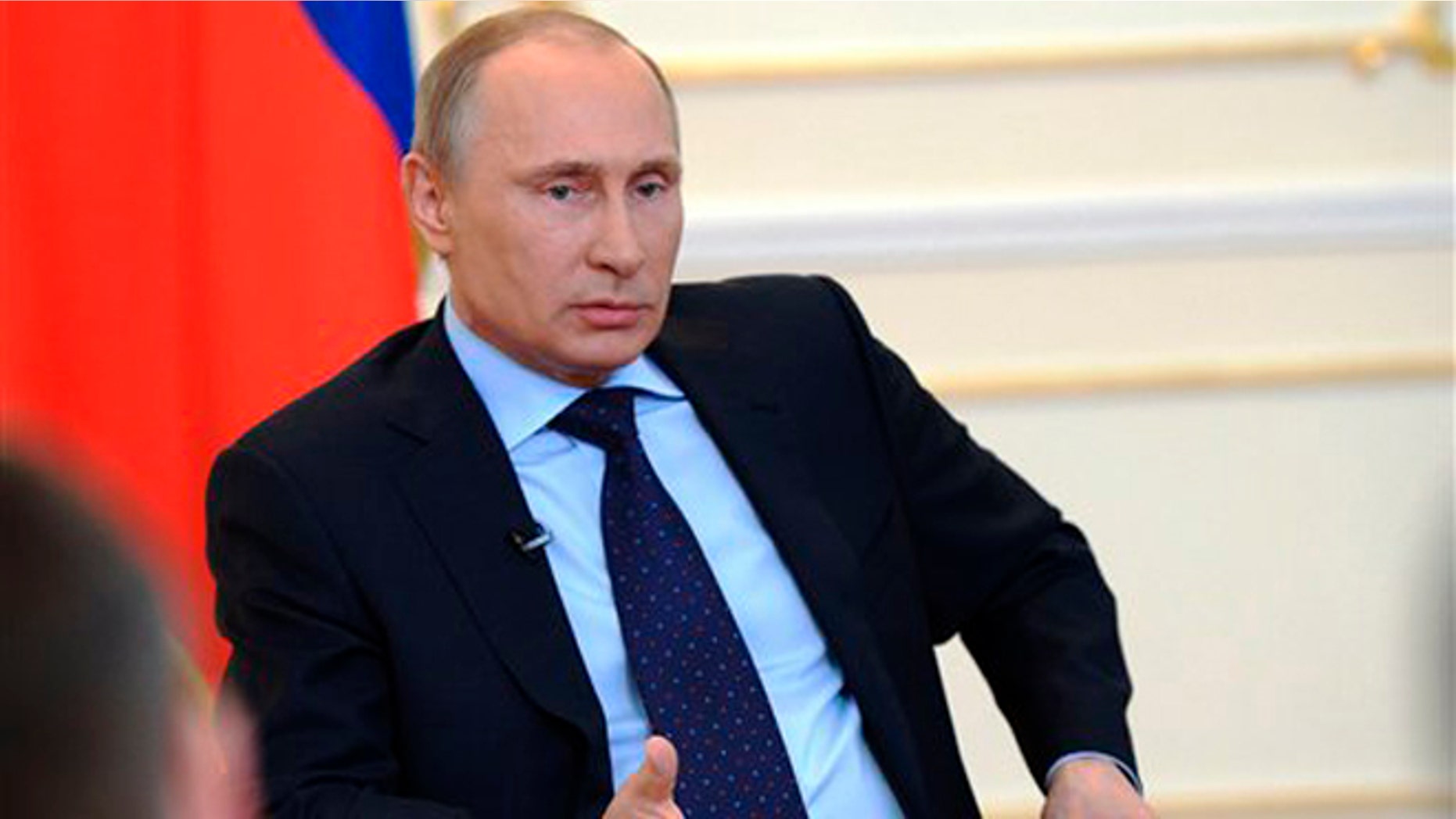 **Want FOX News First in your inbox every day? Sign up here.**
Buzz Cut:
• Comrade Putin explains it all
• Baier Tracks: Ukraine casts shadows on Hillary
• ObamaCare victim returns fire in new ad
• Primary season begins with Texas vote
• Let the good times roll… on to the scale
COMRADE PUTIN EXPLAINS IT ALL
Russian ruler Vladimir Putin told reporters today that using military force in Ukraine "would naturally be the last resort." But he might just do it anyway. Putin waved away the urgent rhetoric from Washington about a Russian invasion of the Crimean Peninsula, saying that he had already ordered troops near the region back to their bases. The masked, armed men who look so much like Russian special forces patrolling the streets in Crimea, Putin explained, are just local fighters who have taken to the streets to defend the Russian majority population. But the real troops might show up again, Putin said. Why? Because he wants to protect democracy. From Reuters: "'There can be only one assessment of what happened in Kiev, in Ukraine in general. This was an anti-constitutional coup and the armed seizure of power,'  said Putin, looking relaxed as he sat before a small group of reporters at his residence near Moscow. 'As for bringing in forces. For now there is no such need but such a possibility exists,' he said. 'What could serve as a reason to use military force? It would naturally be the last resort, absolutely the last.'"
Time is on his side - This doesn't sound like a guy who is smarting from President Obama's ruling Monday that Russia was "on the wrong side of history." Obama, talking to reporters with visiting Israeli Prime Minister Bibi Netanyahu, whittled down some of his tougher talk from Friday, saying that "over time" Russia's incursion would be a "costly proposition." The message Putin seems to have taken is that he has time to shore up Russian control of the region before the eventual resolution. Given the international community's unwillingness to make stark determinations about such things as invasions, especially when they involve a permanent UN Security Council member that is the primary energy supplier to Western Europe, Time does seem to be on Putin's side, whatever history eventually adjudges. Like this…
KERRY ARRIVES AMID SIGNS OF RUSSIAN TROOP BUILDUP
From Chief Washington Correspondent James Rosen in Kiev : "Dispatching sizable troop reinforcements into Crimea on Monday, Russia consolidated its military control over the southeastern Ukrainian territory and may be preparing for a wider invasion of the country, senior U.S. officials traveling with Secretary of State John Kerry to Kiev, the restive Ukrainian capital, said early Tuesday. 'We still have a very real concern that the Russians have other plans in the Ukraine,' said one senior U.S. official, briefing reporters aboard Kerry's official airplane en route from New York to Kiev. 'They may be planning other moves." More
[Watch Fox: Sen. John McCain, R-Ariz., discusses Ukraine in the 10 a.m. ET hour]
Slide them some cash, Jack - "…the U.S. Administration is working with Congress and the Government of Ukraine to provide $1 billion in loan guarantees, the proceeds of which will be aimed at protecting the most vulnerable Ukrainian households from the impact of the needed economic adjustment." –Treasury Secretary Jack Lew, in a statement Monday
"We have created a leadership vacuum in the world, and it is being filled by the Putins of the world, by people without our values or our interest, and it's to the detriment of the United States and our friends and allies around the world, It is the United States that's injected that instability into the world equation." – Former Defense Secretary Donald Rumsfeld, "On The Record with Greta Van Susteren." Watch here.
[Sen. Dan Coats, R-Ind., writes in Fox News Opinion that the U.S. needs to isolate Russia on all possible front until Putin reverses course. "That we are a diminished power is an illusion that gives Putin sparse comfort and false courage."]
BAIER TRACKS: UKRAINE CASTS SHADOWS ON HILLARY…
"Vladimir Putin told reporters in Moscow this morning that the government in Ukraine is an unconstitutional coup and that he 'reserved the right' to use force there. This, of course, came just hours before Secretary of State John Kerry touched down in Kiev. As that real-time back-and-forth continues, the long-term political impact in Washington is beginning to sink in. Politico offers a piece on how tethered Hillary Clinton is to Obama foreign policy. After all, she is the face of the infamous 'reset with Russia.' And the behind-the-scenes story about that painful PR moment when Clinton presented her Russian counterpart with a novelty 'reset button' is actually worse than many originally thought. These could make uncomfortable questions on the 2016 campaign trail." - Bret Baier.
OBAMACARE VICTIM RETURNS FIRE IN NEW AD
NYT: "Americans for Prosperity, the conservative advocacy group being challenged by Democrats over the content of its ads attacking the health care law, is pushing back with a new commercial that will begin airing Tuesday in Michigan. The commercial features Julie Boonstra, a Michigan woman who was the subject of an earlier ad, in which she said she had lost the health plan that she preferred for treatment of her leukemia and was facing higher costs because of the health care law. Lawyers for Representative Gary Peters, a Democrat who is seeking Michigan's open Senate seat, wrote to television stations asking them to demand verification for the claims in the initial commercial… In the new ad, Ms. Boonstra says the attacks on her credibility have been devastating and accuses Mr. Peters of trying to silence her. 'All I want is to be listened to,' she says in the commercial. 'There are thousands of people out there who are hurting because of Obamacare.'"
[Watch the new ad here]
VULNERABLE DEMS, INSURERS WANT FAST ACTION ON OBAMACARE DELAY
The Hill says a formal announcement of a long-promised change to ObamaCare rules could come as soon as this week as Democrats brace for more backlash from cancelled policies. The change would extend the president's move to temporarily waive federal regulations that banned millions of existing individual insurance policies. The president issued the waiver after the uproar that followed the revelation that his oft-repeated "if you like it, you can keep it" pledge was false. From WashEx: "'I don't see how they could have a bunch of these announcements going out in September,' one consultant in the health insurance industry said. 'Not when they're trying to defend the Senate and keep their losses at a minimum in the House. This is not something to have out there right before the election.' … The administration's decision to pursue another extension was confirmed by insurance sources who predicted a public announcement would be 'imminent.' It is unclear how long the extension will be, though one source believed it could last to the end of Obama's second term, and perhaps beyond… Health insurers are meeting in Washington, D.C., this week for two major conferences hosted by their trade group, America's Health Insurance Plans. Several sources said they had heard chatter about an extension but that the administration had not made efforts to discuss the possibility with industry officials."
[Yeah, but - The waiver may help give Democrats something to say about the false promises they made when passing and defending the law in 2010 and 2012, but it's not clear that state insurance commissioners can or will comply with this talking-point generation system. Then there's the rate hikes and employee dumping just over the horizon…]
Private alternative to ObamaCare offers more choices - Daily Caller: "Two private insurance exchanges across metropolitan areas in 45 states provide more options more cheaply than Obamacare exchanges, the National Center for Public Policy Research found… On average, both male and female 27-year-olds will have ten more options on eHealthInsurance.com than an Affordable Care Act marketplace... 'Obamacare supporters, including the president himself and Nancy Pelosi, claimed the exchanges would yield more choice and lower prices,' senior fellow for health policy David Hogberg said. 'This study shows those claims do not stand up'… For 27-year-old males, 32 health insurance policies on eHealth and 38 plans on Finder were less expensive than the exchanges' cheapest policy.  Young women can find 18 and 20 cheaper plans on the two exchanges respectively and for older couples, 29 and 28 plans on eHealth and Finder."
Crashed ObamaCare site signed up illegals - The Oregonian: "Nearly 4,000 applicants for a state program that provides undocumented immigrants with pregnancy services were instead enrolled in full Oregon Health Plan coverage, contrary to federal law, thanks to problems with the Cover Oregon health insurance exchange. State officials say they discovered the problem several weeks ago and are correcting it…Two thirds of Cover Oregon's enrollments -- more than 70,000 -- have gone into the low-income Oregon Health Plan, the state's version of Medicaid…"

The Hill: "President Obama will reach out directly to Hispanics on the merits of the Affordable Care Act as part of the administration's final enrollment push before the March 31 deadline. The town hall event on Thursday in Washington, D.C., will be coordinated in conjunction with some of the largest Spanish-speaking media outlets in the country — Univision, Telemundo, and La Opinion-impreMedia — and will be distributed across 'broadcast, radio, digital and social platforms,' according to a White House official."
OBAMA TO UNVEIL BASE-BOOSTER BUDGET
President Obama today travels to a D.C. school to unveil his budget proposal for the federal fiscal year that starts Oct. 1. Now, everybody knows that Congress isn't doing any fiscal rock breaking between now and Election Day. This plan, like the Republican alternatives starting to dribble out, is about trying to win those elections. For the president, that means incentivizing his base to get out and vote. Washington Examiner has the details on Obama's vision for a future without Republican budget worrywarts, including expanding and making permanent a $60 billion-a-year program that gives tax refunds to people who don't pay federal income taxes. "…the budget will include an expansion of the Earned Income Tax Credit and the Child Tax Credit, as well as other tax changes to aid college students and help promote retirement savings. Although the White House did not specify the budgetary cost of its proposed programs, it said in a release that the tax breaks would be offset in the budget by raising taxes on certain high-income earners. … The main feature of the White House's plan would be to make permanent the expansion of the EITC to families with three or more children from the 2009 stimulus, and to increase the tax break even further by expanding it for childless workers… The EITC is intended to aid poor people while also encouraging work. It is a refundable tax credit that accrues to low-wage workers, phasing out with income."
[Watch Fox: Sen. John Barrasso, R-Wyo., discusses the budget in the 10 a.m. ET hour]
WITH YOUR SECOND CUP OF COFFEE...
Thomas Sowell considers The Price of Freedom: "It doesn't matter what rights you have under the Constitution of the United States if the government can punish you for exercising those rights. And it doesn't matter what limits the Constitution puts on government officials' power if they can exceed those limits without any adverse consequences. In other words, the Constitution cannot protect you if you don't protect the Constitution with your votes against anyone who violates it. Those government officials who want more power are not going to stop unless they get stopped."
Got a TIP from the RIGHT or LEFT? Email FoxNewsFirst@FOXNEWS.COM
POLL CHECK
Real Clear Politics Averages
Obama Job Approval: Approve – 43.3 percent//Disapprove – 52.7 percent
Direction of Country: Right Direction – 29.8 percent//Wrong Track – 63.2 percent
Generic Congressional Ballot:  Democrats – 42.0 percent// Republicans 42.3 percent
PRIMARY SEASON BEGINS WITH TEXAS VOTE TODAY
AP:  "What could have been a tight, tea party-fueled primary now looks like a cakewalk for U.S. Sen. John Cornyn after his challenger ran a campaign so disastrous that even top grassroots activists in Texas have disavowed him. Cornyn, the Senate's No. 2 Republican as minority whip, should have little trouble securing the GOP nomination Tuesday in his bid for a third term, even though some activists dismiss him as too moderate and his firebrand colleague, U.S. Sen. Ted Cruz, has refused to say whether he'll vote for him. Cornyn appears safe because the best-known of the seven Republicans vying to unseat him is U.S. Rep. Steve Stockman. The congressman stunned political observers when, just three months before the primary, he withdrew his re-election bid to his suburban Houston district and filed to run for Senate."
Cruz:  I'm no Mr. Congeniality - In an interview with columnist Cal Thomas, Sen. Ted Cruz, R-Texas, said he would lose a "Mr. Congeniality" contest if it were up to the Senate Republican leadership. Thomas writes: "I …[asked]  him about his controversial move … to change Senate rules by requiring 60 votes to pass the debt ceiling increase, instead of a 51-vote majority. Cruz responded, '...there is no universe in which I would be willing to consent to allow (majority leader) Harry Reid to raise the debt ceiling with no spending reforms on only 51 votes. The reaction from a significant number of my colleagues was considerable anger and dismay'… 'That doesn't mean we need to fight on everything. You pick your battles…"
POLL SHOWS GOP TOPS DEMS IN STATES WITH SENATE RACES
WaPo: "In the 34 states with Senate races, 50 percent of voters say they favor Republicans and 42 percent favor Democrats…Just 22 percent say they are inclined to reelect their representatives in Congress. Almost seven in 10 Americans (68 percent) say they are inclined to look around for someone new this fall."
HAGAN IN DECLINE, EVEN WITH DEMS
A new poll from Elon University finds Sen. Kay Hagan, D-N.C., only receives 55 percent approval amongst Democrats, down from 63 in November. Overall, 49 percent of Tar Heel state voters disapprove of Hagan. This is Hagan's fourth straight drop in approval. Fifty-two percent of respondents saying they are worse off under ObamaCare, Hagan is facing a much tougher than expected re-election effort.
PICK SIX: WEST VIRGINIA UNSEATS ALASKA 
Republicans must add six seats to their total in the Senate to take control of the upper chamber. Which six Democrat-held seats are the most vulnerable? The consensus among Fox News First readers: Arkansas, Montana, Louisiana, South Dakota, North Carolina and West Virginia. This marks the Mountain State's return to the top tier, pushing out long-time sixth-place occupant Alaska.
Share your top six picks. Email them – just your top six, please – to FOXNEWSFIRST@FOXNEWS.COM or tweet @cstirewalt
Cook's crib sheet - National Journal's Charlie Cook argues: "…Democrats' chances of holding onto their majority in the Senate [are] looking increasingly tenuous. There are now at least 10, and potentially as many as 13, Democratic-held seats in jeopardy. By contrast, only two GOP seats are in any meaningful danger, and that number hasn't changed in six months." Cook's top 10: South Dakota, West Virginia, Montana Michigan, Iowa, Arkansas, North Carolina, Alaska, Louisiana, Colorado. His three on the bubble: Minnesota, New Hampshire and Virginia.
HEY BUDDY: GRAHAM INVOKES DEMINT IN NEW AD
Sen. Lindsey Graham, R-S.C., is out with a new ad in his bid the beat back a primary challenge from conservative opponents. Graham name drops former Senate colleague Jim DeMint, R-S.C., who resigned from the Senate in 2012 to take over the Heritage Foundation, a conservative political action group in Washington. The two men maintained a seemingly uneasy truce as the state's senators, deferring to each other on the state level but fighting proxy battles in other states' primaries. Graham's new ad flashes his name next to DeMint's as a narrator says, "he was ranked as a top five Senate budget cutter" and again when the narrator says "he opposed ObamaCare from day one." Neither DeMint nor his organizations have yet endorsed anyone in Graham's primary.
LEE LENDS SUPPORT TO SASSE
Tea Party favorite Sen. Mike Lee, R-Utah, is backing Nebraska Republican Senate hopeful Ben Sasse. Sasse, the president of Midland University, is chasing frontrunner Shane Osborn, the former state treasurer, in a bid to succeed retiring Sen. Mike Johanns, R-Neb. Lee, one of the founding members of the Senate Tea Party Caucus, was one of the first beneficiaries of the outsider surge four years ago when he ousted incumbent Sen. Bob Bennett. Lee says in a statement: "Nebraskans need Ben Sasse to represent their values, reformers in the Senate need his conservative vote, our country needs his voice." Lee's endorsement adds to a growing list for Sasse, including Sen. Tom Coburn, R-Okla., Rep. Paul Ryan, R-Wis., Club for Growth and the Jim DeMint-founded Senate Conservatives Fund.

[The Hill: Republican Shane Osborn nabbed the endorsement of social conservative leader Phyllis Schlafly in his bid for Senate in Nebraska. Schlafly, head of the anti-feminist, anti-abortion group the Eagle Forum, said in a statement obtained exclusively by The Hill that she's endorsing Osborn because the nation needs 'leaders with strong moral convictions.']
COCHRAN TOUTS CONSERVATIVE CRED IN AD DEBUT
"Sen. Thad Cochran, [R-Miss.,] will launch the first television ads of his 2014 reelection bid Tuesday, moving to define his legislative record in positive terms to the GOP primary electorate, according to two sources close to the Mississippi race," Politico reports. "The incumbent senator's first wave of television advertising will feature three positive messages…One spot will be a 'man on the street'-style commercial about Cochran's accomplishments for Mississippi. Another will focus on Cochran's votes against [ObamaCare]...The third commercial, set to run along the Mississippi coast, highlights the senator's role in delivering federal aid to his state in the aftermath of Hurricane Katrina. The size of the buy runs into the six figures, two operatives tracking the Mississippi air war said."
BOEHNER HEDGES
Cincinnati Enquirer: "….[House Speaker John Boehner] said he is confident he can win a third term as House speaker, despite his rocky three years in the post and his narrow re-election to that leadership slot in 2013. 'It won't even be close,' Boehner said of his re-election as speaker during an hour long exclusive interview Monday with The Enquirer. 'I frankly think I'm in better shape with my own caucus than I have been any time in the last three years. ... I think they understand me better.'… Boehner stopped short of saying he will serve out the entire term in Congress if he is re-elected. He said only that 'I fully expect to serve.'''
LET THE GOOD TIMES ROLL… ON TO THE SCALE
While Washington is fixated on getting Americans to trim down, one Missouri candy shop is celebrating those with a little extra girth. To honor today's Fat Tuesday celebration as Christians prepare to begin the 40-day season of Lent on Wednesday, the Route 66 Candy Shoppe in Waynesville, Mo., is offering free fudge for to those who tip the scale over 300 pounds. From the store's Facebook page: "FREE FUDGE for anyone over 300 pounds on Fat Tuesday! Walk, run, waddle or ride your motorized wheelchair down to the Route 66 Candy Shoppe! See you Tuesday." The Shops owner tells KSPR, "We are not trying to make a statement or offend anybody. We are just inviting them to come in and have a good laugh."
AND NOW, A WORD FROM CHARLES…
"To go into Ukraine and to take over, to invade Crimea, is a huge step. And [Russian President Vladimir Putin] would only have done it with a president who has shown from the very beginning that [President Obama] is living in a fantasy world…They imagine the world as a new interconnected world where climate change is the biggest threat and they are shocked that the Russians actually are interested in territory." –Charles Krauthammer, on "Special Report with Bret Baier"
Chris Stirewalt is digital politics editor for Fox News. Want FOX News First in your inbox every day? Sign up here.