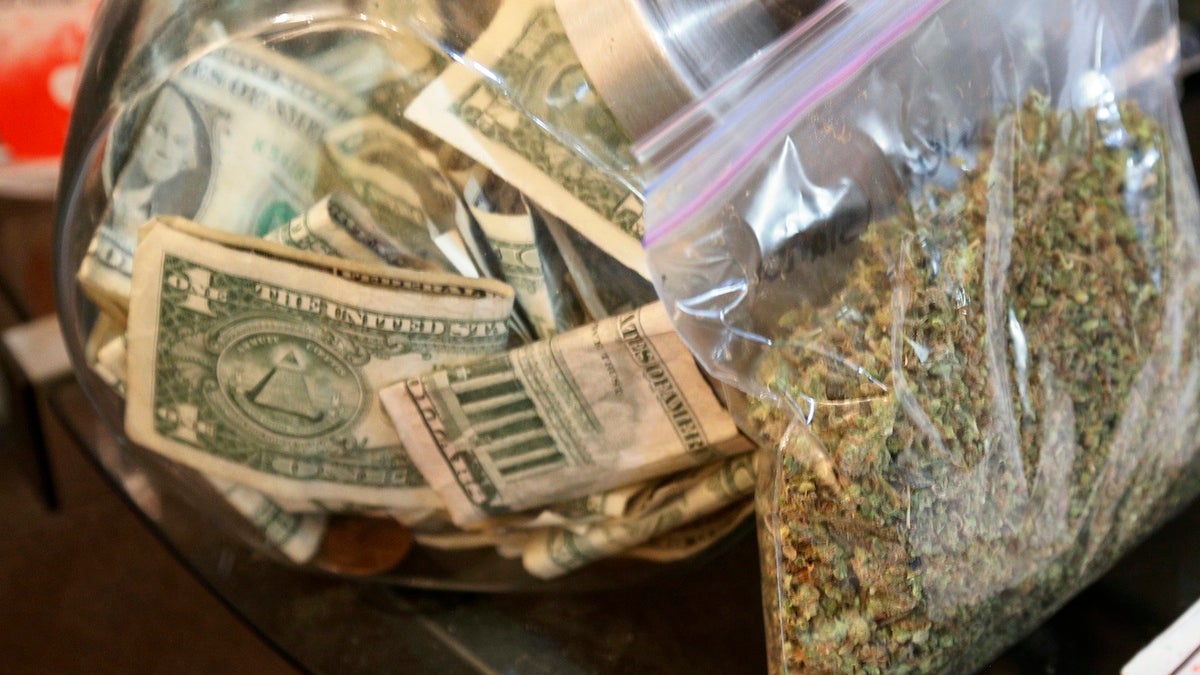 Much of the $40 million in sales tax revenue Colorado hopes to collect from legal pot sales could be going up in smoke because banks and credit card companies refuse to work with sellers, claims a state lawmaker.
Unless banks can get a clear signal from federal regulators that it is okay to work with pot dealers without running afoul of laws aimed at launderers of drug money, the marijuana trade will remain what it is in Colorado – an all-cash business. State Sen. David Balmer says that makes it ripe for unreported – and untaxed - transactions.
"So far Colorado has not been able to come up with a solution to the banking problem," Balmer said. "The vast majority of sales will not be accounted for."
[pullquote]
Marijuana is considered an illegal drug by the federal government, and laws such as the Bank Secrecy Act carry severe penalties for banks. Last week, U.S. Attorney General Eric Holder said the feds will soon issue regulations opening banking services to state-sanctioned marijuana businesses.

"You don't want just huge amounts of cash in these places," Holder said in a speech at the University of Virginia. "They want to be able to use the banking system. And so we will be issuing some regulations I think very soon to deal with that issue."
Balmer said the new rules can't come soon enough. He believes the state was ill-prepared for what has become a booming business since the beginning of 2014. In addition to the banking issue, he said Colorado does not have enough field agents to regulate the industry.
Officials expect retail marijuana sales tax to put $19,729,867 into state coffers in the current fiscal year and more than twice that in the next.
But for now, tracking sales is all but impossible. Businesses have no bank statements to confirm revenue or deposits, and many have expressed concern about the robbery risk associated with handling large amounts of cash. Some have set up limited liability corporations to create one-degree of separation to try to open bank accounts, but if banks know about the arrangement, they often balk, according to Balmer.
And they often can tell where the greenbacks come from.
"The large cash deposits smell like marijuana, so some of the businesses are spraying the cash with room freshener or perfume to hide the marijuana smell," Balmer said. "The banks are even more suspicious when they have a person trying to deposit a large cash deposit that smells like perfume."
With the above realities, said Balmer, the marijuana businesses have begun buying enormous safes to store cash and are hiring armed guards to protect their stores 24/7.
According to Casey Bauer, spokesman for the state Department of Regulatory Agencies, the Department of Revenue has created regulations with the understanding that obtaining banking services can be difficult for members of Colorado's marijuana industry. The business licensees are expected to keep detailed records and provide the Department of Revenue with full financial and inventory accountability. The Department has the authority to go into a business licensed by the state to inspect books and records, which could lead to a third party audit.
"There is a new inventory tool that was launched on Jan. 1, 2014, which tracks inventory from seed to sale," Bauer said.
The tool Bauer is referring to is the Marijuana Inventory Tracking Solution (MITS) which she said is one piece of the robust and comprehensive regulatory scheme that the Department of Revenue has created and will continue to refine over time.
Department of Revenue spokeswoman Daria Serna said her office accepts state tax revenue in a number of ways and cash is one of them.
"The launch of retail marijuana has given the Department an opportunity to review its processes and make improvements," she said. "We cannot go into detail about our processes and procedures, because it would compromise security, but we want tax payers to know that safety is our number one priority."
Serna admitted that from a regulator perspective it would be helpful to have bank records from licensed businesses.
"We have crafted our regulations with the understanding that obtaining banking services can be difficult for members of Colorado's marijuana industry," Serna said. "Our licensees are expected to keep detailed records and provide us with full financial and inventory accountability."
This provides little solace to Balmer, who sees a system ripe for not making appropriate tax deposits but criminal activity.
"The majority of our marijuana retailers are trying to be honest," he said. "But this is the Wild West and nobody really knows how to be lawful because this still violates federal law."