Colorado baker sues state, claims it's 'punishing' him for religious beliefs despite Supreme Court ruling
The Colorado baker whose refusal to bake a custom cake for a same-sex wedding ended up before the Supreme Court is now suing his state, claiming it is trying to "punish" him for his religious beliefs.
Jack Phillips, owner of the bakery, garnered national attention after he declined to make a wedding cake for a gay couple in 2012. The couple sued, and the Colorado Civil Rights Commission ultimately decided that Phillips violated the state's anti-discrimination laws.
Phillips' attorneys appealed, and the case made it all the way to the Supreme Court. In a 7-2 decision, the justices did not decide whether a business has the right to refuse to serve gay and lesbian people outright, but they did set aside the Colorado court ruling against Phillips.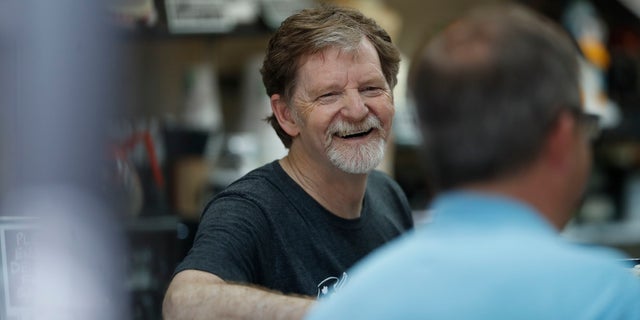 "The Commission's hostility was inconsistent with the First Amendment's guarantee that our laws be applied in a manner that is neutral toward religion," Justice Anthony Kennedy wrote in his majority opinion.
Now, more than two months after the decision, the Alliance Defending Freedom (ADF) is arguing state officials are "doubling down on their anti-religious hostility" and engaging in "unconstitutional bullying."
SUPREME COURT DECIDES COLORADO GAY WEDDING CAKE CASE: A TIMELINE OF EVENTS
The new legal battle stems from a request Phillips' store received in June 2017. Attorney Autumn Scardina said she called the store to request a birthday cake that would be blue on the outside and pink on the inside. The cake, according to her complaint, was in "celebration of my transition from male to female."
Phillips has previously said he will not refuse to serve anyone in his store, but he will decline to specifically make a cake or other baked item if it goes against his religious views. According to the lawsuit, Phillips would also refuse to make a cake that is disparaging to the gay community.
The Colorado Civil Rights Division noted that Scardina is "a member of protected classed [sic] based on her sex (female) and transgender status (gender identity)." It found probable cause Phillips discriminated against her by refusing to make the cake.
"The state of Colorado is ignoring the message of the U.S. Supreme Court by continuing to single out Jack [Phillips] for punishment and to exhibit hostility toward his religious beliefs," ADF senior vice president of U.S. legal division Kristen Waggoner said in a statement.
COLORADO BAKER GETS DEATH THREATS AND HATE FOR REFUSING TO MAKE GAY WEDDING CAKE
"Even though Jack serves all customers and simply declines to create custom cakes that express messages or celebrate events in violation of his deeply held beliefs, the government is intent on destroying him – something the Supreme Court has already told it not to do," she said. "Neither Jack nor any other creative professionals should be targeted by the government for living consistently with their religious beliefs."
"It is now clear that Colorado will not rest until Phillips either closes Masterpiece Cakeshop or agrees to violate his religious beliefs."
The lawsuit, filed in the U.S. District Court for the District of Colorado, names members of the Colorado Civil Rights Division as well as Gov. John Hickenlooper, a Democrat, and Attorney General Cynthia Coffman as defendants.
After the Supreme Court's decision, Hickenlooper attended a rally with the same-sex couple and said it would not change state law.
"Today is no different than yesterday. Nobody has a license to discriminate," he said.
"It is now clear that Colorado will not rest until Phillips either closes Masterpiece Cakeshop or agrees to violate his religious beliefs," the suit said. "The state's continuing efforts to target Phillips do not just violate the Constitution; they cross the line into bad faith. This Court should put a stop to Colorado's unconstitutional bullying."
A LOOK AT THE CASES THAT COULD IMPACT THE SUPREME COURT'S RULING ON THE COLORADO BAKER
The lawsuit also alleges Scardina has been behind many disingenuous requests for custom cakes "designed to get him to decline the desired message."
The suit seeks $100,000 from Colorado Civil Rights Division Director Aubrey Elenis for lost work, profits, reputational damage and emotional distress.
Prior to the Supreme Court's decision, Phillips told Fox News he and his family had received death threats and menacing phone calls.
Fox News' Judson Berger, Bill Mears and The Associated Press contributed to this report.