Cochran resignation leaves both Mississippi Senate seats in play
Sen. Thad Cochran's unexpected resignation this week is cranking up the pressure for Republicans in Mississippi as the 2018 primary approaches—leaving the real possibility for a Democrat to represent the state in the U.S. Senate for the first time in almost 30 years.
Cochran, R-Miss., cited health challenges when he announced Monday his intention to resign effective April 1 after serving for 40 years. His move now affects the forecast for both Mississippi Senate seats for the 2018 midterm elections.
Cochran's seat would not have been up for re-election. His current term began after the 2014 midterm election cycle, and would expire in 2020.
But in the wake of his resignation, Mississippi Republican Gov. Phil Bryant will appoint a temporary senator to fill Cochran's vacant seat, and a special election will be held in November.
MISSISSIPPI GOP SEN. THAD COCHRAN RESIGNING  APRIL 1 AMID HEALTH CHALLENGE 
"The governor will appoint someone to fill the vacancy," Bryant's spokesperson told Fox News in an email Tuesday. "That will happen within 10 days of April 1, Sen. Cochran's effective date of retirement."
That means Mississippi will have two Senate races this November—one for the seat currently held by moderate Republican Sen. Roger Wicker. And the second for the "Cochran seat" special election, which would run out the remainer of Cochran's term, expiring in November 2020.
Before Cochran's announcement, the June 5 primary was solely focused on Wicker's push for re-election against Republican State Sen. Chris McDaniel.
McDaniel, who unsuccessfully ran an infamous 2014 primary campaign against Cochran, remains steadfast in his primary battle against Wicker—but the campaign has left open the possibility of a run for the "Cochran seat" this fall.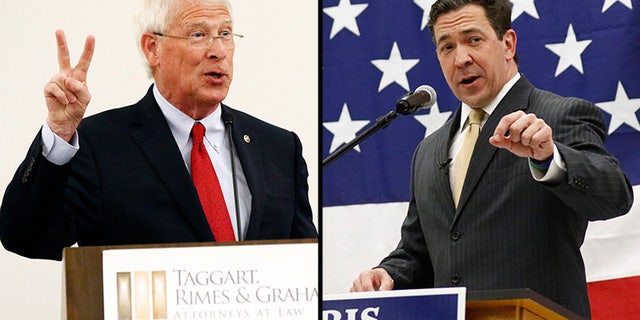 "While it is certain that Mississippi will have two U.S. Senate races this year, I am currently focused on my campaign against Roger Wicker, but all options remain on the table as we determine the best way to ensure that Mississippi elects conservatives to the United States Senate," McDaniel said Monday in a statement to Fox News.
On Tuesday, a McDaniel campaign spokesperson told Fox News they were "confident" their candidate could succeed Wicker.
"Our campaign is confident that McDaniel can beat Wicker once it's known how Wicker votes to the left of Mitch McConnell and how he is responsible for helping Democrats block Trump nominees," the spokesperson said in an email to Fox News. "Having said that, all options to get a conservative elected to the US Senate from Mississippi are on the table."
Sources told Fox News that there is some concern on the Republican side of the aisle about McDaniel—with more than one source likening McDaniel's candidacy to that of former Alabama Republican Senate nominee Roy Moore. But others suggest that Gov. Bryant could appoint McDaniel to the temporary Cochran seat next month.
A spokesman for Wicker, who was endorsed by President Trump last month, did not immediately respond to Fox News' request for comment.
But there is another possibility—a Democrat could, in fact, win in Mississippi—especially if McDaniel either defeats Wicker, or secures the GOP nomination for the special election this fall. That would leave maintaining the Republican's slim Senate majority even more vulnerable. 
Mississippi, historically, has a long list of Democrats elected to the Senate—but the last time a Democrat held a Mississippi seat was former Sen. John C. Stennis, who left his post in January 1989 –almost 30 years ago.
Just one day after Cochran's announcement, Democrats are already throwing their hats in the ring.
Former Rep. Mike Espy, D-Miss., announced his intent to run.
"I just learned of the pending resignation of Sen. Cochran—a person I admire and respect, and who has done so much for Mississippi over his tenure," Espy said in a statement to Fox News. "However, now that he has announced his pending resignation, I would like to declare my strong intention to run for the United States Senate (for the Cochran seat)."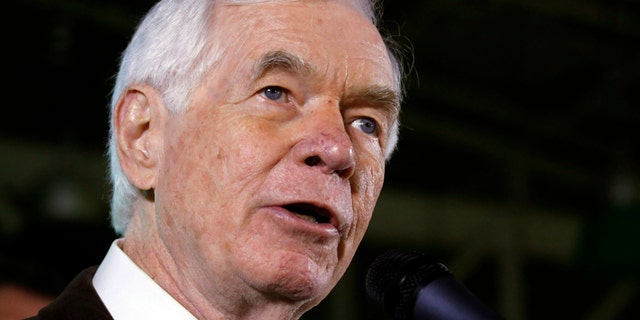 Espy, who served as a congressman from Mississippi from 1987 to 1993 was the first-African-American to hold the Mississippi congressional seat. Espy went on to serve as former President Bill Clinton's secretary of agriculture—the first African American to hold that Cabinet post in history.
"It's been some time since I worked in Washington and I have witnessed with dismay the continuing dysfunction," Espy said. "I have proven that I can work with everyone as long as the goal is a better Mississippi."
For Wicker's seat, there are six declared Democrats running in the June 5 primary—including the State House Minority Leader David Baria and State Rep. Omeria Scott.
Fox News' Chad Pergram and The Associated Press contributed to this report.