Coakley Campaign Battles to Reverse Brown's Momentum in Massachusetts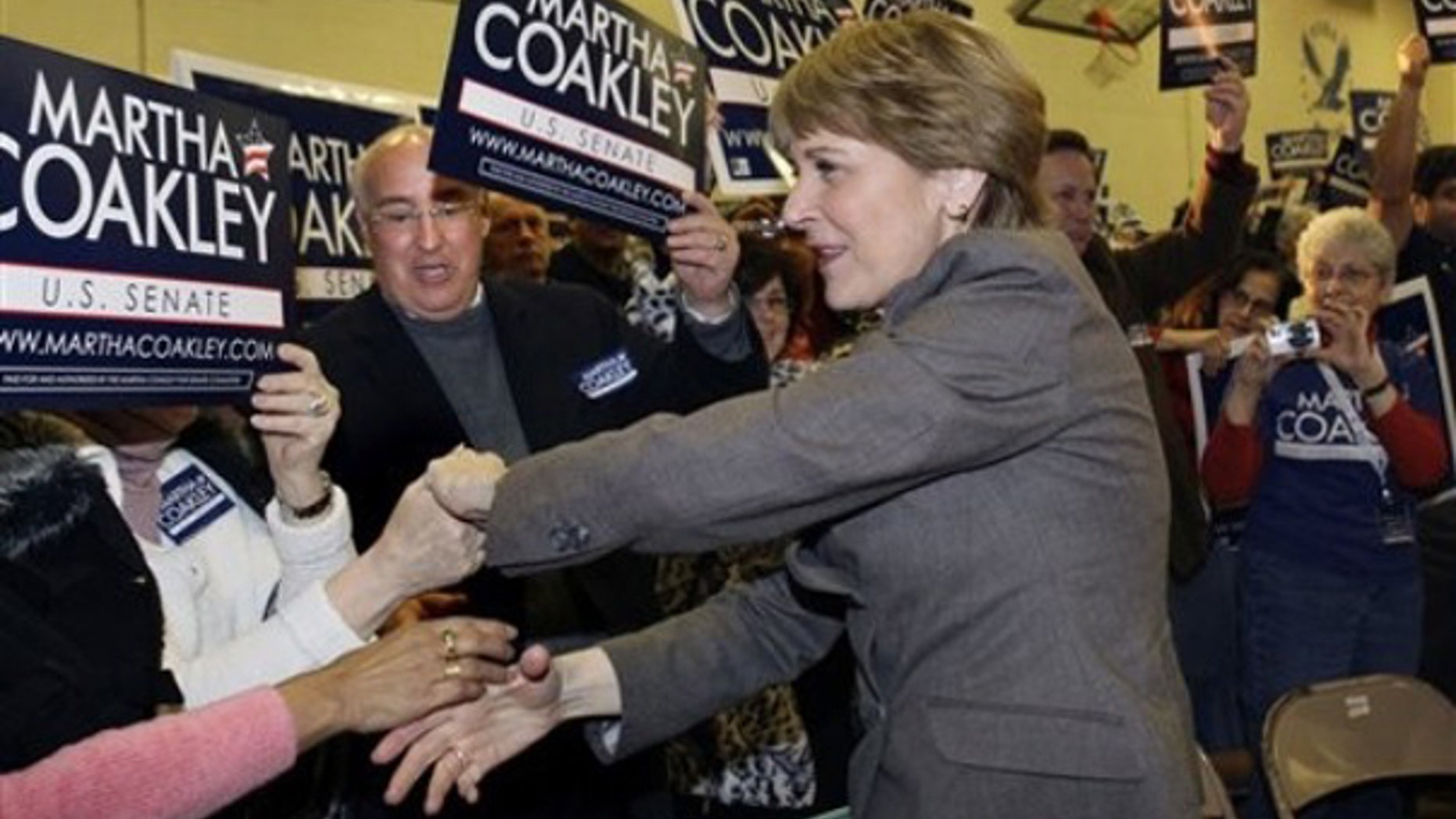 Martha Coakley, the Democratic candidate for U.S. Senate who has been accused of running a lackluster race for months, threw her campaign into overdrive Monday, on the eve of the special election that has the entire Democratic agenda hanging in the balance.
With polls showing the state attorney general -- and former front-runner -- falling further behind GOP candidate Scott Brown, Coakley and her supporters are trying hard to rev up the base. Coakley campaigned through a full day of rallies and meet-and-greets in her state, as Democratic senators urged supporters to help prevent Brown from pulling out an upset victory in the race for the Massachusetts seat formerly held by the late Sen. Ted Kennedy.
"This race is a jump-ball," Sen. John Kerry, D-Mass., said in a fundraising e-mail. "It all depends on turnout now."
But the latest polls paint a dismal picture for Coakley, and Brown was campaigning just as hard Monday.
One survey out of Public Policy Polling showed Brown leading 51-46 percent. Another from American Research Group showed him leading 52-45 percent. Another conducted for Politico.com had Brown leading 52-43 percent.
"This race is about more than the health care bill. It's really about the lack of civility in Washington," Brown said Monday. "We can do better."
For Democrats in Washington, though, the race is all about the health care bill.
If Brown wins, he will break the party's 60-vote, filibuster-proof majority, potentially dooming health care reform should he make it down to Washington in time.
With so much on the line, Coakley has faced some criticism from Democrats for taking the race for granted in this overwhelmingly Democratic state.
She dismissed such criticism Monday.
"People of Massachusetts know my record. ... I think we'll have a victory," she said.
President Obama slammed Brown and the GOP during a rally for her Sunday, and the Coakley campaign tried to get as much mileage as it could out of that appearance. A snippet of Obama's speech ended up in an 11th-hour television ad Monday.
"Martha knows the struggles Massachusetts working families face because she's lived those struggles. She's fought for the people of Massachusetts every single day," Obama is shown saying in the spot during the gymnasium rally at Northeastern University. He says she "took on Wall Street" as attorney general, while going after big insurance companies and predatory lenders.
"Every vote matters, every voice matters. We need you on Tuesday," he adds.
But White House aides admit they're worried she may lose. Critics say her gaffes show she's out of touch -- not the least of which was calling former Red Sox pitcher Curt Schilling a Yankees fan in a recent radio interview.
"The fact that she called me a Yankees fan probably bothers me more than anything, but she clearly doesn't have a line ... into the people of this state" Schilling said.
Meanwhile, the third candidate in the race is getting calls to drop out from Brown supporters.
Joseph L. Kennedy, a Libertarian running as an independent, said Monday he's gotten tens of thousands of e-mails from Brown supporters telling him to back Brown. Kennedy, no relation to the late senator, said his campaign had to shut down its e-mail account.
He said the e-mails accuse him of being responsible for the health care reform bill.
Kennedy and Brown both oppose the bill, but Brown supporters are worried Kennedy will siphon critical support from Brown during Tuesday's election against Coakley.
The Brown campaign said it's not urging supporters to e-mail Kennedy, who says he's staying in the race to the end.
Fox News' Carl Cameron and The Associated Press contributed to this report.