Clinton Hails 'Breakthrough' Meeting With Zardari, Karzai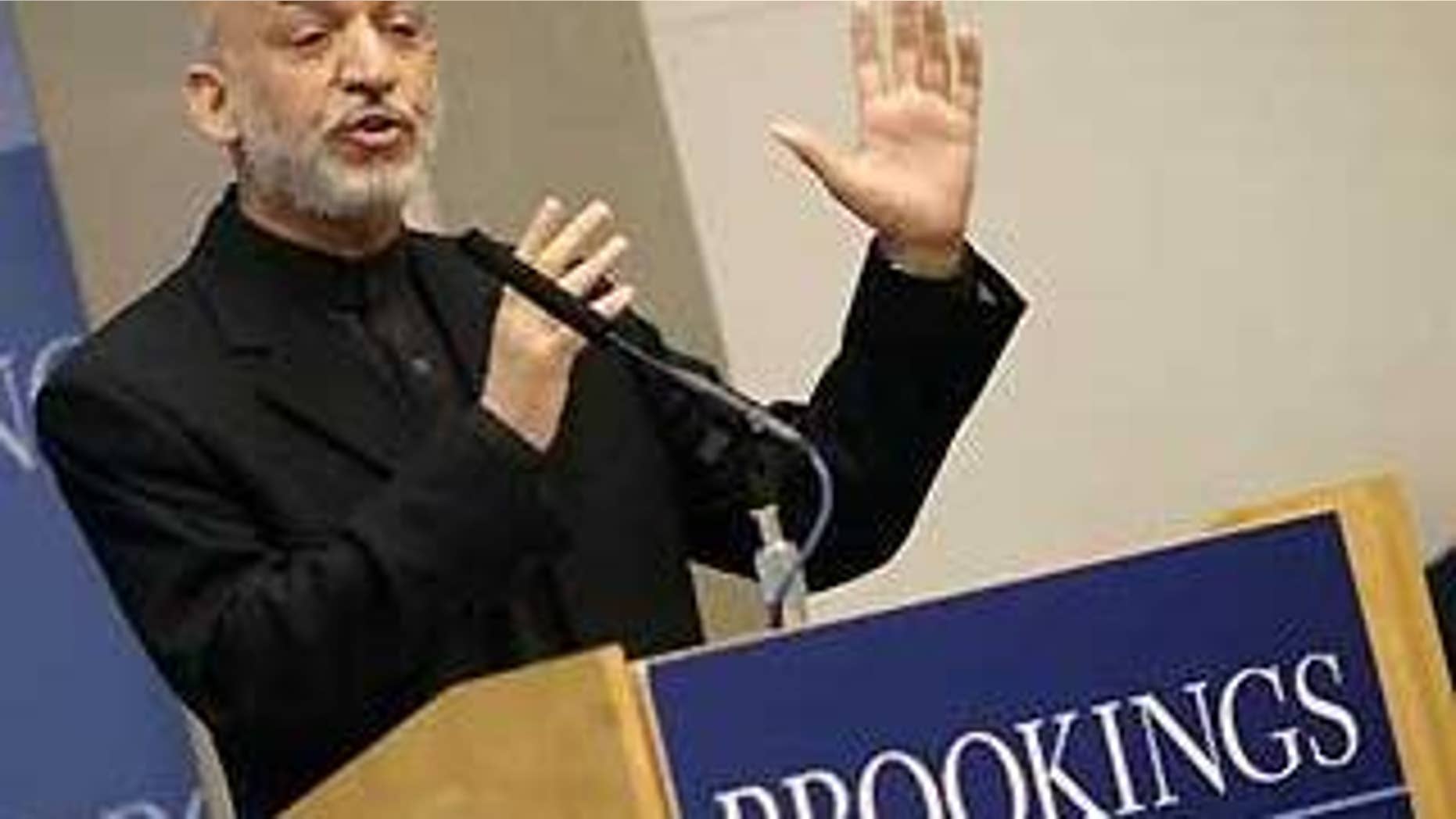 Secretary of State Hillary Clinton said she was "very optimistic" about the string of top-level meetings being held with U.S. officials and their counterparts in Pakistan and Afghanistan, calling a meeting she held Wednesday with the presidents of both countries a "breakthrough."
Clinton met with Afghan President Hamid Karzai and Pakistani President Asif Ali Zardari -- both are set to meet next with President Obama and Vice President Biden.
"It was a physical manifestation of our strategy, viewing Afghanistan and Pakistan as a regional challenge but also a regional opportunity," she said. Clinton called her meeting "very significant" and "in some ways a breakthrough."
In a diplomatic move, she earlier said the United States "deeply, deeply" regrets recent civilian deaths in Afghanistan, pledging to work to prevent such casualties in the future in both Pakistan and Afghanistan.
The meetings were a run-up to sit-downs between the foreign leaders and Obama set for Wednesday afternoon. Civilian deaths in Afghanistan are just one difficult issue the U.S. president is tasked with navigating -- Karzai recently ordered a probe into claims that more than 30 civilians were killed in a U.S.-led bombing Monday.
Karzai thanked Clinton Wednesday for "showing concern and regret" and added that "we hope we can work together to completely reduce civilian casualties in the struggle against terrorism."
Obama will enter a delicate exercise in trust-building when he meets with Zardari and Karzai -- an unprecedented joint dialogue designed to settle on ways to beat back the Taliban and its Al Qaeda allies.
Obama and Biden plan to first meet with Karzai in the Oval Office. Then they will meet with Zardari. Then they will hold a trilateral meeting with both leaders to discuss the common threats facing their countries.
But the joint challenge of fighting the Taliban in the largely ungoverned border region between Pakistan and Afghanistan is complicated by some lingering tensions between U.S. officials and the people and governments of both countries.
For one, Clinton last month had harsh public comments for the Pakistani government, saying it was "basically abdicating to the Taliban and to the extremists."
The administration also has had to justify why officials have met with Pakistani opposition leader Nawaz Sharif.
Richard Holbrooke, the U.S. special representative for Afghanistan and Pakistan, played down suggestions that the administration is backing away from Zardari before a congressional committee Tuesday.
"We have not distanced ourselves from President Zardari," he said. "We have the highest strategic interests in supporting this government."
He compared U.S. relations with Sharif to contacts that American officials have with opposition leaders in other countries.
Senior administration officials emphasized ahead of the meetings that Obama supports Zardari and in no way sought to undercut his authority by authorizing the Clinton comments that Zardari's government had failed to take a firmer stand against advancing Taliban fighters in Pakistan's northwest frontier zone.
On Tuesday, the tone in a White House briefing with reporters was far more supportive of Zardari.
"Our goal is to help Pakistan to be a stable, secure, democratic country," one senior official said. "For the life of me, I don't understand why people would say we're distancing ourselves from Zardari when, quite the contrary, he has been invited here by the president in what is a very important part of a trilateral process; but there's also a bilateral part. Pakistan's importance to our national security is self-evident."
Senior officials said there needed to be a "course correction" in the unfounded perceptions in the region that Obama was pulling back from Zardari. There were low-level fears in the White House that confusion over the issue could lead to a military uprising against Zardari's civilian government.
"Why people would think we'd invite him here to weaken him is kind of one of these weird things that happens sometimes," the officials said. "We don't want a military coup. We don't want a military takeover. Half of Pakistan's history has been run by the military. It doesn't do us any good. It doesn't do the Pakistanis any good."
As for Clinton's earlier criticisms, the official said they "should be read in the larger context" of U.S. efforts in the region to support the Pakistani government and minimize the advance of Taliban forces.
Obama on Wednesday is expected to press Zardari to do more against the Taliban, which recently has alarmed the U.S. and its allies by striking out from strongholds on the Pakistani-Afghan border to areas closer to the capital of Islamabad.
The U.S. team also will seek assurances from Zardari that his country's atomic weapons are secure.
Officials say there is no movement by the Obama administration to send U.S. military forces into Pakistan, a point on which Pakistani officials have been emphatic. "That's the end of that subject as far as we're concerned," one official said.
On Tuesday, Holbrooke told lawmakers, who are considering a major boost in U.S. assistance to Pakistan -- $1.5 billion a year over five years -- that "our most vital national security interests are at stake" in Pakistan.
Obama has a different set of issues to tread carefully over with Karzai.
Karzai came under criticism for signing a law that critics said essentially gives Shiite men the right to rape their wives. Obama had called the law "abhorrent," but Karzai has ordered a review and agreed to amend the provision.
Karzai again drew fire this week for picking a former warlord as one of his vice presidential running mates.
The latest issue arose early Wednesday, when Karzai ordered a probe into allegations by local officials that more than 30 civilians were killed in a bombing late Monday by U.S.-led troops battling militants in western Afghanistan. The International Committee of the Red Cross said a team it had sent to the area saw "dozens of bodies in each of the two locations," including women and children.
Karzai's office said he will also raise the issue of civilian deaths with Obama. The U.S. has sent a brigadier general to investigate.
Senior administration officials say the goal of Obama's meetings with Karzai and Zardari is to get Afghanistan and Pakistan to work together against a shared extremist threat to their nations. They hope the message has huge weight coming straight from Obama.
The results, they acknowledged, will be measured by whether the outreach leads to concrete actions. That includes, for example, the degree to which the Pakistani army shows a sustained commitment to fighting extremists within its borders.
The U.S., Pakistan and Afghanistan summit will involve senior officials from all three governments.
After the meetings at the White House, Biden will host a dinner at his official residence for both presidents. Key figures in the congressional debate on funding Obama's military and diplomatic strategy will attend the dinner.
On Thursday, the White House will orchestrate a series of "break-out" sessions involving a wide-array of Cabinet officials and their Afghan and Pakistani counterparts. CIA director Leon Panetta will meet both intelligence chiefs at CIA headquarters; Attorney General Eric Holder will meet both interior ministers at the Justice Department; Clinton will meet with both foreign ministers; and Agriculture Secretary Tom Vilsack will meet his counterparts.
"These are absolutely critical, because this is not theater, these are real events," one official said.
The official also contrasted the full-court Obama approach to Pakistan and Afghanistan with former President Bush's tense and unproductive dinner at the White House Sept. 27, 2006, with Karzai and then-Pakistan President Pervez Musharraf. The two leaders appeared uncomfortable in each other's company and did not shake hands.
"It is true that the previous administration had one dinner where the president hosted Karzai and Musharraf," the official said. "It was famously a dinner that led nowhere. They didn't speak to each other much and there was no follow-on."
As for Pakistan's active-duty military, which numbers about 650,000, a senior official said one difficulty in its dealing with the Taliban was its long-standing pre-occupation with India. The official said Pakistan has built its military training, tactics and outlook around confronting that threat since the partition of India and Pakistan in 1947.
One of the president's senior military advisers in the briefing spoke more broadly about Pakistan's military limitations.
"This is not about advising them and having -- again, they know how to do operations," the official said. "The issue is more of how do you shift, again, from a conventional war-fighting focus over time to a focus that requires counterinsurgency approaches, because that's what it takes there."
FOX News' Major Garrett and The Associated Press contributed to this report.