Clinton details plan to supply Syrian opposition, defends push to pay defectors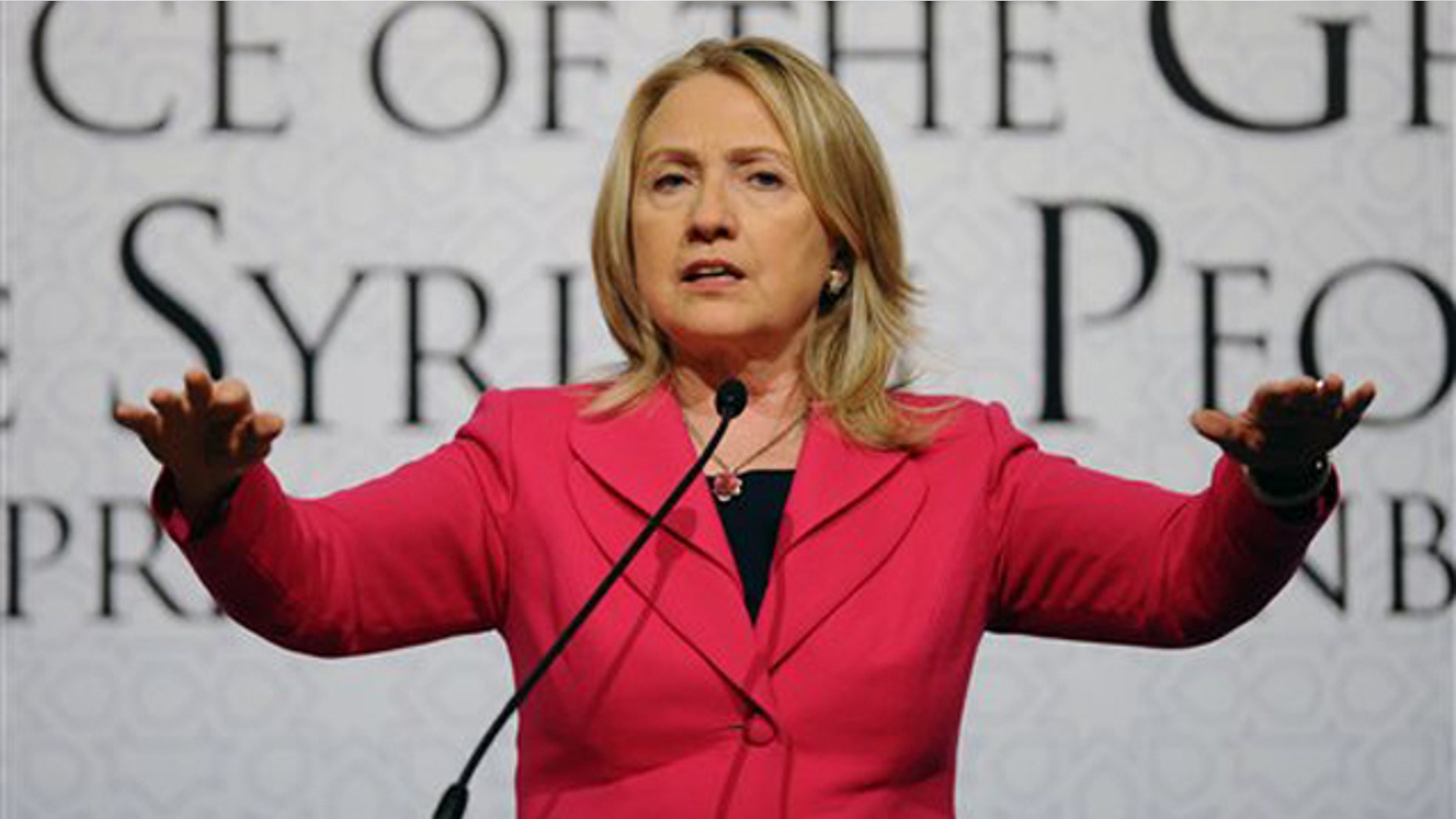 The United States is expanding its support for the Syrian opposition, agreeing to supply communications equipment and other aid but stopping short of arming anti-regime forces.
Secretary of State Hillary Clinton, at an international conference in Turkey, joined other countries in pledging a fresh round of aid for the Syrian people, as well as supplies for opposition activists. The announcement signaled a new phase in the push by the U.S. and its allies to pressure Bashar Assad's regime to step aside and abandon its deadly campaign against Syrian protesters.
Clinton, in an interview with Fox News, stressed that the new support would not include "arms" or "military equipment" -- something the Obama administration has been reticent to provide.
But she said the U.S. would be providing communications equipment and opened the door to offering the rebels help on the "intelligence" side as well.
"We've learned that there is a great deal of difficulty for the opposition to communicate with one another inside Syria and from inside to outside Syria to their counterparts who are along the border of Turkey or elsewhere," Clinton said. "That will facilitate the safety as well as the movements of the people that are on the inside."
Clinton also defended a separate effort by Saudi Arabia and other Gulf countries to set up a fund to pay members of the rebel Free Syrian Army and soldiers who defect from the regime and join opposition ranks.
"I think what you'll find is that many thousands ... have defected," Clinton told Fox News. "So clearly there needs to be a greater reassurance to those soldiers who defect that if they take their weapons and turn them against the military that continues to ruthlessly assault civilian targets -- their families are going to be provided for, there is some safety net for them.
"I think that's a sensible approach for those countries that are willing to do that," Clinton said.
The United States continues to balk at proposals to give weapons to the rebels, out of concern of further fueling the violence.
But the weekend summit signaled a deeper commitment by the U.S. and its allies to sway the military balance in Syria.
The communications equipment aid is meant to help anti-government activists in Syria organize, remain in contact with the outside world and evade regime attacks. Clinton also announced $12 million in additional aid for Syria's people -- doubling the total American assistance so far.
It comes after a year of failed diplomacy that seems close to running its course with a troubled peace plan led by U.N.-Arab League envoy Kofi Annan.
Indeed, Clinton and other participants at the summit uniformly expressed concern that Annan's plan might backfire, speculating that Assad would try to manipulate it so as to prolong his hold on power.
Clinton said at the meeting she was waiting for Annan's report to the U.N. Security Council on Monday on the status of his peace plan.
"If Assad continues as he has, to fail to end the violence, to institute a cease-fire, to withdraw his troops from the areas he has been battering ... then it's unlikely he is going to ever agree," she said.
The Syrian regime agreed to Annan's plan last week, which calls for an immediate cease-fire, humanitarian access to besieged civilians and a political negotiation process led by Syrians. Since then, there have been daily reports of violence. The United Nations says more than 9,000 people have been killed since the uprising against Assad began a year ago.
Russia and China have twice protected the Syrian regime from censure by the U.N. Security Council, fearing such a step could lead to foreign military intervention. Syria's international opponents have no plans to launch a military operation similar to the Libya bombing campaign that ousted leader Muammar Qaddafi especially without U.N. support, but they are slowly overcoming doubts about assisting scattered rebel forces.
At the meeting in Istanbul, delegates talked of tighter sanctions and increased diplomatic pressure on Assad, and Syrian opposition representatives promised to offer a democratic alternative to his regime. Yet the show of solidarity at the "Friends of the Syrian People" conference was marred by the absence of China, Russia and Iran.
Turkish Prime Minister Recep Tayyip Erdogan said military options might have to be considered if Syria does not cooperate with Annan's plan and the U.N. Security Council fails to unite in opposition to Assad.
"If the U.N. Security Council fails once again to bring about its historic responsibility, there will be no other choice than to support the Syrian people's right to self-defense," Erdogan said.
Burhan Ghalioun, leader of the opposition Syrian National Council, called for the strengthening of Syrian rebel forces as well as "security corridors" inside Syria, a reference to internationally protected zones on Syrian territory that would allow the delivery of aid to civilians. However, the nations meeting in Istanbul have so far failed to agree on such an intervention, which could involve the deployment of foreign security forces.
The one-day meeting followed an inaugural forum in Tunisia in February. Since then, Syrian opposition figures have tried to convince international sponsors that they can overcome their differences and shape the future of a country whose autocratic regime has long denied the free exchange of ideas.
Syria criticized the conference, calling it part of an international conspiracy to kill Syrians and weaken the country.
A front-page editorial in the official Al-Baath newspaper called it a "regional and international scramble to search for ways to kill more Syrians, sabotage their society and state, and move toward the broad objective of weakening Syria."
Fox News' Wendell Goler and The Associated Press contributed to this report.