Hillary Clinton is gearing up for her official campaign launch Saturday on New York's Roosevelt Island -- but the venue itself, on an isolated strip of land between Manhattan and Queens, has raised some serious logistics questions.
The island, named after former President Franklin Delano Roosevelt, was chosen for the event because the Democratic frontrunner's career has been inspired by Roosevelt's belief that "America is stronger when we summon the work and talents of all Americans," according to a campaign official. And Clinton has long considered former first lady Eleanor Roosevelt a role model, the campaign said.
But critics have raised a list of concerns including that the island is notoriously difficult to reach.
"I can't think of an area in the five boroughs of New York City that's harder to get to," Flip Pidot, Republican strategist and CEO of American Civics Exchange, told FoxNews.com's "Strategy Room."
The island is generally accessible by one bus line and one subway stop, which is six flights below street level. The only other ways to reach the two-mile-long island are by car on a small, double-lane bridge or the tram system from the Upper East Side that runs about every 10 minutes.
Pidot said Clinton should be glad she's got New York state locked down, "because she's going to make a lot of residents very angry."
"It'll be interesting," he said.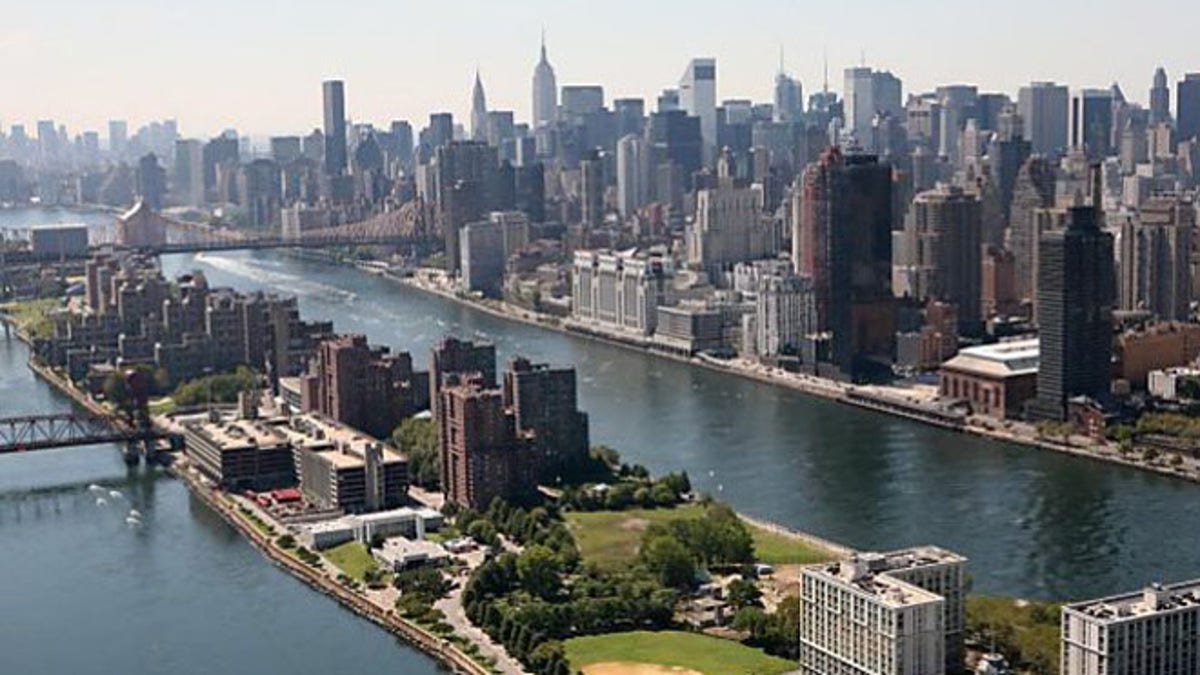 Democratic strategist Stephen Sigmund, senior adviser with Global Strategy Group, agreed that New York -- and Roosevelt Island -- residents will vote for Clinton no matter what. To that end, he downplayed the gripes about the location. "In the end, it doesn't really matter where you do your announcement," he said, adding Clinton clearly wants to use the location to talk about Roosevelt's legacy.
While Clinton was raised in Illinois and spent much of her political career in Arkansas and Washington, the campaign notes "it was the voters of New York who elected her to serve as their first female senator."
On the island itself, the planned rally is getting a mixed response.
Sherie Helstien, a vice president for the Roosevelt Island Residents Association, told The New York Post the event will be "horrendous logistically," considering the East River island has only one major road.
And husband Matthew Katz, a former association president, accused Team Clinton of being "tone deaf" for not reaching out to the island's roughly 14,000 residents and holding the event on the 18th annual Roosevelt Island Day.
The community event will go on, but a smaller children's event has been postponed.
Association President Jeffrey Escobar has said publicly the couple's comments were unofficial and that residents are in fact excited to be hosting the event.
He also points out that the Clinton rally will be held in Four Freedoms Park, about a mile south of Island Day activities. And he has invited rally attendees to visit the community event on their roughly three-quarter-mile-long return walk to the subway or tram to "enjoy the warmth and friendship of the small-town community atmosphere."
The Clinton campaign told FoxNews.com earlier this week it was still "working on logistics," when asked whether shuttle buses would be provided. The campaign did not respond to a question about how many tickets have been made available.
While Clinton already announced her campaign in April and has been touring early-primary states, the rally serves as her kickoff event. Clinton is expected in her speech to lay out the major themes of her campaign and her vision for moving the country forward.
She then heads off to four early-primary states, starting Saturday night in Iowa where Clinton will talk with volunteers and others about grassroots-campaign efforts for the first-in-the-nation caucus state. The organizational meeting will be simulcast to Clinton "house parties" across the country.
She then travels to New Hampshire on June 15, South Carolina on June 17 and Nevada on June 18.
The New York island was named in 1971 after Roosevelt, a Democrat, and was previously known as "Welfare Island" because it was home to several public hospitals and chronic-care facilities including a smallpox facility and an asylum.
Roosevelt, a native New Yorker and four-term president, is largely remembered for leading the country through World War II, and the Great Depression through his New Deal programs.
He implemented the programs through a series of executive orders that greatly expanded the role of government to include public-sector jobs for the unemployed, support for the growth of labor unions, Wall Street reform and the creation of Social Security.