Chaos erupts between Turkish security and protesters, journalists ahead of presidential speech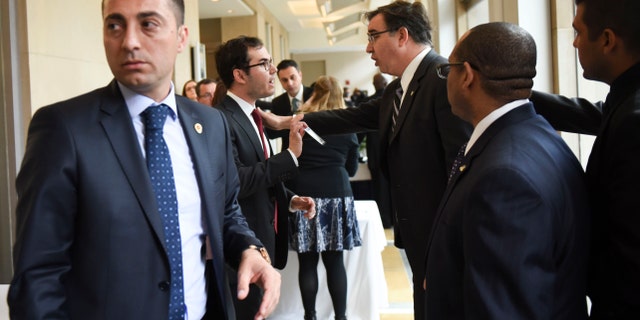 Security personnel for Turkish President Recep Tayyip Erdogan clashed Thursday morning with protesters and journalists in Washington, DC, at one point physically throwing a woman to the sidewalk, according to tweets containing photos, videos and witness accounts.
Erdogan was scheduled to speak in the afternoon at the Brookings Institute in Washington, D.C. But before the Turkish leader even showed up, protesters calling the Turkish leader a "baby-killer" and "war criminal" already had gathered out front of the Dupont Circle thinktank.
Also on the scene were supporters of Erdogan, at least one Secret Service agent, District police and the Turkish security personnel. A DC police spokesperson told FoxNews.com that officers already were on the scene to assist with security outside the event and no calls had been placed for their assistance. As of 12:15 p.m. ET, no arrests had been made, the spokesperson said.
When protesters tried crossing the street to move closer to Brookings, DC police officers blocked traffic and separated them from Turkish security, according to Foreign Policy. A Secret Service agent standing nearby was overheard saying "the situation is a bit out of control."
A shoving match occurred later between a Turkish security official and another person, who appeared to be a Brookings Institute worker, Foreign Policy magazine's website reported. Turkish security allegedly "scolded" a Foreign Policy reporter and others holding cameras and one cameraman was "chased across the street by Turkish guards," according to Foreign Policy.
An AFP reporter tweeted that "Turkish security outside Brookings just kicked an American reporter." Later, the reporter tweeted that the Turkish bodyguards tried getting an "accredited reporter expelled" from the speech.
Amberin Zaman, a columnist and Public Policy Scholar for The Wilson Center, was among those caught in the confrontation. She tweeted a picture of one of Erdogan's guards saying he had called her a "PKK whore" after being pushed away from the building.
The Partiya Karkerên Kurdistanê, the Turkish name of the Kurdistan Worker's Party, is one of the main political opponents to Erdogan. Zaman says comments like that are indicative of the kind of political persecution freelance journalists have been facing in Turkey under Erdogan's administration.
Asked about the reported violence outside the Brookings Institute, Deputy National Security Advisor Ben Rhodes stressed a "respect for independent journalism" but noted that he didn't "know the circumstances of what took place."
"The U.S. strongly supports freedom of the press, media in every country, including Turkey," Rhodes said.
The Brookings Institute tweeted about the situation just after 12:30 p.m.: "To clarify, many have gathered outside, where police are monitoring the situation. The event has not yet begun."
A spokesperson for the Brookings Institute told FoxNews.com "I can't talk right now, thank you," and hung up when reached by phone. The Turkish Embassy indicated it was not taking media inquiries.
Erdogan was invited to the Brookings Institute to speak about Turkey's role in global politics and the issues the country faces as Turkey approaches its 100th anniversary in 2023.
Foxnews.com's Danny Jativa and Cody Derespina contributed to this report.