Candidates Test Out The Foreign Policy Waters Courting Latino Voters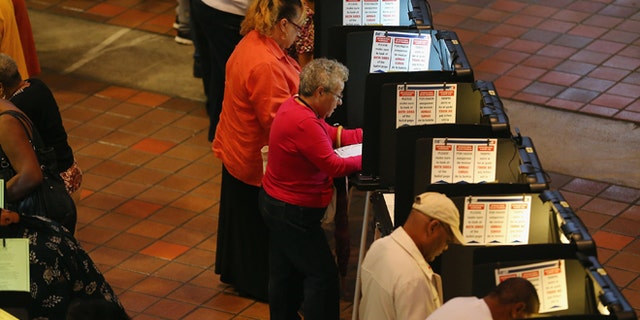 NEWYou can now listen to Fox News articles!
Most of the candidates stumping on the campaign trail this year when it comes to foreign policy have been either staying entirely mum or sticking to the terrorist campaign of the Islamic State, the crisis in the Gaza Strip or Russian aggression in the Ukraine. But some candidates are hoping that speaking about U.S. policy toward Latin America may help them out come November.
While most analysts say that foreign policy isn't usually a major factor in U.S. elections, especially midterms, the continuing troubles along the Mexico border and the issue of how to handle unaccompanied minors could prove a decisive talking point.
"The border issue is really a Mexico and Central America issue," Louis Desipio, professor of political science at the University of California-Irvine, told Fox News Latino. "We've been in this 10-, or more, year debate on immigration reform, and the feeling is both sides in this have a story they want to tell."
The Pew Research Center estimates that 64.6 percent of the 53 million Hispanics in the country, or 33.5 million, are of Mexican descent. So, especially along the border states of Texas, New Mexico, Arizona and California, what happens on the border is important to voters – both Latinos and others.
One U.S. congressional hopeful from Texas, Larry Smith, stopped northbound traffic at the Gateway International Bridge between Brownsville and the Mexican city of Matamoros for about 20 minutes on an August weekend to air his grievances against what he called Mexico's dependence on trade agreements and the U.S.
"Mexico is not a friendly neighbor," Smith said, according to the Brownsville Herald.
Smith also blamed the Mexican government for the networks of human smugglers and drug cartels that have been blamed for the spike in undocumented immigrants arriving in the Lone Star State from Central America.
Most politicians are trying to actively appeal to Latino voters, especially after the voting bloc was largely credited in the media with having turned the 2012 presidential election in Barack Obama's favor.
Wisconsin governor Scott Walker, for one, has been wooing his state's 35,000-plus Mexican-American population by wooing the Mexican president.
In a letter to Enrique Peña Nieto, Walker said that his state merits the creation of a new consulate to handle the needs of new arrivals. He also pointed to Wisconsin's $2.2 billion in exports to Mexico, and its sister-state relationship with the Mexican state of Jalisco.
New Jersey's governor, Chris Christie, isn't up for reelection this year, but he is considered a likely candidate for a 2016 presidential bid and in recent months has been weighing in on a host of issues concerning Hispanics, including in-state college tuition rates for undocumented workers.
During a recent stop in Iowa, home of the nation's first presidential caucus, Christie lashed out at Pres. Obama for his handling of the U.S.-Mexico border.
"We are an empathetic people in this country and we don't like seeing people suffer," he said, according to The New York Times. "But here's what I don't want to participate in, I don't want to participate in encouraging this and that would be the wrong step to take."
And on Wednesday, Christie heads to Mexico itself for a three-day trade mission.
The border issue has been hot all this summer, but to Cuban-Americans, it's the Cold War-era issue of the U.S. embargo and policy toward the Castro regime that has swayed votes for 52 years.
For decades, it has been doctrine that to get elected to any political office in portions of South Florida, it was a pre-requisite to take a strong stance against the Cuban dictatorship.
Observers now say that this dynamic is changing as an older generation of Cuban-Americans who were directly affected by the Communist revolution gives way to a younger generation born and raised as Americans.
Some Florida politicians – especially Democrats – have turned away from the hardline, anti-Castro stance.
Congressman Joe Garcia (D-Fla.) has backed a Havana-based research institute seeking to get a license from the U.S. Treasury Department in order to market a diabetes treatment in the U.S. – despite cries that it would weaken the embargo – and also advocated that Cuban-Americans should be allowed to make unlimited trips to Cuba and that other Americans be allowed to go there for "purposeful travel."
Earlier this year, the Democratic gubernatorial candidate, Charlie Crist, spoke out on "Real Time With Bill Maher" about ending the embargo.
"The embargo's been going on, what?, 50 years now, and I don't think it worked," he said. "It is obvious to me we need to move forward and get the embargo taken away."
These forays into Latin American foreign policy aside, most candidates are focusing on economic issues. Analysts say that the economy and other domestic issues are a much larger priority to Latino voters, especially those from second- and third-generation households.
"Hispanic voters are swayed overall by economic issues," Ferand Amandi, a pollster with Miami's Bendixen & Amandi International, told FNL. "Latin America is a point of entry … but unless they're from the country originally, they probably don't care."