California mayor charged with providing alcohol to minors, eavesdropping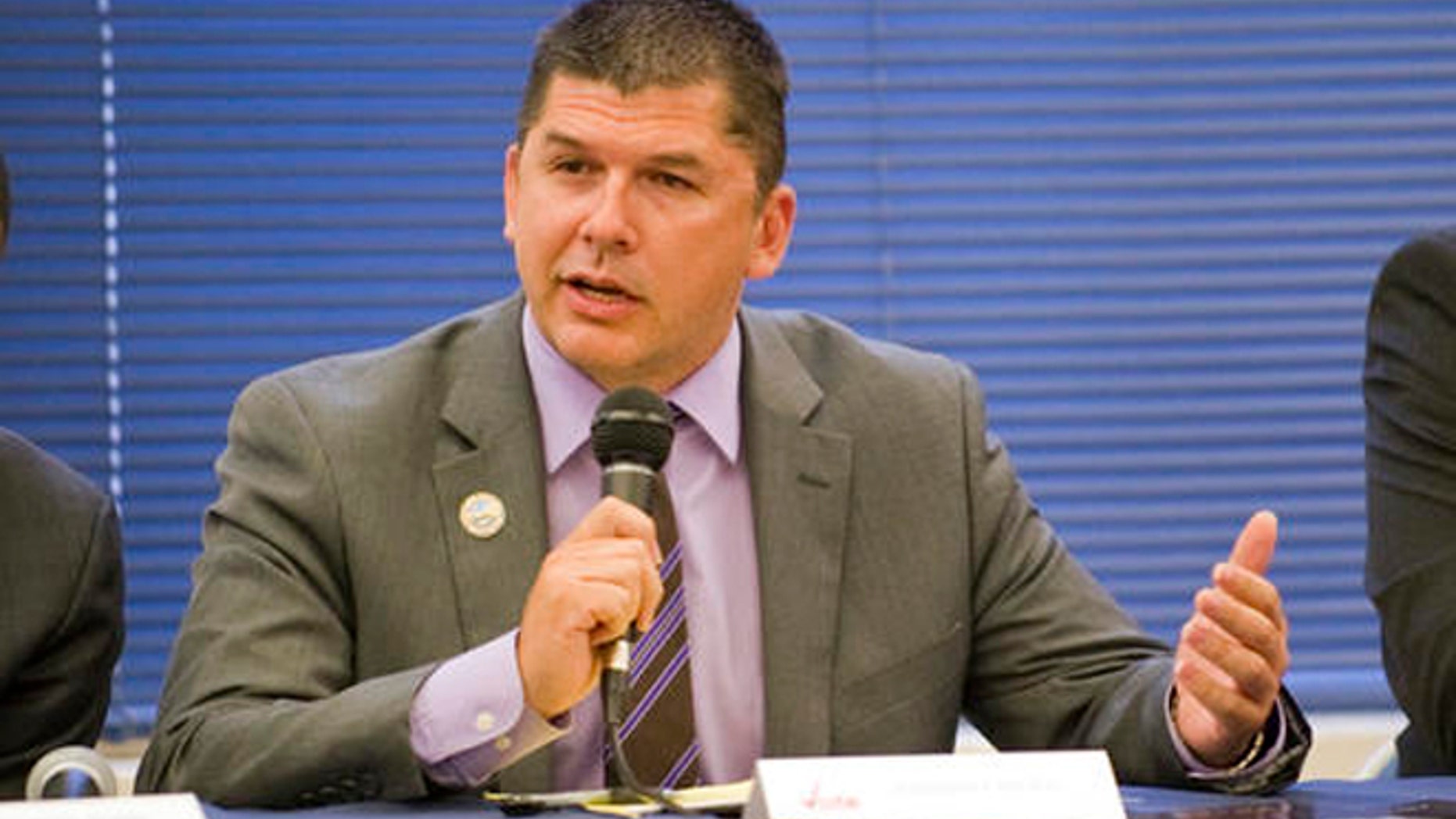 A California mayor who has spent much of his adult career as a children's swim coach, school board president and leader for kids' camps was arrested Thursday on multiple charges, including contributing to the delinquency of a minor at his 2015 camp.
Anthony Ray Silva, 40, mayor of Stockton since 2013, also was charged with "eavesdropping or recording confidential communications, providing alcohol to a minor and cruelty to a child by endangering health."
Silva did not return emails and calls from FoxNews.com.
The mayor's attorney, Mark Reichel, called the timing of  the arrest "highly suspicious." He said the charges were politically motivated and timed so the mayor, who is up for re-election, "won't have enough time to clear his name before the election."
But the investigation into Silva has been ongoing for nearly a year, and became public 10 months ago when Homeland Security agents detained the politician and seized his laptops and cell phone in the customs area of San Francisco's airport.
A forensic investigation of his devices uncovered 23 photographs and four video clips recorded at an August 2015 Stockton Silver Lake Camp in Amador County, where Silva was operating a camp for economically disadvantaged children, according to Amador County DA Todd Riebe.
The FBI turned over the investigation to his office in July 2016, and it moved quickly to charge Silva.
In a statement to the press, Riebe said one of the video clips, which contained just audio, was an example of evidence that led to the charges.
"That clip contains audio of a conversation between participants involved in a strip poker game that occurred in Silva's bedroom. The conversation between participants indicated they were naked," the DA wrote. "One of the participants was a 16-year-old male. The audio of the surreptitious recording clearly indicates that the participants did not want to be recorded."
Witnesses also informed FBI agents that Silva provided alcohol to the participants, all of whom were underage, including a minor, Riebe said in the statement, as well as supplied alcohol and made it available to a number of underage counselors at camp.
Another witness told investigators that Silva has cameras installed in his bedroom and at the Stockton Kid's Club, the DA added.
In an exclusive interview in Oct. 2015 with FoxNews.com, Silva denied allegations that his electronic items were seized as a part of a criminal probe into child pornography related charges.
He touted his affinity for children, noting he had served as the president for the Boys & Girls Clubs of Stockton for nearly a decade, served on the Stockton Unified District Board of Education from 2004 to 2008, and was appointed board president in 2006 and 2007. He also served as a City of Stockton Parks & Recreation Commissioner and was a swim coach for teen girls and operated several camps for kids, Silva said. He also noted that he is a single father of a young son.
On his LinkedIn social media page, Silva wrote, "Mayor Silva has a passion for helping youth and, as a result, he sits on many local non-profit Board of Directors, including: Stockton Silver Lake Camp, Miss San Joaquin and the East Stockton Yellowjackets. Mayor Silva has made it a priority to reduce the crime and violence in the City."
After he was detained last year by Homeland Security agents and had his electronics seized, Silva told FoxNews.com, "I am confident that any forensic search of my personal devices will never ever show illegal or inappropriate activities of any sort."
The controversial Republican, who has been the subject of previous law enforcement investigations, had been attending the Silicon Valley Mayors Delegation China conference, along with 22 others, including chief executives from 14 Golden State cities and members of the business community, when he was stopped at the airport. Silva told FoxNews.com he was being racially profiled.
"As I was being searched at the airport, there was a Latino couple to my left, and an Asian couple to my right also being aggressively searched," he said. "I briefly had to remind myself that this was not North Korea or Nazi Germany. This is the land of the free."
First elected in 2012 to lead the city of 300,000, Silva has weathered several previous damning accusations, including three criminal probes by school board police, local police and prosecutors in Stockton.
"I have never been charged with any crime. I've never been convicted of any crime," Silva told FoxNews.com last year. "In America, you are supposed to be considered innocent until proven guilty."
The Stockton Police Officers Association has called for his immediate resignation, according to a spokesman for the organization.