Cain Plans to Introduce Public to His 'Greatest Supporter' -- His Wife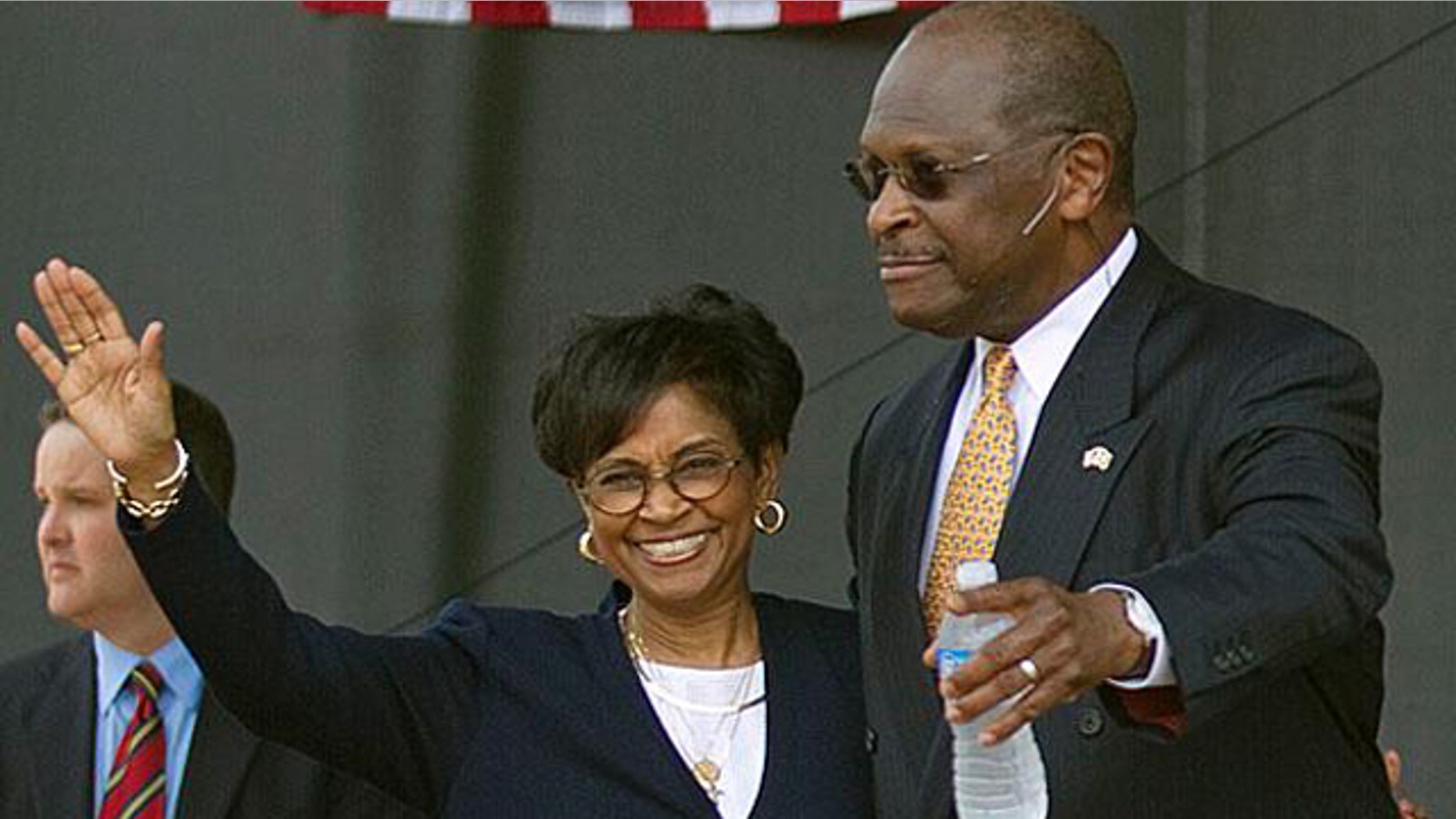 Herman Cain's wife is not very tall. She cooks scrumptious southern food. She graduated from Morris Brown College.
These flash-card facts are just about the most compelling bits of information known of Gloria Cain, the woman who's been married to a leading presidential candidate for more than four decades.
While some other aspiring first ladies -- and in the case of Rep. Michele Bachmann, first man -- are on the campaign trail with their spouses, or at least maintaining some modicum of a public presence, Herman Cain's better half has been virtually absent from the limelight.
She doesn't even have a Wikipedia page.
Yet the candidate has described Gloria as his "greatest supporter," their relationship as "magic."
As Cain, a businessman running at the front of the field for the GOP nomination, faces sudden scrutiny over allegations of sexual harassment from over a decade ago, he is pledging that his wife will start to come out of her shell. It could be a rocky start -- while spouses of candidates are rarely scrutinized for the mere act of stumping in support of their husbands, she is sure to face early questions over whether and when she learned of the allegations against her husband.
The candidate cautioned that his wife would not be venturing too far into the public eye.
"You won't see my family out on the campaign trail on a day-to-day basis," Cain told Fox News earlier this week. He said Gloria "has a life" and that while she will endure some "limited exposure" she doesn't want to be at every campaign stop.
That exposure, he said, will start with an "exclusive interview that we are currently planning and anticipating."
Any public information known about Gloria Cain can be stringed together from her husband's comments and writings and scattered sources.
She reportedly remains active with her Georgia church. A representative with Morris Brown's alumni affairs office would say only that "she is a supporter of the institution," when asked Wednesday by FoxNews.com about her post-college activities.
Cain attended her husband's campaign kickoff in May, but has been off the trail since. Compare that with this time in the 2008 election cycle -- Michelle Obama, the spouse of that campaign's insurgent candidate Barack Obama, was already holding stops on the trail. On the GOP side, Sen. John McCain's wife, daughter and mother were on the campaign bus with him.
Probably the most comprehensive account of Cain's wife and their relationship is contained in a brief chapter devoted to Gloria in Cain's book, "This Is Herman Cain!"
They started dating, he said, while she was attending Morris Brown College and he was at Morehouse College.
He had already met her a year earlier, having spotted her outside his dad's grocery store in Atlanta. Cain was working at the shop to earn money for college and saw this "beautiful" woman, Gloria Etchison, walking down the street. He said he was attracted "by her looks" at first before figuring out "she was also smart." A friend introduced them, but they didn't start dating until a year later.
For their first date they went to the movies, and "it was magic from that moment on, and so I didn't go out with anyone else." They married in 1968 after Gloria's graduation, and later had two children -- Melanie was born in 1971, Vincent in 1977.
In his book, Cain stressed that the two of them valued "family time," particularly on Sundays. He described one night in June before a New Hampshire debate where the family squeezed in family time, and his wife prepared a spread of "fork-tender roast, collard greens, green beans, candied yams, hand-shucked corn and homemade cornbread."
"That's the meal I want on my deathbed," Cain said.
Cain wrote that his wife is a "steady source of devotion and inspiration" while he's on the trail.
"Some people have certain expectations concerning the traditional politician's wife, though, and I'm often asked: 'Where is your wife? Why isn't she campaigning with you?'
"'She is at home,' I answer.
"And Gloria will tell them that she's not running but she supports me 100%. That's all I need," he wrote.
In a revealing section, Cain wrote that his wife "didn't immediately jump up and down and cheer" on his decision to run for president. She was "terrified," over "what it's like to be in politics" and "what it can do to your family."
Cain wrote that Gloria "came around" to the idea after attending some fundraising events.
Since that time, Cain has in interviews described his wife as "introverted" and explained that she won't be the typical "campaign wife."
He told Fox News that he wants Gloria to "continue to be the nucleus for that calm and tranquility that you want from your family."
"I'm an unconventional candidate, as you know, and we're running an unconventional campaign, and the involvement of my family is also going to be unconventional, although you will see them on a selected basis," Cain said.
The interest in Cain's wife has increased following claims, first reported by Politico, that two women with the National Restaurant Association complained about sexually suggestive behavior from Cain while he was head of the organization. They reportedly reached financial settlements.
Herman Cain says the allegations were baseless. The attorney for one of the women on Friday said she stands by her claim, but does not want to revisit the issue by going public.
In one of the incidents, Cain claimed that a comment about his wife is what got him into trouble.
He told Fox News that when one of the women was in his office, he "made a gesture" to show she was the same height as his wife, "up to my chin."
"And that was put in there as something that made her uncomfortable as part of the sexual harassment charge," Cain said.