'Bump stock' rifle modifiers green-lighted by Obama administration
NEWYou can now listen to Fox News articles!
So-called 'bump stock' recoil devices like the ones used by the Las Vegas gunman, were first approved under the Obama administration's Bureau of Alcohol, Tobacco and Firearms.
In June, 2010, about 18 months into Obama's first term, the ATF issued an opinion letter to stock manufacturer Slide Fire on the company's after-market device. The bureau gave the company approval, according to the Media Research Center.
"The stock has no automatically functioning mechanical parts or springs and performs no automatic mechanical function when installed," reads the letter dated June 7, 2010. "In order to use the installed device, the shooter must apply constant forward pressure with the non-shooting hand and constant rearward pressure with the shooting hand. Accordingly, we find that the "bump-stock" is a firearm part and is not regulated as a firearm under Gun Control Act or the National Firearms Act."
The National Firearms Act prohibits the sale, manufacture, and transfer of automatic weapons to the general public. Unless a person is a member of the military or a police agency, obtaining an automatic firearm is difficult and expensive. Potential buyers must first locate a gun dealer who is authorized to sell automatic weapons. Then they must submit applications to both federal and local agencies. If those applications are approved, the buyer must pay $200 for a tax stamp.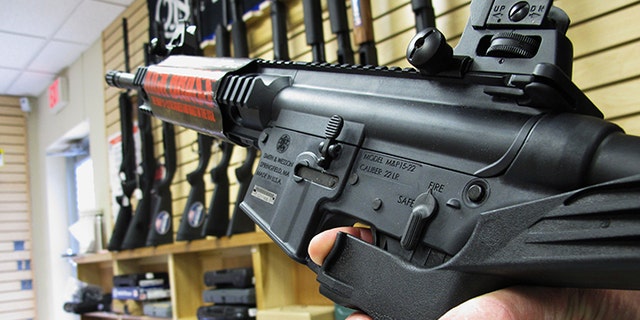 With the device, semi-automatic rifles can easily be modified to fire like fully automatic weapons. The devices allow the shooter to use the recoil of the gun to push the trigger against the stationary finger, allowing for a rapid succession of shots, similar to a fully automatic firearm. Other devices, like a trigger crank, can also modify these weapons so they fire in an automatic fashion at a very low cost and with no regulatory red tape.
The approval of these types of devices falls under what some lawmakers in Washington are calling an "automatic weapon loophole." And even the gun lobby is in agreement.
"Despite the fact that the Obama administration approved the sale of bump fire stocks on at least two occasions, the National Rifle Association is calling on the Bureau of Alcohol, Tobacco, Firearms, and Explosives (BATFE) to immediately review whether these devices comply with federal law," the National Rifle Association said in a Thursday statement. "The NRA believes that devices designed to allow semi-automatic rifles to function like fully-automatic rifles should be subject to additional regulations."
On Wednesday, Senate Judiciary Committee Ranking Member Dianne Feinstein, D-Calif., along with numerous Democratic senators, announced the introduction of a bill to close the loophole and ban devices that enable a semi-automatic weapon to fire fully automatic.
"Automatic weapons have been illegal for more than 30 years, but there's a loophole in the law that can be exploited to allow killers to fire at rates of between 400 and 800 rounds-per-minute," she said. "The only reason to fire so many rounds so fast is to kill large numbers of people. No one should be able to easily and cheaply modify legal weapons into what are essentially machine guns."
Republicans on the Hill are also considering taking action against the sale of these weapons attachments.
Fox News has learned that Rep. Carlos Curbelo, R-Fla., is writing a bipartisan bill to ban bump stocks and House Speaker Paul Ryan, R-Wis., in an interview with Hugh Hewitt, also opened the door to looking at the issue.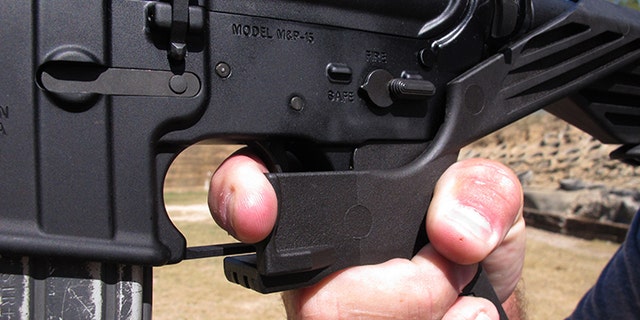 Even the Senate's No. 2 Republican, John Cornyn of Texas, opened the door to new restrictions.
"If somebody can essentially convert a semi-automatic weapon by buying one of these and utilizing it and cause the kind of mayhem and mass casualties that we saw in Las Vegas, that's something of obvious concern that we ought to explore," Cornyn told reporters.
The Associated Press contributed to this report.