Brewer Appointment by Obama Brings Her to D.C., but No Meeting With President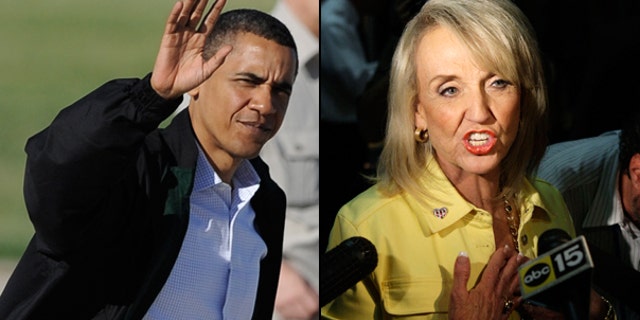 President Obama handpicked a team of 10 governors last January to assist the federal government in strengthening the nation's homeland security. But when the bipartisan council convenes Wednesday in Washington, Obama won't be meeting with at least one of its members -- Arizona Gov. Jan Brewer -- whose state is at the forefront of a fight over border security.
Brewer had requested a face-to-face meeting with Obama and Homeland Security Secretary Janet Napolitano, the former Arizona governor, as tensions rise between his administration and the Grand Canyon State over its controversial illegal immigration law.
White House spokesman Adam Abrams said over the weekend that Obama's schedule "doesn't allow for a meeting" with Brewer but added that the president "does intend to sit down with the governor in the future."
Justice Department officials told Arizona's attorney general and aides to the governor Friday that the federal government has serious reservations about the state's new immigration law.
Arizona state Sen. Russell Pearce, a Republican who helped draft Arizona's SB 1070, called Obama's apparent refusal to meet with Brewer "an insult."
"He's willing to have a beerfest with an officer in Cambridge after he misspoke," Pearce told Fox News on Tuesday, referring to a photo-op the president held last summer after he incited a feud over the bias of a police officer who arrested a black professor at the front door to his home.
"He misspoke on this bill also and he's not willing to meet with the governor of the state of Arizona?" Pearce said.
Obama signed an executive order on Jan. 11, appointing Brewer and nine other governors to a committee that will provide valuable advice on toughening the country's homeland security.
The members, who each serve a two-year term, will review various security-related matters, such as deploying the National Guard to various states and the "integration of state and federal military activities in the United States," according to the White House website.
The other appointees include Govs. Jim Douglas, R-Vt., Christine Gregoire, D-Wash., Luis G. Fortuño, R-Puerto Rico, Brad Henry, D-Okla., Bob McDonnell, R-Va., Jay Nixon, D-Mo., Martin O'Malley, D-Md., Beverly Perdue, D-N.C., and Mike Rounds, R-S.D.
The committee is set to hold a "planning session" on Wednesday before it convenes in July to officially review homeland security matters.
Obama is not scheduled to meet with the council. The president will instead be meeting with Gen. Ray Odierno, the top U.S. commander in Iraq, before heading to an event in Pittsburgh and hosting a concert at the White House to honor Paul McCartney.
Obama has blasted Arizona's immigration law, which takes effect July 29, as "misguided" and warned that it could violate civil rights and lead to racial profiling.
The White House has indicated that it's prepared to go to court if necessary in a bid to block the new law, which makes it a state crime to be in the country illegally.
The Associated Press contributed to this report