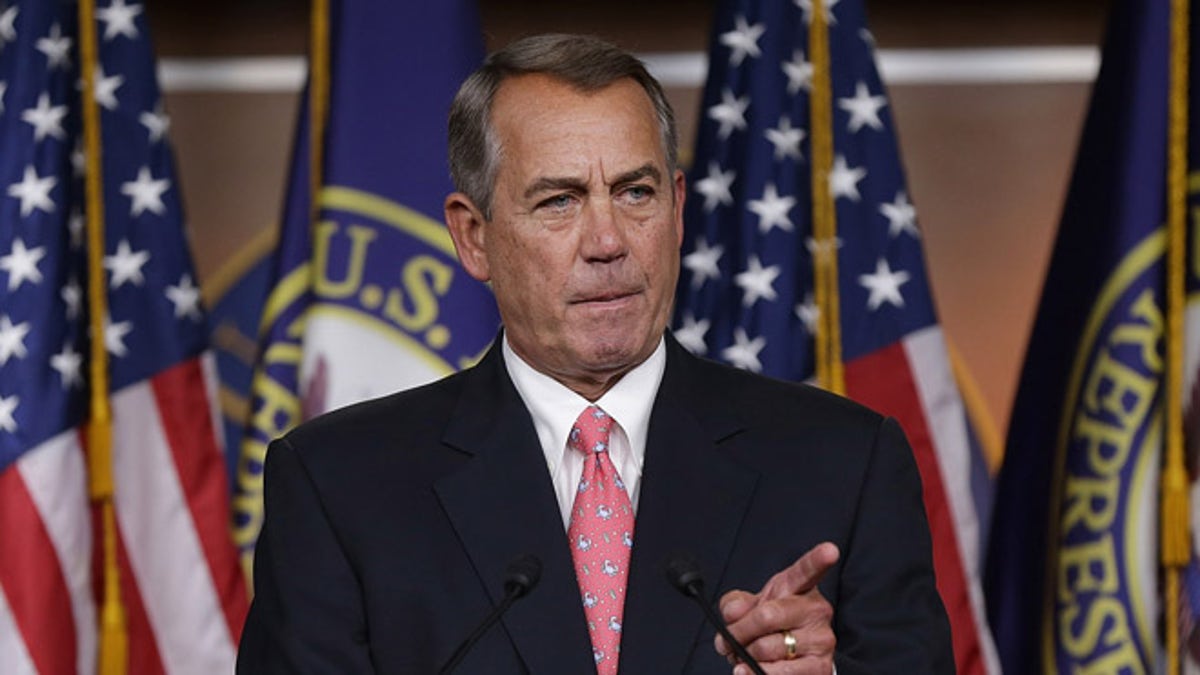 A brawl between anti-Castro activists and pro-Cuban government supporters on Wednesday in Panama City has U.S. House Speaker John Boehner questioning President Barack Obama's decision to re-establish diplomatic ties with Havana after his guest to this year's State of the Union address – the Cuban democracy leader known as Antúnez – was assaulted in the melee.
Antúnez, whose formal name is Jorge Luis García, spent more than 17 years in a Cuban prison after speaking out against the Castro government. He was among several Cuban political and human rights activists involved in the fight with Castro regime allies on Wednesday in Panama City, Panama. The Cubans are in Panama ahead of the Summit of the Americas, where Obama is expected to meet with Cuban leader Raúl Castro and possibly announced that Cuban has been taken of the list of state sponsors of terror.
U.S. citizen Orlando Gutierrez, part of a group that is working to improve human rights in Cuba, was also injured in the scuffle.
Boehner called on Obama to condemn the attacks and said that the attack by pro-Castro supporters was indicative of the brutal nature of the country's communist regime.
"It raises serious questions about the wisdom of revisiting diplomatic relations with Cuba and removing the country from the State Department's list of state sponsors of terror while this dictatorship, which practices repression at home and supports violence throughout the region, continues to hold power," Boehner said in a statement, according to the Hill.
He added: "I hope that President Obama, if and when he has a conversation with the Cuban dictator during the Organization of American States summit, will take the opportunity to condemn this violence in the strongest possible terms and reaffirm that the United States should and must always stand on the side of human rights and democracy against Communist tyranny."
U.S. Rep. Ileana Ros-Lehtinen, a Miami Republican, also said the attack serves as a reminder of the volatile situation in Cuba.
"Today's attack by Cuban regime thugs on peaceful pro-democracy protestors and U.S. citizens in Panama is just another reminder of the brutality of the Castro brothers and their enablers," she said. "As President Obama arrives in Panama this week, he must not look the other way as Americans are feeling the violent wrath of Castro and Havana's disregard for human rights," she said. "This violent act today should be another wake up call to the Obama administration that its misguided policies are only emboldening the Castro regime to continue its oppressive tactics unabated."
The fight marked a rocky start to a series of closed-door strategy sessions of hundreds of activists from across Latin America before the Summit of the Americas.
The activists meeting Thursday are putting together proposals to present to President Barack Obama and some 30 other hemispheric leaders at the summit starting Friday on topics ranging from environmental protections to support for democracy in the region.
Organizers fear the grassroots group's work is being politicized after dissidents from the communist-run island attending Wednesday's session were pushed around to shouts of "mercenaries" and "terrorists" by government supporters from Cuba and its ally Venezuela.
The U.S. State Department condemned what it said was "harassment" and "use of violence" against participants.