At least 35 arrested after Trump rally in San Diego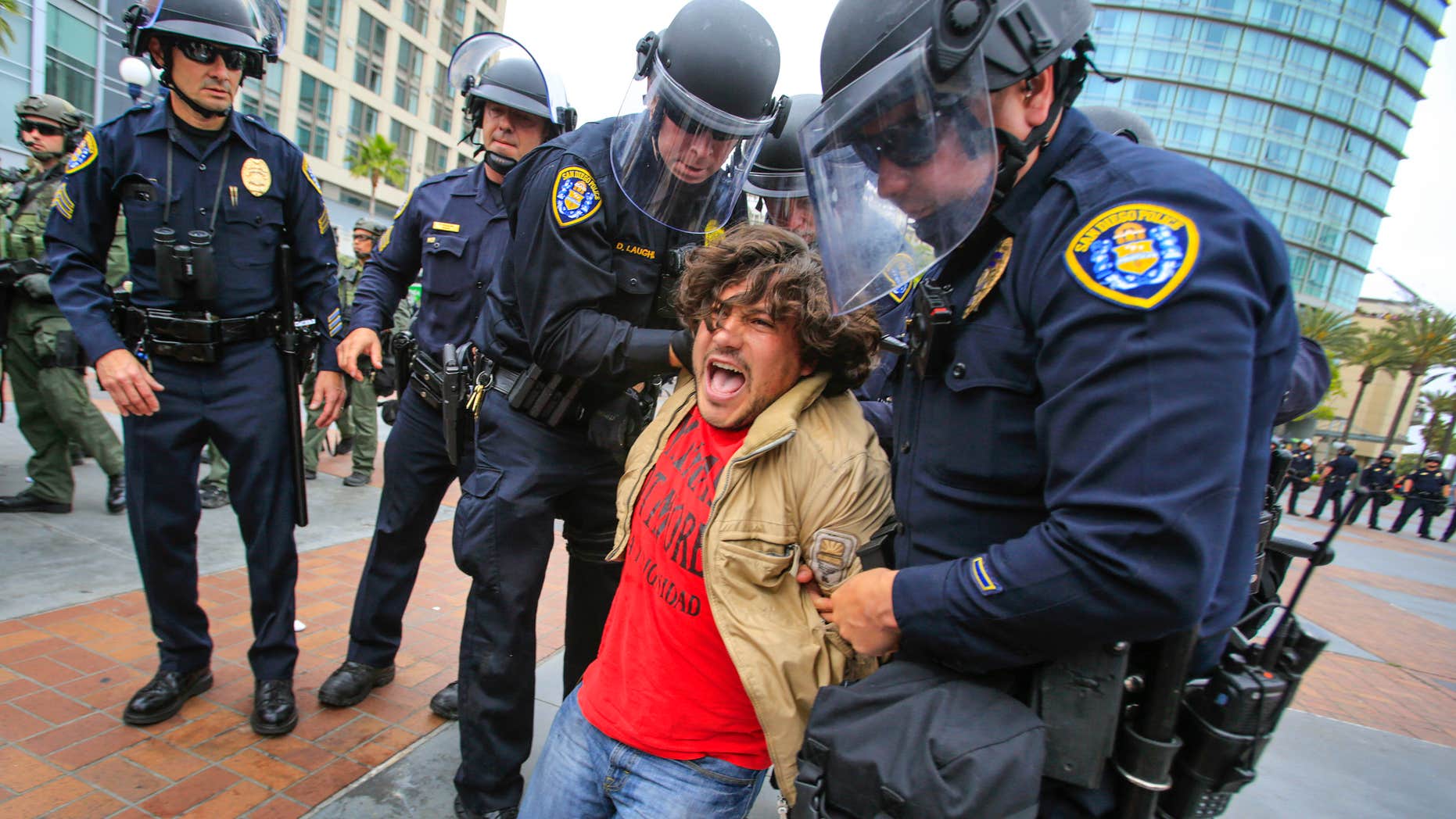 At least 35 people were arrested Friday as confrontations between protesters and authorities boiled over following a rally from the presumptive Republican presidential nominee Donald Trump in San Diego, police said.
Trump delivered a speech inside the San Diego Convention Center as more than 1,000 protesters representing various opposition groups demonstrated outside the venue, Fox 5 San Diego reported.
Before Trump's speech, the demonstrations outside were mostly peaceful. However, the protests escalated and several confrontations took place as the rally ended and the crowds inside the convention center spilled outside.
Inside, the mood was far less charged, as Trump took repeated jabs at Democratic front-runner Hillary Clinton. He also went on defense against negative media stories and an ongoing lawsuit against his now-defunct Trump University.
"I'm getting railroaded by a legal system," Trump complained.
San Diego police, dressed in riot gear, maintained a huge presence in the Gaslamp Quarter of the city as some people starting throwing things. The violence prompted police to declare the protests unlawful and they began to disperse the crowd.
There was no property damage and no injuries were reported as the police arrested 35 people.
San Diego Police Chief Shelley Zimmerman vowed before the rally that law enforcement wouldn't tolerate any sort of violence or unlawful behavior, similar to what was seen in Albuquerque earlier in the week.
"The safety of our public is paramount,'' Zimmerman said. "The whole goal is to provide a safe environment for everyone.''
Zimmerman also designated safety zones for those who oppose Trump and those who support him, while they monitored the attendees' behavior. Fox 5 San Diego reported that many of the people who were protesting before Trump's rally were gone by the time the crowds became unruly.
"We came in very quickly and decisively," Zimmerman said, according to the San Diego Union-Tribune. "The last thing we want is a mob mentality.
By late in the evening, authorities cleared the Gaslamp Quarter and herded several hundred people onto Harbor Drive as police in helicopters called for the protesters to disperse.
The Associated Press contributed to this report.