As Guard Units Head for Border, Obama Takes Heat for Shift in Deportation Policy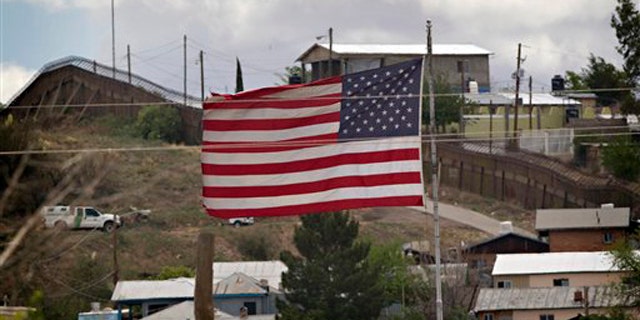 As the first of more than 530 National Guard troops deploys to Arizona to help local officers secure the border, those clamoring for more federal assistance say the latest immigration policy change out of Washington shows the White House is still falling short on enforcement.
A memo released this month from Immigration and Customs Enforcement ordered immigration attorneys to dismiss deportation proceedings under certain circumstances. The memo from Assistant Secretary John Morton urged lawyers to look at illegal immigrants who are married or related to legal residents who have filed applications on their behalf . Morton urged those cases to be dismissed whenever they seem eligible for relief and "adverse factors" like criminal convictions are not weighing against the defendant. It's unclear how many immigrants could be released on these grounds, but ICE estimated there were as many as 17,000 such cases in 2009.
Department of Homeland Security officials described the move as a bid to streamline the bloated docket of immigration cases -- in turn saving taxpayer money by clearing away cases that have a "pre-determined outcome." The United States deported nearly 400,000 immigrants in fiscal 2009.
Houston immigration attorney John Nechman told Fox News the change is "purely a reprioritization" so ICE can focus on "very dangerous" criminal aliens.
But Kris Kobach, an attorney who helped draft the controversial Arizona immigration law, said it's "misleading" to claim cases that will be dismissed were slam-dunks for the immigrants seeking to stay in the United States. He suggested "frivolous" petitions to stay in the country will end up being granted.
"It really shows they just don't intend to seriously enforce the law," Kobach said of the administration.
He noted that the Morton memo surfaced following the publication of another memo earlier in the year from U.S. Citizenship and Immigration Services that explored avenues to legalize swaths of the illegal immigrant population without going through Congress.
Dan Stein, president of the Federation for American Immigration Reform, said the Morton memo is the latest example that the administration is trying to focus on deporting only illegal immigrants who have committed crimes while letting "garden variety" illegal immigrants go free.
The policy shift comes as the Obama administration starts deploying 1,200 National Guard troops to the southwest border. The first wave moves out Monday with successive waves to continue arriving there each Monday. They will not serve in a direct law enforcement capacity, but will operate surveillance posts and computer systems, calling in border agents when they spot illegal immigrants and smugglers.
In addition, a bill signed into law by President Obama this month will provide Homeland Security Secretary Janet Napolitano with $600 million to spend on 1,500 new Border Patrol, ICE and DEA agents -- combined with the National Guard deployment, the administration is committing close to 3,000 troops to the border battle
Obama and his allies on Capitol Hill call the commitment unprecedented.
But some southwestern lawmakers say it's just not enough.
"The reality is that (Senators) John McCain, John Kyl and I had asked for 6,000 troops for the southern border and they chose 1,200 -- of which about 500 are coming to the Arizona area," Rep. Trent Franks, R-Ariz., told Fox News. "And you know, in the backdrop of Iran just announcing recently that they have enough materiel to fuel two nuclear warheads, this administration continues to refuse to secure our border and weaken our missile defenses."
Fox News' James Rosen contributed to this report.