Archive: Pergram recalls a quarter century of covering Boehner, his journey to House speaker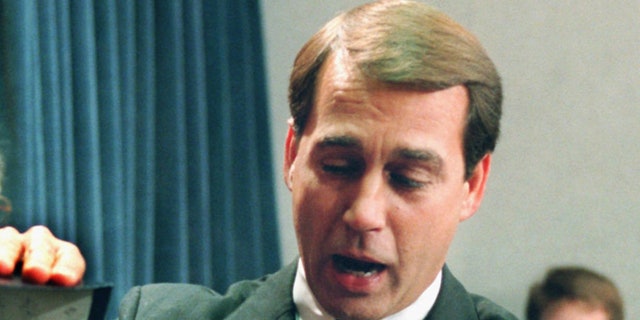 "Why don't you come down and join us for lunch some Saturday?"
That was the question posed in late 1986 by Butler County (Ohio) Common Pleas Judge Anthony Valen.
The invitation was for me, then a 17-year-old high school junior interested in politics.
The lunch was at the Liberty, a Greek diner owned by Valen's family on Central Avenue in Middletown, OH. And the "us" was a weekly, informal meeting of local, political power brokers. They'd gather most Saturdays in the backroom of the Liberty for a meal. The backroom was their sanctum to hash out local political issues and carp about their golf games.
Those from the region considered the Liberty's bill of fare to be something of a delicacy back then. It was just standard lunch counter grub. But it was delicious. Tiny hotdogs slathered with meaty chili and finely-grated, cheddar cheese. Heaping servings of spaghetti, strewn about the plate, buried in chili and topped with cheese or onions. Perhaps a slab of apple pie for dessert.
My dad was a longtime friend and classmate of Valen's. I asked dad to drop me off at the Liberty next week to meet with everyone. At the time, I didn't understand the significance of the conclave. But dad did. On our drive over, dad half-jokingly said that it was one thing to dine at the Liberty's lunch counter. But an invitation to the forum in the backroom with the county's political elite was an altogether different enterprise.
So I arrived that Saturday for lunch with Valen. Also there was Tom Blake, who toggled between serving on the Middletown City Commission and the Butler County Board of Commissioners. Middletown businessman Perry Thatcher was there. And then arrived the newly-minted state representative from the 57th district, a Republican named John Boehner.
I sat next to Boehner as the group munched on hotdogs and chili. I didn't say much. Just listened and learned. All Republicans, Reagan was a central part of the discussion. They mentioned the Iran-Contra scandal. But much of what they talked about was way over my head.
"These guys were kind of the Knights of the Roundtable," said Boehner recently when reflecting on the luncheons. "We'd just discuss everything political."
That lunch at the Liberty was the first time I ever met John Boehner. But it was far from the last.
A couple years later, as a college-age reporter for a Cincinnati radio station, I interviewed Boehner for his re-election campaign to the statehouse. In 1990, while working for another station, I covered Boehner's first race for Congress. Then in graduate school, I reported on Boehner's activities as the area's new congressman. After moving to Washington, I tracked Boehner's career as I toiled for C-SPAN, NPR, Capitol News Connection and FOX. And come January 5, I will report on Boehner as he's sworn-in as the 61st speaker of the House.
After the lunch at the Liberty, I didn't interview Boehner until 1988 when he ran for a third term to the state legislature. Years later, Boehner conceded to me he probably shouldn't have done the interview because he didn't know much about the station or the format of the interview. I recall Boehner's opponent attacking him, asking me in an interview how many pieces of legislation the incumbent had helped pass. When Boehner came in for his interview with me, he highlighted his work on approving money to widen Ohio 747, a congested bottleneck of a roadway that ran through his bedroom community district and into Cincinnati.
Boehner cruised to re-election that year.
But bigger things were ahead.
In the winter of 1989, Ohio TV station WSYX secretly recorded then-Rep. Buz Lukens, R-Ohio, trying to secure government work for Anna Coffman. Coffman was the mother a 16-year-old girl with whom Lukens had paid for sex.
Lukens' career spiraled out of control. But the Congressman sought re-election. Soon, Lukens' predecessor, former-Rep. Tom Kindness, R-Ohio, jumped into the race after stepping aside three years earlier for an unsuccessful Senate bid.
In June, 1989, I drove to Brown's Run Country Club in northern Butler County, tape recorder in hand, for WKRC Radio. Boehner was a member at Brown's Run and spent a lot of time on the links there. That night, Boehner held a fundraiser. Earlier in the day, the county Republican Party chairman tipped me that he expected Boehner to announce his candidacy for Congress that night. So I thought it might make a good story as the embattled Congressman Lukens was facing an increasingly crowded primary field.
I arrived at Brown's Run and recorded Boehner as he took the stage for his big announcement and to thank all of his supporters. Boehner then shocked me and many of the others in the room when he declared he was only forming an exploratory committee to determine if he should run for Congress.
I went back out to the car and dialed the news desk at the station in Cincinnati. I didn't have much of a story. My colleague working that night in the newsroom, a grizzled veteran named Drew Vogel, agreed. In fact Vogel told me to not even bother filing a report. He noted it would be different if Boehner actually jumped into the race.
And American political history would have evolved a lot differently had Boehner not later waded into the contest.
"I was possibly, seriously, thinking about maybe that I might consider running for Congress," said Boehner of his vacillation. "Buz was in trouble. And every morning for the next three months, it never felt like I should run."
Boehner said political donors were lukewarm to his potential candidacy. But only because Boehner wasn't all the way in himself.
"They told me come back when you're serious," Boehner said
Boehner finally got serious. He announced his candidacy that fall at an early morning breakfast at the Manchester Motor Inn in Middletown, just blocks from the Liberty. It's the same hotel that hosted my senior prom and where the McCain Presidential campaign hid former Alaska Gov. Sarah Palin, R, for a night before they unveiled her as the 2008 GOP vice presidential candidate.
At the end of Boehner's kickoff rally, the aforementioned Tom Blake assumed the stage to implore the crowd to campaign for John Boehner. Blake then introduced me to Boehner's campaign manager, a local named Barry Jackson. I queried Jackson about campaign logistics and upcoming events.
More than 20 years later, Jackson becomes chief of staff to the speaker of the House on January 5th.
Boehner was soon locked in a dogfight for the GOP nomination with Kindness. And even with his fatal flaw, Lukens remained a wily politician who couldn't be ruled out. At the very least, Lukens could siphon off support from Boehner or Kindness, perhaps tipping the race to one or the other.
Boehner had deep campaign coffers but very little name recognition compared to Kindness and Lukens. And even if people knew of Boehner, few knew how to pronounce his name.
In one story I prepared about name recognition in the race, a local political science professor noted that voters tended to vote for people whose names they could pronounce. The prof believed voters would favor Kindness because, well, the man's name was Kindness. And that was a big advantage over some Teutonic-sounding surname that people guffawed about.
All of Boehner's press releases soon featured an asterisk at the top, denoting a pronunciation key as to how to say the candidate's name.
During the campaign, Kindness tried to curry favor with reporters. In fact, Kindness once called a press conference on the same day as my 21st birthday. Kindness somehow found out beforehand and even sang happy birthday to me at the press briefing, in front of all of the other reporters.
Boehner never wished me a happy birthday. But over the course of the campaign, he personally returned multiple telephone calls when I needed comment from him about the race. Kindness didn't do that. Many of the calls came late at night. And Boehner rarely missed.
Ask a reporter worth his or her salt what they'd rather have: a birthday song or a returned telephone call?
Boehner rallied to defeat Kindness and Lukens for the Republican nomination. But he wasn't out of the woods yet. He faced former Hamilton, Ohio, Mayor Greg Jolivette in the general election. Jolivette was a Democrat at the time. And Democrats enjoyed a registration advantage. Jolivette even brought in his brother-in-law, actor George Wendt from "Cheers" to campaign for him. In an appearance on "The Tonight Show," Wendt somehow mixed up Lukens with Boehner, essentially saying that Boehner was accused of sexual misconduct.
During the campaign, I learned something about Boehner that I never knew before. I met Boehner at the offices of his packaging firm, Nucite Sales in West Chester, Ohio.
"Mind if I smoke?" Boehner asked, producing a cigarette. I told him I didn't mind. And Boehner chain-smoked his way throughout the rest of the interview.
In the fall, Boehner handily defeated Jolivette and came to Washington. Soon, I was in graduate school, working for WMUB-FM, the public radio station at Miami University, Ohio. I interviewed Boehner for a documentary about Butler County's economy. During the interview, Boehner spoke of how people would come to his office every day, seeking government assistance.
"Look, we're broke. In fact, we're more than broke," said Boehner, an eerily similar refrain nearly 18 years later.
Boehner defended his stance of not producing pork for the district, a position he still embraces today. In fact, as Boehner becomes Speaker, the House GOP is imposing an earmark moratorium.
Fast-forward to December, 2005. House Republicans were on the ropes. Former Majority Leader Tom DeLay, R-Texas, stepped aside after a Texas grand jury indicted him for misdirecting political funds (a jury convicted DeLay this fall and plans to sentence him in January. DeLay is appealing). But DeLay intended to return to his leadership post.
Just before Christmas, I cornered Boehner late one night in the Speaker's Lobby off the House floor and asked if he planned to challenge DeLay for Majority Leader in the new year.
Boehner was coy.
"There aren't any openings. I'm not running a leadership race. But if there are, I'll take a look," Boehner told me.
But Boehner was more than taking a look. He had a battle plan to run for Majority Leader if DeLay withdrew.
In early January, DeLay announced his resignation. And on February 2, 2006, House Republicans huddled in the Cannon Caucus Room to choose DeLay's successor: Rep. Roy Blunt, R-Mo., Rep. John Shadegg, R-Ariz., or Boehner.
Boehner won in an upset. And after the session, Boehner and the rest of the House Republican leadership team exited the Cannon Caucus Room to address a clutch of media.
Any reporter in that throng could record some of the boilerplate soundbytes they'd dole out at the press conference. But I wanted something more heartfelt and exclusive. So I rolled the dice, abandoning the press conference and dashing down a nearby staircase. I determined there was no way Boehner and the other leaders would try to squeeze through the mass of reporters gathered in the hallway. It was risky, but I guessed they might turn and escape down one of two staircases positioned immediately behind them.
I tore down the other set of steps, cradling my microphone. I found the staircase landing where I wagered Boehner and the others would appear. I sprinted so fast that the only way to stop was by skidding across the marble floors like Tom Cruise in "Risky Business."
I first looked to the left and saw no one. Then to the right. And here came Boehner, complete with a security detail.
"Mr. Leader," I called, grabbing Boehner's attention.
My gamble paid off. And I had Boehner to myself for a few moments before the other reporters caught up.
I asked Boehner what was going through his mind
"I've got a big job ahead of me," Boehner said. I asked him about his morning. He said he slept well and rose early to attend mass. Boehner conceded that he and Blunt were "nervously joking" to one another as they tallied the votes.
By then, the rest of the reporters raced down the stairs and a scrum followed the new leader as he walked across the street to his office in the Longworth Building. An aide finally slammed the door to the media herd snarled in the hall. Reporters heard a gigantic "whoop" in the office from Boehner's staff once they sealed the door.
So Boehner climbs to the top leadership post in Congress next week. It's remarkable considering Boehner dithered for months as to whether he should even try to unseat his tarnished predecessor.
From a reporting standpoint, fate granted me a unique vantage point from which to trace Boehner's ascent. The expression "I knew him when..." comes to mind.
There was no way to anticipate Boehner's trajectory when I joined him, Tony Valen, Tom Blake and Perry Thatcher in the backroom of the Liberty Restaurant for lunch that day in 1986. I certainly couldn't fathom that I was sitting next to a future speaker of the House. And I doubt Boehner had an inkling that the awkward high school kid who showed up just because he was interested in politics would be covering his rise to one of the most powerful positions in the country nearly a quarter of a century later.
Chad Pergram covers Congress for FOX News. He's won an Edward R. Murrow Award, the Joan Barone Award and a National Headliner Award for his reporting on Capitol Hill.
The Speaker's Lobby refers to a long, ornate hallway that runs behind the dais in the House chamber. Lawmakers, aides and journalists often confer there during