Alabama Tornado Toll: Deadliest in Nearly 40 Years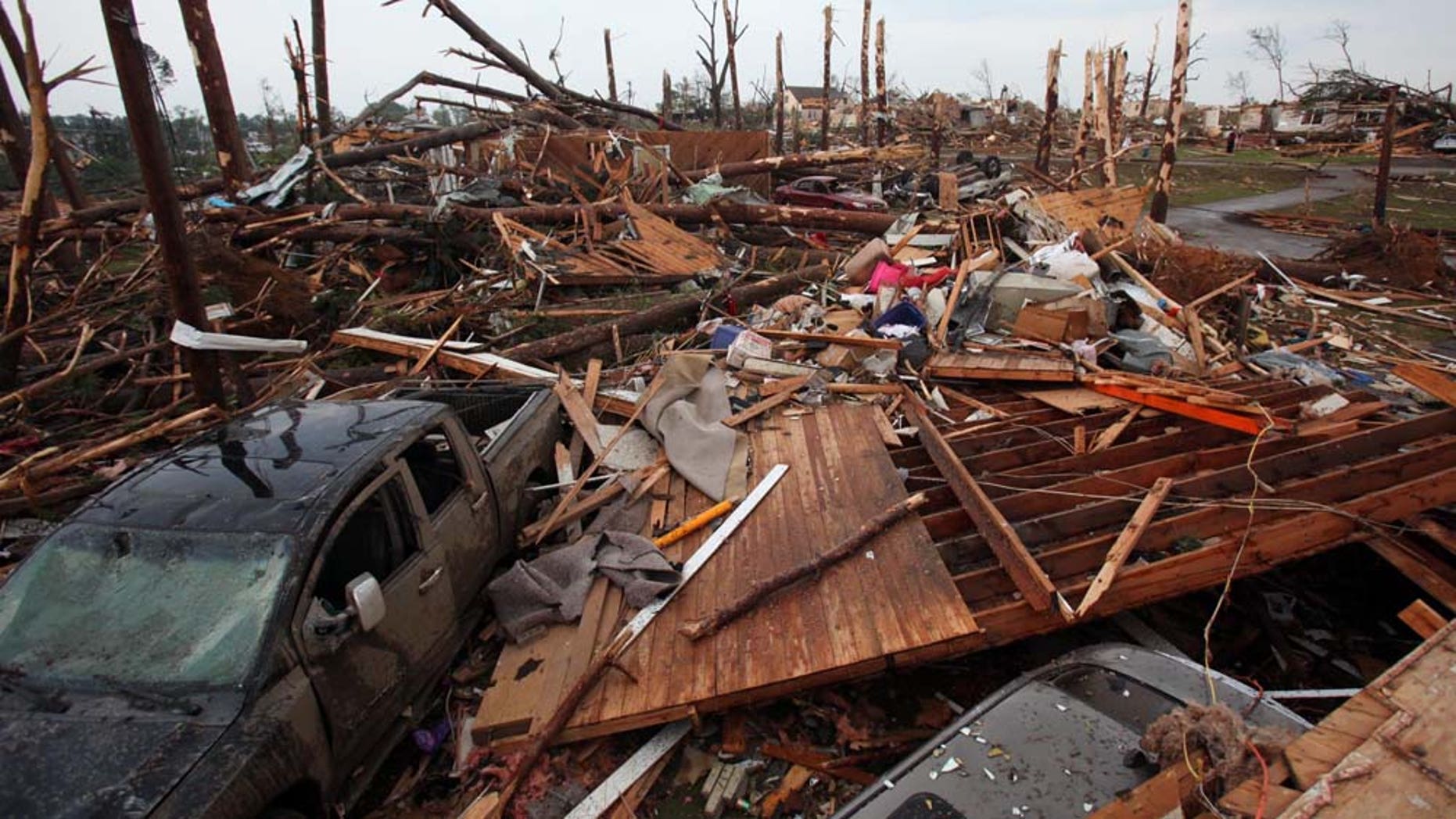 Destructive tornadoes swept through a wide swath of the South on Wednesday, leaving at least 201 people dead and making this is the deadliest tornado outbreak since 1974. Authorities expect the death toll to rise even higher in the next few days.
Alabama's state emergency management agency said it had confirmed 131 deaths, while there were 32 in Mississippi, 16 in Tennessee, 13 in Georgia, eight in Virginia and one in Kentucky.
The National Weather Service's Storm Prediction Center in Norman, Okla., said it received 137 tornado reports around the regions into Wednesday night.
In Alabama, where as many as a million people were without power, Gov. Robert Bentley said 2,000 national guard troops had been activated and were helping to search devastated areas for people still missing. He said the National Weather Service and forecasters did a good job of alerting people, but there is only so much that can be done to deal with powerful tornadoes a mile wide.
"We were in the bathroom holding on to each other and holding on to dear life," said Samantha Nail, who lives in a blue-collar subdivision in the Birmingham suburb of Pleasant Grove where the storm slammed heavy pickup trucks into ditches and obliterated tidy brick houses, leaving behind a mess of mattresses, electronics and children's toys scattered across a grassy plain where dozens used to live. "If it wasn't for our concrete walls, our home would be gone like the rest of them."
One of the hardest-hit areas was Tuscaloosa, a city of more than 83,000 and home to the University of Alabama. A massive tornado, caught on video by a news camera on a tower, barreled through late Wednesday afternoon, leveling the city.
"When I looked back, I just saw trees and stuff coming by," said Mike Whitt, a resident at DCH Regional Medical Center who ran from the hospital's parking deck when the wind started swirling and he heard a roar.
On Thursday morning, he walked through the neighborhood next to the hospital, home to a mix of students and townspeople, looking at dozens of homes without roofs. Household items were scattered all over the ground — a drum, running shoes, insulation, towels, and a shampoo bottle. Streets were impassable, the pavement strewn with trees, pieces of houses and cars with their windows blown out.
The storm system spread destruction from Texas to New York, where dozens of roads were flooded or washed out.
The governors of Alabama, Mississippi and Georgia each issued emergency declarations for parts of their states.
President Barack Obama said he had spoken with Bentley and approved his request for emergency federal assistance.
"Our hearts go out to all those who have been affected by this devastation, and we commend the heroic efforts of those who have been working tirelessly to respond to this disaster," Obama said in a statement.
In Kemper County, Miss., in the east-central part of the state, sisters Florrie Green and Maxine McDonald, and their sister-in-law Johnnie Green, all died in a mobile home that was destroyed by a storm.
"They were thrown into those pines over there," Mary Green, Johnnie Green's daughter-in-law, said, pointing to a wooded area. "They had to go look for their bodies."
In Choctaw County, Miss., a Louisiana police officer was killed Wednesday morning when a towering sweetgum tree fell onto his tent as he shielded his young daughter with his body. The girl wasn't hurt.
The storms came on the heels of another system that killed 10 people in Arkansas and one in Mississippi earlier this week.
Reeves reported from Tuscaloosa. Associated Press Writers Holbrook Mohr in Choctaw County, Miss.; Anna McFall and John Zenor in Montgomery; Meg Kinnard in Colombia, S.C.; Bill Fuller and Alan Sayre in New Orleans; Dorie Turner in Atlanta; and Bill Poovey in Chattanooga, Tenn., contributed to this report.
Follow us on twitter.com/foxnewslatino
Like us at facebook.com/foxnewslatino