Russia detainment of Wall Street Journal reporter makes it feel like 'Cold War is on again,' Brit Hume says
'Countries that value freedom of the press and station journalists around the world are vulnerable to this,' veteran journalist says
Fox News senior political analyst Brit Hume said Russia's arrest of Wall Street Journal reporter Evan Gershkovich feels like something from an authoritarian or even totalitarian society, and it certainly doesn't belong anywhere near cultures that value a free press.
"It's looking like the Cold War is on again between the U.S., Russia and also China," Hume told Fox News Digital.
"This is the kind of stuff that happens in authoritarian or, one might say, totalitarian society," Hume added. "Countries that value freedom of the press and station journalists around the world are vulnerable to this, and we are vulnerable to it."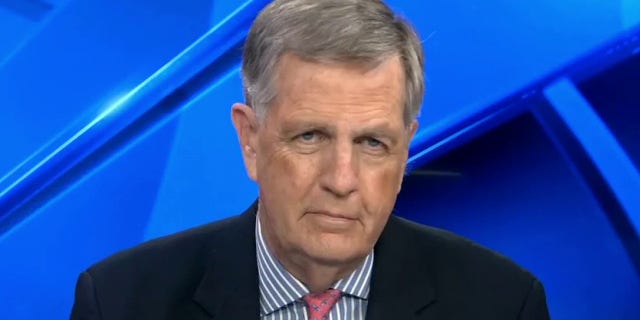 PUTIN USING WSJ REPORTER TO PUSH NARRATIVE US IS TRYING TO 'DESTABILIZE' RUSSIA, EXPERTS SAY
On Thursday, the Russian government's Federal Security Service (FSB) arrested Gershkovich, an America-born citizen, leveling spying allegations against him. The FSB claimed it arrested the journalist while he was "trying to obtain secret information" on the activities of one of "the enterprises of the Russian military-industrial complex."
Gershkovich's arrest has sparked global outrage, with Americans on both sides of the political spectrum and news organizations across the world calling for his immediate release.
Hume feels one of the things that make the whole situation difficult is that a military attack on the U.S. would likely result in a military response. But the arrest of a journalist is not that, leaving a gray area in how the Biden administration should react.
"It is harrowing for the people involved in it, the family and, of course, the journalist himself, and he's not the only one who's being held over there. This is the kind of stuff that Russia does and has done for a long time," Hume said.
Hume noted that prisoner swaps are often used to resolve such matters, but that isn't exactly a flawless strategy, either.
"Prisoner swaps have implications. They may encourage further captors, further kidnappings. So, it's a terribly hard dilemma to deal with," he said.
While prisoner swaps aren't ideal, Hume said he wouldn't be surprised if that's ultimately how Gershkovich is brought home.
WALL STREET JOURNAL DEFENDS REPORTER AFTER HE'S ARRESTED BY RUSSIA ON SUSPICION OF ESPIONAGE
"It's what happens," Hume said. "The sympathy that the American people feel toward someone who has been snatched off the street like this, or wherever they snatched him, and his or her family is such that politicians who are in a position of responsibility to do something about it are going to be inclined to do whatever it takes to get them back, including a prisoner swap."
Hume, a veteran journalist who has been covering international politics since the early 1970s, said he would be hesitant to report from Russia following Gershkovich's arrest.
"It does give you pause," he said. "It is something you think about and with good reason."
The Wall Street Journal forcefully defended its reporter and denied Russia's allegations in a statement.
"The Wall Street Journal vehemently denies the allegations from the FSB and seeks the immediate release of our trusted and dedicated reporter, Evan Gershkovich. We stand in solidarity with Evan and his family," senior communications manager Caitlyn Reuss wrote.
RUSSIA DETAINMENT OF WALL STREET JOURNAL REPORTER ON SPYING CHARGES SPARKS OUTRAGE: 'UNJUST DETENTION'
Gershkovich was previously a reporter for Agence France-Presse and the Moscow Times and a news assistant at The New York Times.
Reporters face up to 15 years in prison if they report what authorities deem false reports about the military, according to a new Russian law. The legislation was passed by both chambers of the Russian parliament.
Fox News' Joseph A. Wulfsohn, Kristine Parks and Louis Casiano and The Associated Press contributed to this report.
CLICK HERE TO GET THE FOX NEWS APP