Randi Weingarten flamed for tweet claiming most parents don't like 'school culture wars': 'You started this'
One education group responded: 'You started this Randi'
Exasperated social media users bashed American Federation of Teachers head Randi Weingarten for claiming parents "don't like culture wars" being fought in schools, blaming Weingarten herself for politicizing education.
On Thursday, the head of the second-largest teacher's union in the nation shared a TIME article claiming that most parents "don't like" the "culture wars" being fought over state schools.
Weingarten tweeted the article, captioning her post with the headline, "Poll: Most Parents Don't Like School Culture Wars | Time." Many users swiftly rebuked her, claiming she's at fault for much of the fighting over public-school policies.
RANDI WEINGARTEN BLASTS 'RIGHT-WING EXTREMISTS' FOR FIGHTING 'CULTURE WARS' IN CONFERENCE SPEECH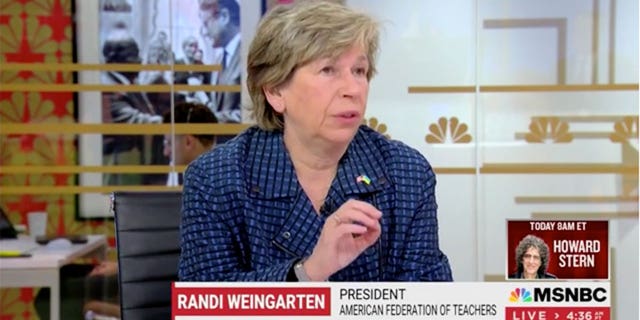 "You started this Randi and now we are going to end it," tweeted Mom's for Liberty, a national education advocacy group.
Weingarten's post was criticized as an attempt to dismiss widespread concerns from parents that in recent years, public educators have pushed liberal indoctrination and unhelpful remote learning policies in their classrooms and haven't done enough to prioritize children's basic education needs.
Though recent studies have shown student academic achievement has declined in recent years. A bombshell 2022 study revealed there was a "7.6 point drop in math competency between 2019 and 2022" for kids in grades 3 to 8 in New York City public schools.
Fox News Digital reported that the same study showed that only "38 percent of kids in grades 3-8" were "proficient in the subject" in 2021.
Weingarten has been criticized for calling for the "strict COVID policies" that many argue contributed to the educational decline. Though she has returned fire against critics, particularly conservative ones.
Weingarten claimed last August that "Conservatives are working consistently to undermine educators in this country."
RANDI WEINGARTEN CLAIMS POLITICIANS MAKE TEACHERS 'SOCIAL JUSTICE WARRIORS'
The TIME article focused on a survey taken in December of 558 parents from Democratic polling firm Hart Research Associates, showing that "Two-thirds of parents said the culture wars are a distraction from schools' primary mission of education. And, when asked to rank what should matter to leaders, just 1 in 10 parents said they favored removing hot-button books from libraries."
Weingarten's tweet earned her more scorn from parents and education experts.
Education activist Corey DeAngelis responded to Weingarten's post, writing, "thank you for inadvertently doing more to advance school choice than anyone could have ever imagined."
He also tweeted, "parents don't like how you fought to keep schools closed."
Parental rights activist Nicki Neily replied, "Reality: Most Parents Don't Like Teachers Unions Locking Their Kids Out Of School."
Attorney Aaron Walker blamed Weingarten for starting the "culture wars" stating, "Then stop it."
CLICK HERE TO GET THE FOX NEWS APP
The Americans for Public Trust Twitter account commented, "Poll: Most parents don't like that you wrote @CDC's guidance that kept schools closed. Perhaps you should sit this one out, @RWeingarten."