MSNBC star Chris Matthews shocked his colleagues and viewers Monday night by announcing that he was stepping down as host of the cable news channel's primetime staple, "Hardball," effective immediately.
"Let me start with my headline tonight: I'm retiring. This is the last 'Hardball' on MSNBC," Matthews announced at the top of his show. "And obviously, this isn't for the lack of interest in politics. As you can tell, I loved every minute of my 20 years as host of 'Hardball.' Every morning I read the papers and I'm gung-ho to get to work. Not many people have had this privilege. I loved working with my producers and our discussions we'd have on how we report the news. And I love having this connection with you, the people who watch."
He continued, "After conversations with NBC, I decided tonight will be my last 'Hardball.' So let me tell you why. The younger generations out there are ready to take the reins. We see them in politics, in the media, and fighting for their causes."
Matthews spoke with NBC management and the decision was made to accelerate his looming retirement after a series of recent controversies, according to a person familiar with the meeting.
MSNBC did not immediately respond to Fox News' request for comment.
During his remarks, the longtime MSNBC host then referenced renewed claims of sexual harassment against him by a journalist who previously appeared on his show.
MSNBC'S CHRIS MATTHEWS MAKES ON-AIR APOLOGY TO SANDERS FOR LINKING NEVADA VICTORY TO NAZI RISE: 'I WAS WRONG'
"Compliments on a woman's appearance that some men, including me, might have once incorrectly thought were okay were not okay, not then and certainly not today. And for making such comments in the past, I'm sorry," said Matthews, who went on to say that he was "very proud" of the work he had done on his show and that he will "continue" to write and talk about politics.
"And for those of you who have gotten into the habit of watching 'Hardball' every night, I hope you're going to miss me because I'm going to miss you," Matthews concluded. "But remember Humphrey Bogart in 'Casablanca': We'll always have Hardball. So let's not say goodbye, but until we meet again."
MSNBC national political correspondent Steve Kornacki took over for the rest of the hour after an extended commercial break.
The shock announcement comes as incoming NBCUniversal CEO Jeff Shell is expected to put his own stamp on the news division later this year.
While Shell was technically already promoted to the CEO position, he currently reports to CEO-turned-chairman Steve Burke, who has been famously loyal to NBC News chairman Andy Lack amid a laundry list of scandals and public relations nightmares.
But when Burke leaves the company following NBC's coverage of this summer's Olympic Games in Tokyo, the reins will officially be handed to Shell, who will then report directly to Comcast CEO Brian Roberts and be free to shake up his news division as he sees fit.
EX-MSNBC GUEST RIPS 'IRRESPONSIBLE' NETWORK, CLAIMS MATTHEWS' 'SEXIST' BEHAVIOR UNDERMINED HER PERFORMANCE
Matthews is coming off a disastrous week filled with gaffes, controversial moments and accusations of sexist behavior – but a former reporter who detailed similar allegations against the "Hardball" host years ago thinks the criticism is only reaching critical mass now because the timing is convenient for liberals.
"Matthews has been dogged by allegations of sexual misconduct on his show for years now, including a separation-relation payment made to a staffer in 1999," Spectator USA Washington editor Amber Athey, who covered Matthews as a reporter for the Daily Caller, told Fox News. "The only reason the left is giving weight to these claims now is because they don't like that he's gone after Elizabeth Warren's insistence that we must reflexively believe all women."
In an op-ed for GQ on Friday, journalist Laura Bassett claimed Matthews used sexist language when she visited the MSNBC studio to appear on his show as a guest. She recalled Matthews looking at her in an adjacent makeup chair before an appearance in 2016 and asking: 'Why haven't I fallen in love with you yet?'"
Bassett said she laughed nervously but Matthews kept making comments to the makeup artist. "Keep putting makeup on her, I'll fall in love with her," Matthews allegedly said.
FEMINIST GROUP CALLS FOR CHRIS MATTHEWS' FIRING AFTER TENSE CONFRONTATION WITH WARREN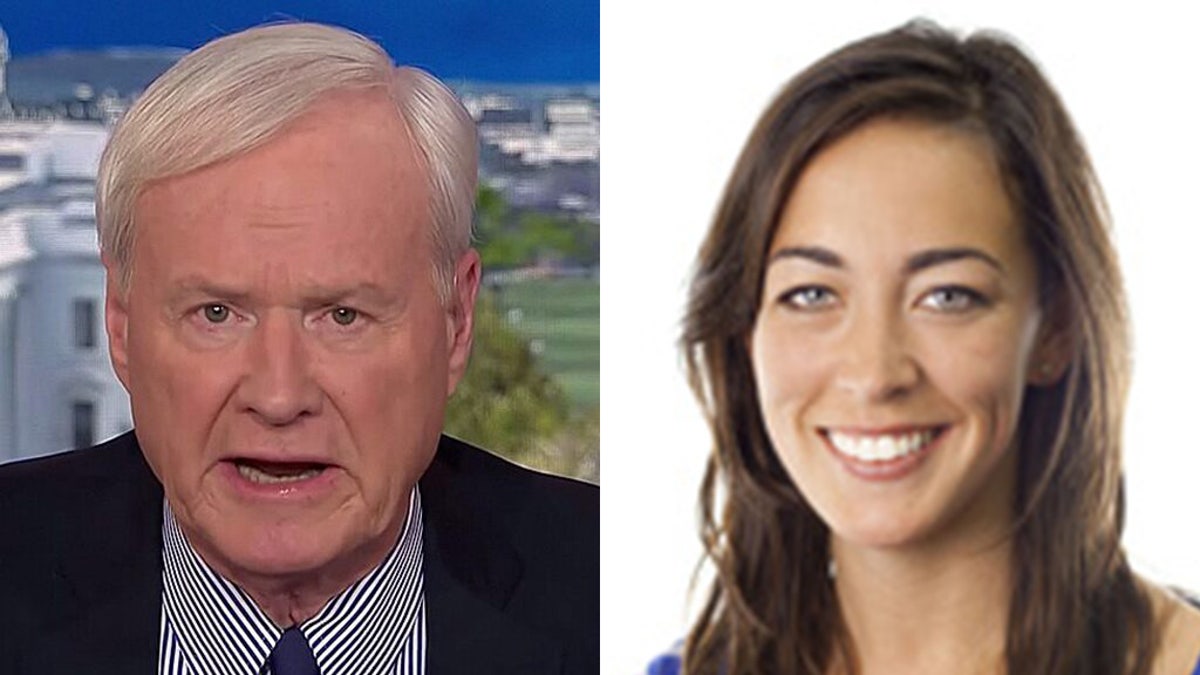 She said he made another comment about her makeup during a separate appearance. "Make sure you wipe this off her face after the show," she wrote he said to the makeup artist. "We don't make her up so some guy at a bar can look at her like this."
Bassett said she decided to write the op-ed because of a "sexist" interview Matthews did with Sen. Elizabeth Warren after last week's South Carolina Democratic debate in which he pressed Warren about her accusation that former New York Mayor Mike Bloomberg once told a woman at his company to "kill" her unborn baby. Bloomberg has denied that accusation.
Bassett said she wrote a similar op-ed in 2017 without naming Matthews because she was afraid to publicly accuse him at the time. She said she decided to come forward and name the MSNBC host because of the way he treated Warren, while a feminist group also called for Matthews' firing over the interview in which he asked Warren why Bloomberg would lie.
CLICK HERE TO GET THE FOX NEWS APP
In 2017, Athey reported that NBC paid an assistant producer on "Hardball" $40,000 in 1999 to settle her sexual harassment claim against the anchor. An MSNBC spokesperson said at the time that executives were told that Matthews made inappropriate jokes and comments about the woman in front of others and that the matter was reviewed. It was determined the comments were inappropriate and made in poor taste but were never meant as propositions. MSNBC has not confirmed the amount paid to the woman, nor has the network said whether the payment was made to settle a harassment claim
Last month, the host was heavily criticized for comparing Sen. Bernie Sanders' victory in the Nevada caucuses to the Nazi conquest of France in 1940. He later apologized for those remarks.