Kamala Harris takes heat for omitting right to 'life' when citing Declaration of Independence: 'Garbage'
Others criticized Harris for omitting 'creator' from the quote as well
Twitter users hit Vice President Kamala Harris for omitting right to "life" while reciting a quote from the Declaration of Independence during a speech marking the 50th anniversary of the landmark Roe v. Wade decision that granted nationwide access to abortion.
"We collectively believe and know, America is a promise. … It is a promise of freedom and liberty, not just some but for all. We are each endowed with the right to liberty and the pursuit of happiness," Harris said Sunday.
The document's original text reads: "We hold these truths to be self-evident, that all men are created equal, that they are endowed by their Creator with certain unalienable Rights, that among these are Life, Liberty and the pursuit of Happiness."
Critics were quick to slam Harris for omitting the right to "life" from her remarks, slamming her for attempting to rewrite history and conveniently omit the phrase that allegedly contradicted her message.
KAMALA HARRIS OMITS RIGHT TO 'LIFE' WHEN QUOTING DECLARATION OF INDEPENDENCE IN ABORTION SPEECH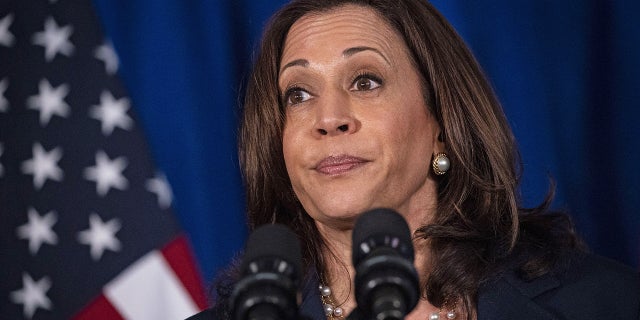 "Hey @VP, It's LIFE, liberty and the pursuit of happiness. We have the right to LIFE," Colorado GOP Rep. Lauren Boebert tweeted.
Some said the omission exposed her argument as weak.
"When you have to omit entirely one of the most integral parts of the Declaration of Independence in attempts to further your argument, said argument is immediately and objectively powerless," the Senate Working Group's Leslie Ann Robertson said.
"This point is obvious but when the 'right to life' blows up your message so bad you have to pretend it doesn't exist then maybe your message isn't very good," GOP operative Matt Whitlock said.
BIDEN ISSUES MEMORANDUM TO PROTECT ACCESS TO ABORTION PILLS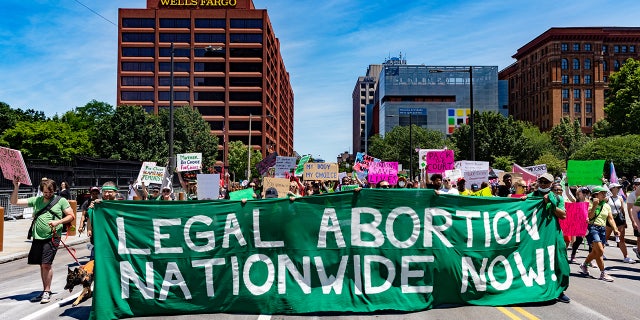 Former Republican California Senate candidate James Bradley wrote "garbage" when he weighed in on the issue.
Washington Examiner reporter Jerry Dunleavy shared images of Harris' speech transcript with the portion under scrutiny highlighted.
"Here is Vice President Kamala Harris omitting the inalienable right to life when referencing the Declaration of Independence in defense of Roe v. Wade," he captioned.
Nile Gardiner, former aide to British Prime Minister Margaret Thatcher, sounded off as well, writing, "Kamala Harris clearly does not believe in the 'right to life'."
KAMALA HARRIS REVEALS BIDEN'S 2023 PRIORITIES INCLUDES INFLATION, JOB GROWTH: 'NEVER BEEN MORE OPTIMISTIC'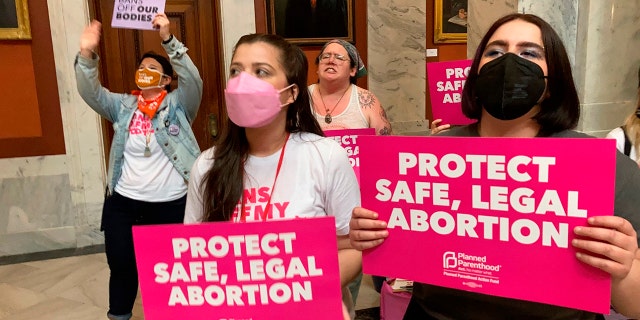 Others noted that Harris also omitted "creator" from the endowment portion of the quote, including Daily Beast senior columnist Matt Lewis, who wrote, "Kamala Harris says that, according to the Declaration of Independence, 'we are each endowed with the right to liberty and the pursuit of happiness.' (***She leaves out the key words 'by our Creator' and 'the right to life.')"
Harris also used Sunday's speech as a platform to lambast Republicans calling for a federal abortion ban at 15 weeks of pregnancy, including Sen. Lindsey Graham, R-S.C.
"Republicans in Congress are now calling for a nationwide abortion ban, some even from the moment of conception. The right of every woman in every state in this country to make decisions about her own body is on the line. And I've said it before, and I will say it again: How dare they?" she said.
Thousands of pro-life activists gathered in Washington, D.C., over the weekend for the first March for Life in the post-Roe era.
Fox News' Landon Mion and Cortney O'Brien contributed to this report.